Welcome! 
Raccoon Forks Trading Company is an authentic antique store tucked away in the Historic East Village of Des Moines, Iowa. We also have a full diner-style restaurant attached, called Railroad Bill's Dining Car, so you can plan your next visit around breakfast or lunch and then browse the gallery!
Established in 2011, we specialize in acquiring and selling high quality antique and vintage goods, from furniture and housewares to artisan crafts and miscellaneous collectibles.
We're a team of enthusiastic pickers and collectors, so we take pride in curating a showroom that will not only pique the interests of experts & aficionados but will also make for a unique and enjoyable browsing experience for casual shoppers & collectors as well.
Our showroom features a large main room with wall hangings, furniture and display cases, and 8 side rooms each each specializing in antiques and collectibles from different time periods and styles.
In our gallery you'll find collections of antique railroad memorabilia, stained glass and lighting fixtures, Arts & Crafts period antiques, Primitives, Civil War and Victorian Era antiques, antiquarian books, original paintings, maps and art prints, advertising and signs, glasswares, bottles, ceramics, Mid-Century Modern housewares and collectibles, vintage clothing, antique toys and much, much more!
Vinyl Records & Music Collectibles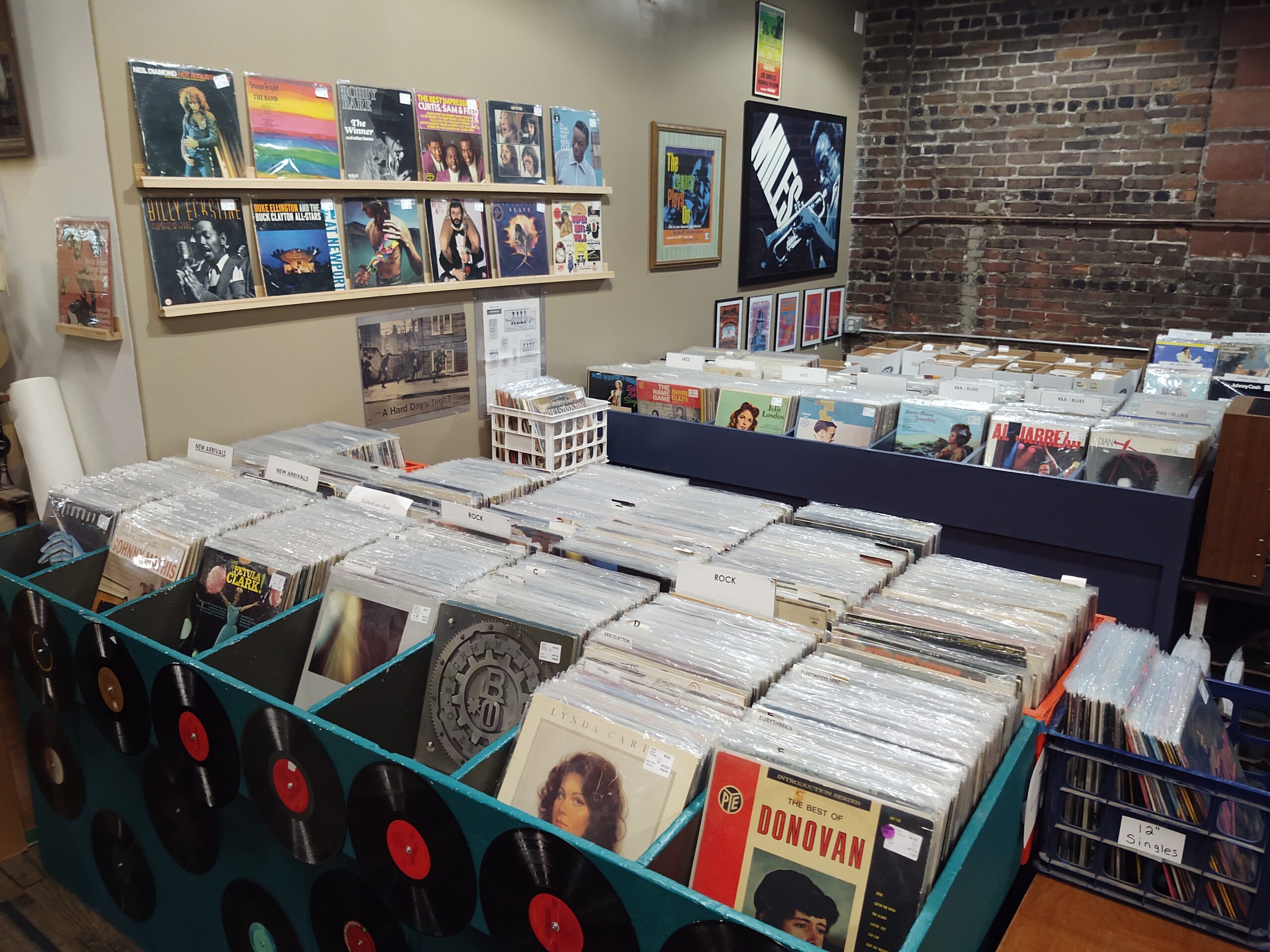 Our Raccoon Forks Records room has become a popular attraction and is dedicated to vintage vinyl records, cassettes and music memorabilia! We are always buying records and updating the New Arrivals selection of our collection of more than 5,000 LPs spanning a wide range of dates and genres. Whether you're into country, classical, soundtracks, jazz, rock, R&B or obscure novelty records, there's something for every audiophile or collector.
We're always looking to buy quality used vinyl records, whether you're just looking to get rid of a few you don't listen to or you have an immense collection you're finally ready to sell. We offer fair prices and, so far, no collection has been too big for us to acquire!
General Buying
We're always buying collections and estates, and are always looking for opportunities to do some good picking, so if you have a few special items or an impressive collection that you're looking to turn into cash let us know!
If you're interested in selling, the best way to get ahold of us is to send us an email to
[email protected]
or give us a call to 515-809-1715. Giving us a heads-up before stopping by allows us the opportunity to make sure we have one of our buyers available you when you arrive. When sending an email, please include clear photos of the items that you would like to sell, either so we can identify specific items or so we can get a good general idea of what is in a collection or estate. We are generally buying Tuesday - Saturday, but can make special appointments if necessary. The Central Iowa region is our main stomping grounds, but we regularly trek out of the state when the pickin' is good!
"Hey, what did this building used to be?"
We get asked this question daily, and as a matter of fact the history is pretty interesting!
The building (c. 1920) was first occupied by the American Railway Express Company and still displays some of the building's original and salient features. Sometime in the 1960s the building was leased and used by Northland Dairy Co, and then during the 1980s, 90s and early 2000s the building housed studio spaces for numerous independent artists and musicians. Raccoon Forks Trading Co. became the main tenant of the building in 2015 and in 2018 we gave the facade of the building a full historic restoration.
The heavy wood-beam flooring and roof are all original, and there is a unique concrete slab in the back of the building that originally was designed to allow a place for the teams of horses to stand while delivery carts were being loaded and unloaded. If you look closely from the inside you can see where the original barn-style doors would have been so that teams of horses, and later delivery trucks, could enter and exit the building.
As a Raccoon Forks microbusiness, RFTC provides job opportunities to individuals with disabilities and other barriers to employment. Employees at RFTC receive one-on-one job coaching and the support they need to build skills and be successful on the job.