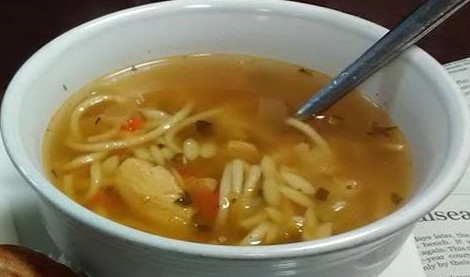 This is slow food, good to make on a day when the weather is bad and you need something warm and comforting.
1 whole Raccoon Forks Farms chicken 
1 small onion
1 carrot
1 stalk celery
6 whole peppercorns
4 whole cloves
1 bay leaf
Peel onion and trim carrot and celery as needed. Cut carrot and celery stalk in half, crossways. Place chicken, carrot, onion, celery, peppercorns, cloves, and bay leaf in a large pot and fill with water until chicken is covered. Bring to a boil, then reduce the heat, cover, and simmer until the chicken is falling off the bones.
Remove pot from heat and take out the chicken and vegetables. Discard the vegetables. Strain the broth and return it to the pot. Cook the broth at a moderate boil until it has reduced by about half. Let the chicken cool.
While the broth is reducing and the chicken is cooling, prepare additional ingredients:
1-2 large onions, chopped
1 cup peas*
2-4 celery stalks, chopped
2 cups cut green beans*
2-5 carrots, chopped
Other vegetables*
Egg noodles or small pasta
*Optional
Adjust the quantities and types of vegetables to your taste. You can make this recipe thinner or thicker, depending on whether you'd prefer soup or stew.
When the broth has reduced by half, add the onions and cook until they're translucent. Add the other vegetables and cook at a low simmer.
Let the chicken cool until you can handle it without burning yourself. When it is cool enough, remove the chicken skin, bones, and cartilage and discard them. Cut and tear the chicken into bite-sized pieces and add them to the pot.
Add egg noodles or small pasta to the pot. The quantity depends on how thick you'd like your soup/stew to be. Increase heat and cook until the noodles or pasta are done. Add more water if you'd like your soup to be thinner. Season with salt and freshly ground pepper and enjoy!
(This recipe is also good if seasoned with dried basil, marjoram, and rosemary to taste.)