We hope you had a good 4th of July and holiday week!
With less rain and lots of heat, we're working hard to keep up with the weeds and plant more vegetables at our Redfield farm.  This week, we'll be planting for fall harvest – beans, turnips, carrots, lettuce, peas, and spinach.
If you follow our Facebook page, you may have seen that we've been bottle-feeding our newest lamb – at first, her mother was unable to nurse her.  We're happy to report, though, this may be changing!  Baby lamb seems to be getting some nourishment from Mom, and we're keeping a close eye on how she's doing.  Meanwhile, we have another ewe who's expecting, too!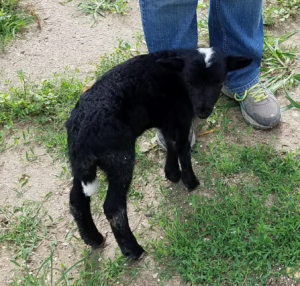 In one of summer's most joyful developments, we're about to be swimming in tomatoes.  Our plants in the fields and in the high tunnel are all doing well, and they're covered with tomatoes and blossoms.  Nothing makes us happier!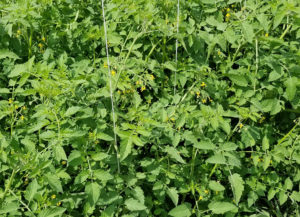 And at our Runnells farm, we're continuing to plan and prepare for our herd of goats.  We've begun clearing brush along the (future) fence line, and we're marking larger trees for removal.
Vegetables CSA Share
This week, we plan to bring our CSA members fresh basil, summer squash, potatoes, and Swiss chard;  with the possible addition of tomatoes, okra, and/or green beans.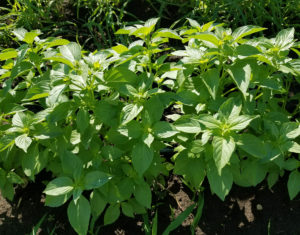 What Is It?
We sent okra in our CSA shares last week, and we may or may not include some in this week's shares, too, so it seems like a good time to provide some information about okra!  Did you know that it's not exactly a vegetable?  The okra that we eat is actually the green, immature seed pod of the okra plant. 
Okra is nutritious and really versatile.  It's a good thickener, a classic ingredient in dishes such as gumbo, jambalaya, and other soups and stews.  It can also be the star of a dish, such as pickled, fried, or roasted okra.  And okra also plays well with others and makes a great companion in multi-ingredient dishes, such as curries.
The quality that makes okra a good thickening agent can make it seem slimy, but whether okra becomes slimy or not depends on how it's cooked!  To avoid sliminess, don't wash okra until you're ready to use it;  cut it as little as possible;  and cook it or pre-cook it using high heat.  Try grilling, frying, sautéing, or roasting your okra.
Okra is related to hibiscus, Rose of Sharon, and hollyhocks.  You can see that in its beautiful flowers!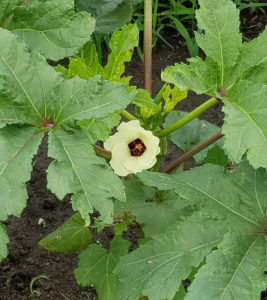 Storing Produce
We're delighted to report that we've just added a "How to store Farms produce" page to this web site – check it out!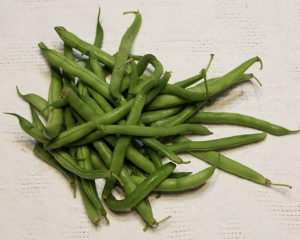 Recipes
Basil Walnut Pesto
(Adapted from onceuponachef.com)
2 cups gently packed fresh basil leaves
2 large garlic cloves, roughly chopped
½ cup grated Parmigiano-Reggiano
⅓ cup walnuts
½ tsp. salt
¼ tsp. ground black pepper
⅔ cup extra virgin olive oil
Place the walnuts and garlic in the bowl of a food processor fitted with a steel blade.  Process until coarsely chopped, about 10 seconds.  Add the basil leaves, salt, and pepper and process until mixture resembles a paste, about 1 minute.  With the processor running, slowly pour the olive oil through the feed tube and process until the pesto is thoroughly blended.  Add the Parmesan and process a minute more.  
Use pesto immediately or store in the refrigerator for up to about a week.  To store, place the pesto in a container and cover the pesto with a thin layer of olive oil (this seals out the air and prevents the pesto from oxidizing and turning brown).  Close the container tightly.  If you're going to freeze the pesto, don't include the cheese when you make it;  after you thaw the pesto, then stir in the cheese.
*           *           *
The Best Okra I've Ever Had!
(Adapted from 100daysofrealfood.com)
6 cups of fresh, whole okra
3 Tbsp. olive oil
Salt and pepper to taste
Preheat oven to 425° F.
Spread okra on a baking sheet and toss it with the olive oil, salt, and black pepper.  Bake just under the top rack of the oven for approximately 40-45 minutes, stirring with a spatula after 20 minutes and every 10 minutes after that until it begins to turn dark brown and crispy, but not burnt.
Serve warm or at room temperature.
*           *           *
Potato, Squash, and Goat Cheese Gratin
(Adapted from thekitchn.com)
2 medium summer squash (about 8 oz. total)
4-6 small to medium new potatoes (about 1 lb. total)
3 Tbsp. olive oil, plus more for the baking dish
4 oz. fresh goat cheese, divided
Salt
Freshly ground black pepper
¼ cup whole milk
⅓ cup freshly grated Parmesan cheese
1 Tbsp. thinly sliced basil or thyme leaves (optional)
Arrange a rack in the middle of the oven and heat to 400° F.  Lightly grease a 1½- to 2-quart baking dish with a drizzle of olive oil.
Use a mandoline or chef's knife to slice the squash and potatoes into very, very thin slices, ⅛-inch thick or less.  Place the sliced vegetables and olive oil in a large bowl and toss to combine.
Place ⅓ of the squash and potato slices in an even layer in the bottom of the baking dish – no need to layer them squash-potato-squash, just spread them evenly – then season with salt and pepper.  Sprinkle with ½ of the goat cheese in large chunks.  Repeat with another ⅓ of the vegetables, seasoning again with salt and pepper and topping with the remaining goat cheese.  Finish by layering on the remaining vegetables and seasoning with salt and pepper.
Pour the milk evenly over the entire dish.  Sprinkle with the Parmesan.  Cover tightly with aluminum foil.  Bake for 30 minutes.  Uncover and bake until the top browns, about 15 minutes more.  Sprinkle with the fresh basil or thyme, if using.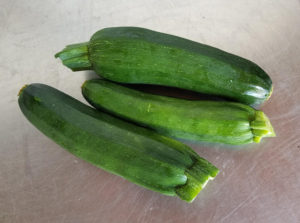 We'll be at Wheatsfield Coop, in Ames, from 12-2 p.m. this Saturday.  It's Wheatsfield's Local Sale day, with 20% off on lots of local products, and we'll be offering samples (and recipe cards) for our Raccoon Forks Farms egg salad!  Stop by and say hello – we'd love to see you!
-Your Raccoon Forks Farms Team