Dear Friends and CSA Partners –
Okay, now it's starting to feel like fall! We hope you're enjoying the cooler days and evenings.
Did it seem as though the summer passed quickly? It did to us – maybe that's because we've been so busy! And we're still busy, of course, but the pace is easing a little. We're continuing to harvest vegetables for storage, as well as for our CSA shares and the farmers' market, but the planting and weeding are finally slowing down.
And suddenly, the farmers' market season is drawing to a close. This Thursday is the final day of the Perry farmers' market, where we've been a vendor this summer. It was our first year at the Perry market, and we've really enjoyed it. Thank you, Perry market organizers and Perry community!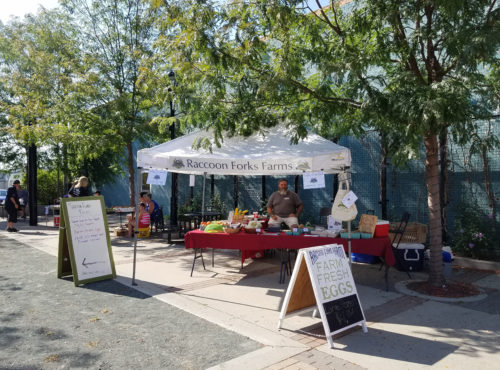 What's In Your Vegetables Share?
This week, we're planning to bring you beans, cucumbers, tomatoes, summer squash, delicata squash, kale, peppers, sweet potatoes, and possibly broccoli.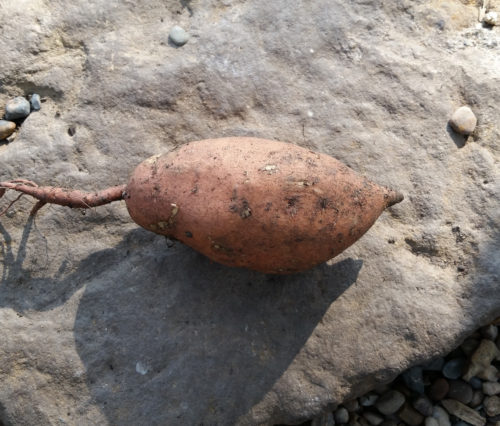 What Is It?
Delicata squashes are a delicious, versatile winter squash with a creamy flavor. Delicatas' skin is more delicate than many other winter squashes'. This makes them easy to prepare, a good thing when you're short on time – and the skin is edible! Delicatas are particularly great for stuffing but can also be used in all the ways you would use any other type of winter squash.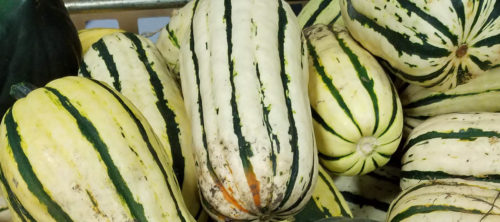 Storing
Both sweet potatoes and delicata squashes should be stored in a cool, dark, dry place with good air circulation. (But not a cold place – don't put them in the refrigerator.) Check on them periodically; if they develop bad spots, cut those away, and go ahead and enjoy the remainder.
For information on storing this week's other vegetables, see our produce storage web page.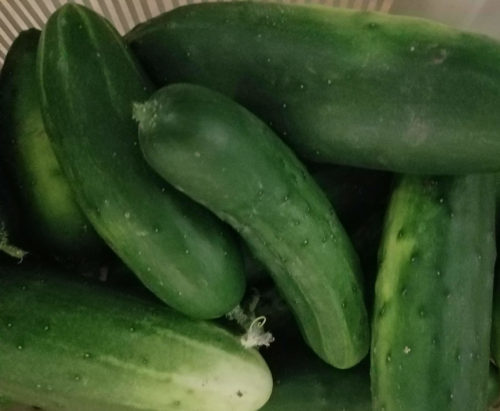 What to Make?
Maple-Roasted Delicata Squash with Red Onion
(Adapted from epicurious.com)
3 medium delicata squash (about 3 lbs.), halved lengthwise, seeded, and cut into ¼-inch thick slices
2 medium red onions, halved lengthwise and cut into ½-inch rings
5 garlic cloves, peeled and smashed
4 fresh thyme sprigs
½ tsp. red pepper flakes
3 Tbsp. extra-virgin olive oil
2 Tbsp. maple syrup
Kosher salt
Freshly ground black pepper
Arrange the racks in the upper and lower rungs in the oven and preheat the oven to 425° F. Place the squash, red onion, garlic, thyme, and red pepper flakes in a large bowl. Drizzle with olive oil and maple syrup, and sprinkle generously with salt and pepper; toss to coat.
Spread vegetables evenly onto two large, rimmed baking sheets. Bake the squash on the upper and lower racks of the oven, tossing, rotating, and switching the pan positions halfway through cooking, until tender and browned, 25 to 30 minutes. Taste and season again with more salt and pepper, if desired.
* * *
Sausage-Stuffed Delicata Squash
(From bhg.com)
2 medium delicata squash (about 1 pound each), halved lengthwise and seeded
3 tsp. olive oil
¼ tsp. salt
½ tsp. ground black pepper
8 oz. uncooked sweet Italian turkey sausage, casings removed
½ cup chopped onion (1 medium)
2 cloves garlic, minced
8 cups torn fresh kale, stems removed
⅓ cup golden raisins
⅓ cup reduced-sodium chicken broth
¼ cup shredded reduced-fat Swiss cheese
2 Tbsp. chopped walnuts
2 Tbsp. panko bread crumbs
⅛-¼ tsp. freshly grated nutmeg
Preheat oven to 375° F. Brush cut sides of squash evenly with 2 teaspoons of the olive oil. Sprinkle with the ¼ teaspoon salt and ¼ teaspoon of the pepper. Place cut sides up on a large baking sheet. Roast for 30 minutes.
Meanwhile, in a large nonstick skillet heat the remaining 1 teaspoon olive oil over medium heat. Add sausage, onion, and garlic. Cook about 10 minutes or until sausage is browned and onion is tender, stirring to break sausage apart. Add kale, raisins, and broth; stir to combine. Cover; cook for 8 to 10 minutes or until kale is wilted, stirring occasionally. Remove from heat. Stir in cheese and the remaining ¼ teaspoon pepper.
Spoon sausage mixture evenly into squash halves. In a small bowl stir together walnuts, bread crumbs, and nutmeg. Sprinkle evenly over sausage mixture. Bake for 10 minutes or until squash is tender and topping is golden.
* * *
Sweet Potato, Kale, and Goat Cheese Frittata
(From twopeasandtheirpod.com)
8 large eggs
¼ cup milk
⅛ tsp. ground nutmeg
Salt and black pepper, to taste
2 Tbsp. olive oil
1 large sweet potato, peeled and cut into ½-inch pieces
½ red onion, diced
3 cloves garlic, minced
1 Tbsp. chopped fresh rosemary
6 cups chopped kale, ribs removed
⅓ cup crumbled goat cheese
Preheat oven to 400° F.
In a large bowl, beat the eggs and milk together. Season with nutmeg, salt, and pepper, to taste. Set aside.
Place a large ovenproof skillet over medium high heat, preferably a cast iron skillet. Add the olive oil and heat until hot. Add the sweet potato and onion and cook until tender, about 8-10 minutes. Add the garlic, rosemary, and kale and cook until kale is wilted. Season with salt and black pepper, to taste.
Remove half of the mixture from the pan and set aside. Pour the egg mixture into the pan, over the sweet potatoes, kale, onion, and garlic. Add the reserved mixture back to the pan, making sure you evenly spread out the ingredients. Cook for 3-4 minutes or until just set. Top with crumbled goat cheese.
Place the pan into the oven and bake for 8-10 minutes or until eggs are firm and edges are golden brown. Remove from the oven and cut into wedges. Serve immediately.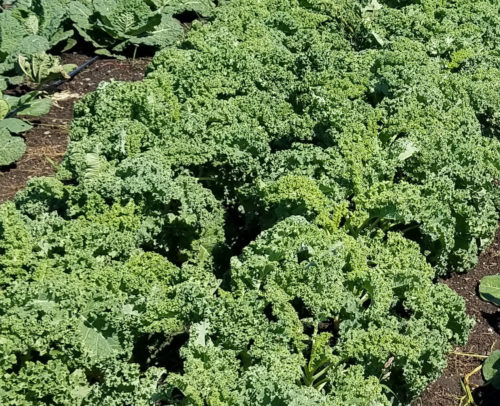 Kale, growing beautifully!
Can't Eat It Now? Save It For (Much) Later!
Delicata squash can be preserved in the same ways as other winter squash – see our brief discussion of preserving acorn squash in last week's newsletter. And, of course, all winter squashes can simply be stored in a cool, dry, dark place until you're ready to use them. Different types of winter squashes keep for varying amounts of time and any individual squash may not last well due to blemishes or other issues. In general, though, winter squash in good condition should store well for at least several weeks, and often much longer. Just check your squashes periodically to see how they're doing. Johnny's Selected Seeds offers a useful guide for how long to store various types of winter squashes.
Conveniently, sweet potatoes can be preserved and stored in similar ways to winter squash. They freeze well, both raw and cooked, and will keep several weeks when stored in a dry, cool, dark place.
For resources on a variety of ways to preserve vegetables, see our preserving produce web page. Here are links to several recipes for preserving delicatas and sweet potatoes:
https://www.vegetarianrecipesmag.com/vegetarian-recipes/sweet-potato-and-ginger-jam
http://bluewhitekitchen.blogspot.com/2011/08/sweet-potato-pickle.html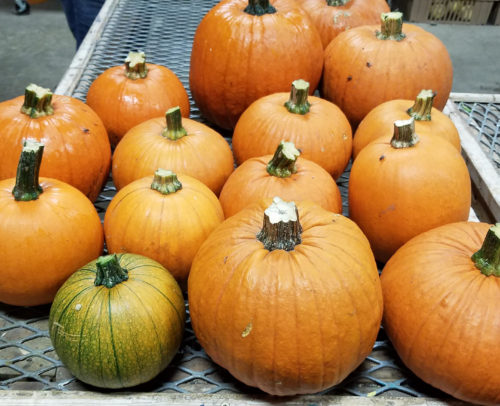 If you'd like to place an order for our pastured goat meat, lamb, or mutton, contact us at rforksfarm@gmail.com or 515/729-8664. We're taking reservations for half and whole animals and we offer a number of options for processing and pick-up. Let us know if you have any questions.
This Saturday, we'll be sharing samples at Wheatsfield Coop's Member Appreciation Celebration! You'll find us in the dairy section between 12-2 p.m. Stop by to say hello, we'd love to see you!
Cheers –
Your Raccoon Forks Farms Team