Dear Friends and CSA Partners –
We didn't know this until a couple of days ago, but apparently September is National Chicken Month – so we'd like to wish you a happy National Chicken Month! And to say – thank you, chickens!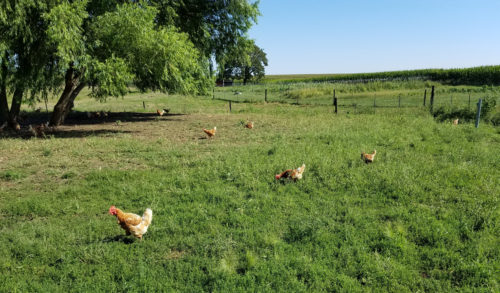 It may not feel like fall this week, but fall's coming, and our plants know it. We're harvesting winter squashes as well as sweet potatoes – that always feels like fall! And we're continuing to plant fall crops in the high tunnel – most recently, more spinach.
We're also preparing next year's garlic field for planting. Did you know that garlic is planted in the fall? It gets a good start under ground, then goes dormant during the winter, protected by a thick blanket of straw. In the spring, we loosen the straw and the garlic sprouts come through!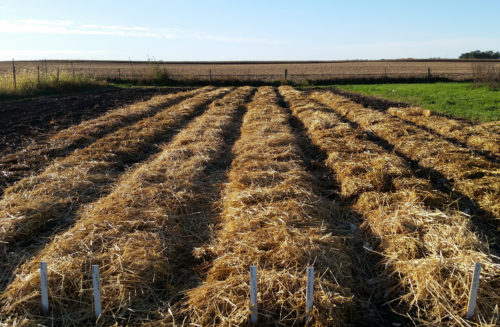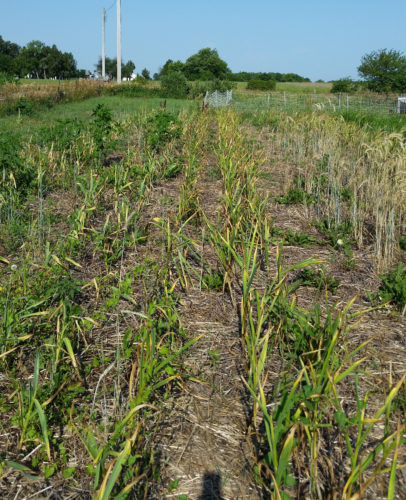 And you may be wondering why we referred to "next year's garlic field." We rotate our crops through our various fields, so that we're not growing the same crop in the same place year after year. This helps us improve the health of our soil and avoid plant diseases and pests. It's an integral part of our sustainable, chemical-free approach to farming!
What's In Your Vegetables Share?
This week, we're planning to bring you tomatoes, peppers, acorn squash, cilantro, beans, cucumbers, and garlic.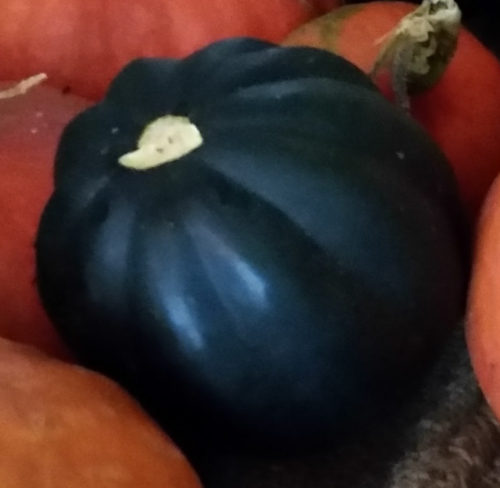 Acorn squash, nestled amongst some Red Kuri squashes
What Are They?
Acorn squash is a winter squash, dark green on the outside and golden inside. It's delicious cooked in both savory and sweet dishes! Did you grow up eating baked, halved acorn squashes with butter and brown sugar in the middle? We did, when we were lucky!
Cilantro is an herb that seems to evoke strong reactions. Many people love it; and many do not! And lots of folks are familiar with it, while others have never encountered it. Just to confuse things, cilantro is the green, leafy part of the coriander plant, and is often called coriander. Coriander/cilantro is an important component of many cuisines, including Indian, Thai, and Mexican, among others.
If you've never had cilantro, give this week's offering a try! Cilantro has a fresh, green, "herby" taste. Try mincing it and using it as a garnish on savory dishes; put a sprig or two in your sandwich; or chop it and add it to soups or stews. If, like some of us, you improvise Thai and Indian dishes with whatever's in the fridge, be sure to chop some cilantro and include it in your creations!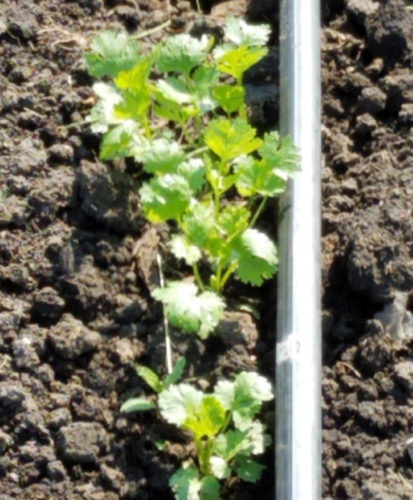 Storing
Winter squashes – including acorn squash – should be stored in a cool, dry, dark place (but not the refrigerator). Do you happen to have a root cellar? That, of course, would be perfect! Otherwise, use any dark place in your kitchen or home where you don't mind having squash – the back of a closet or cupboard, perhaps. Stored this way, acorn squash should stay good for up to several weeks, or longer. Check it periodically, and if you find any bad spots, cut them out, and enjoy the rest of the squash right away!
Cilantro is kind of the opposite of winter squash, when it comes to storage and use. The fresher cilantro is, the better it is, but it can be kept in the refrigerator for a few days. Use the bouquet method – stand your cilantro in a glass of water, cover the leaves loosely with a plastic bag, and store it in the refrigerator, preferably somewhere where it won't be knocked over!
For information on storing this week's other vegetables, see our produce-storage web page.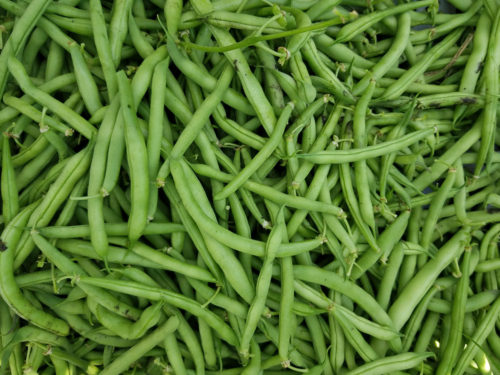 What to Make?
Tomato, Lime, and Tortilla Soup
(As you know, we like to cite the sources of the recipes we send you. Well, this recipe is an old favorite, written in pencil on a piece of notebook paper, with no citation, and stuck inside one of our cookbooks. We've had it for years. A little Internet searching suggests that the recipe's origin was the Moosewood Restaurant and one of its wonderful cookbooks. This sounds very likely to us, so thank you, Moosewood, and we hope we're correct about this!)
1 cup chopped onions
4 large garlic cloves, minced
3 Tbsp. oil
1-2 minced chili peppers
1 tsp. ground cumin
½ tsp. dried oregano
3½ cups chopped fresh tomatoes
3 cups vegetable stock
⅓ cup fresh lime juice
Salt to taste
Grated Monterey Jack cheese
Tortilla chips, crumbled
Chopped fresh cilantro
Sauté onions and garlic in oil until translucent. Add chilies, cumin, and oregano and sauté for a few more minutes. Add tomatoes and sprinkle with a little salt. Cover and cook gently until the tomatoes begin to release their juices. Stir occasionally. Add stock and simmer, covered, for about 15 minutes. Add lime juice and salt to taste.
Serve topped with cheese and tortilla chips. Garnish with cilantro.
* * *
Herb Roasted Parmesan Acorn Squash
(Adapted from therealfoodrds.com)
1 large or 2 small acorn squash
⅓ cup Parmesan cheese
2-3 Tbsp. fresh herbs or 1 tsp. dried (suggested: thyme, sage, rosemary,and/or oregano)
1 Tbsp. butter or ghee, melted
½ tsp. garlic powder, or minced fresh garlic to taste
¼ tsp. sea salt plus more to taste
⅛ tsp. black pepper or more to taste
Preheat oven to 400° F.
Cut acorn squash in half and scoop out the seeds. Then slice each half into ½-inch slices. Place squash slices and all other ingredients in a large bowl and toss to combine. Spread the squash slices in a single layer on a large sheet pan. Bake in the oven for 25 minutes or until squash is cooked through and Parmesan cheese is crispy and slightly brown.
* * *
Creamy Garlic Mac and Cheese
(Adapted from abeautifulmess.com)
16 oz. macaroni
4 Tbsp. butter
4 cloves garlic, finely chopped or minced
4 oz. cream cheese
3 cups whole milk
2 cups shredded cheese (cheddar, Colby jack, or a mixture)
2 eggs
Salt and pepper to taste
Chives (for garnish, optional)
Cook the noodles according to the package directions for al dente. You really want the noodles to be slightly undercooked (as opposed to overcooked) because they will absorb more moisture while they cook in the slow cooker.
In a large sauce pan, heat the butter over medium heat. Add the garlic and cook for one minute. Now add the cream cheese, 2 cups of the milk and the shredded cheese. Stir until well combined and the cheese begins to melt. Remove from heat.
In a bowl, whisk together the eggs and remaining 1 cup of milk. Add a little bit of the hot, cheesy liquid to this bowl and stir. This will help to temper the eggs so they don't cook too quickly.
Now add everything to a slow cooker. Season with salt and pepper. Give it a stir. Place the lid on top and cook on low for 1 hour.
Serve topped with chives...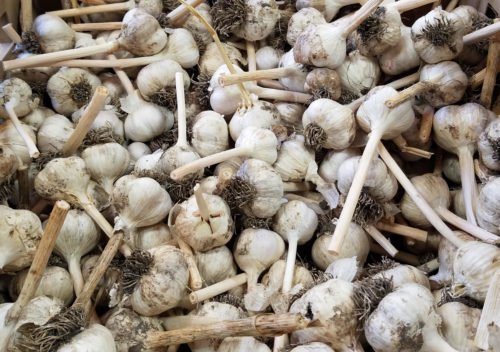 Can't Eat It Now? Save It For (Much) Later!
Acorn squash freezes well both raw and cooked. Cut the squash into the sizes/forms you wish; cook them, if you're going that route; then freeze them on a cookie sheet, and once the pieces are frozen, transfer them into freezer containers. Alternatively, cook and purée your squash, then freeze the purée.
Cilantro can be minced and frozen, or dried; it also preserves well puréed with oil, like a pesto, and frozen into ice cubes.
For resources on a variety of ways to preserve your squash, cilantro, and other vegetables, see our preserving produce web page! Meanwhile, here are links to a few recipes for preserving cilantro and acorn squash:
Enjoy the full flavor of cilantro with this cilantro pesto (preserve it this way too)
Indian Cooking 301 — Recipe #5: Sweet & Spicy Cilantro Jam (South Indian 'Coriander Thokku')
https://www.sufficientself.com/threads/acorn-squash-pickles.10720/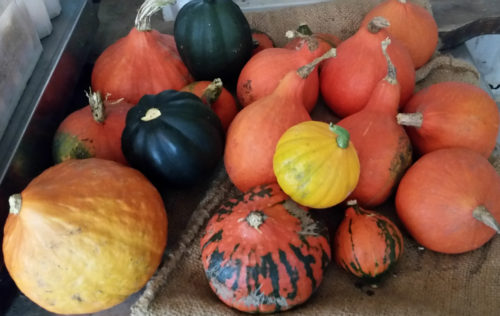 Mixed winter squashes
Don't forget to stop by the fourth annual Local Food Festival at Iowa State University tomorrow! There will be 38 booths, ours among them, and it looks as though there will be a great mix of local food producers, educational organizations, and ISU student groups – all dedicated to promoting local foods and food systems. Hope to see you there!
–Your Raccoon Forks Farms Team