Dear Friends and CSA Partners –
Think we've had enough rain for a while? It's great to be seeing the sun again!
Although it got plenty muddy last week at both of our farms, our plants generally weren't distressed by all the water. Shows you how dry things had been previously, maybe. We have had problems with insects, though, recently. They're the reason that while we planned to send you collard greens in last week's CSA vegetables shares, we didn't – when we went to pick the collards, they had been attacked. We apologize for having focused so much on collards in last week's newsletter, and then not sending any! We're hoping to get past the insects and be able to share another harvest of collards before the end of the season.
Weather and insects have taken a toll on our harvests this summer, more than some years. We don't want to sound whiny about this; we just want to reflect the realities of farming to you, and for you to understand how disappointed we are that we haven't been able to send you certain wonderful vegetables this summer! For instance, weirdly, our Early Purple Vienna kohlrabi never formed bulbs this summer: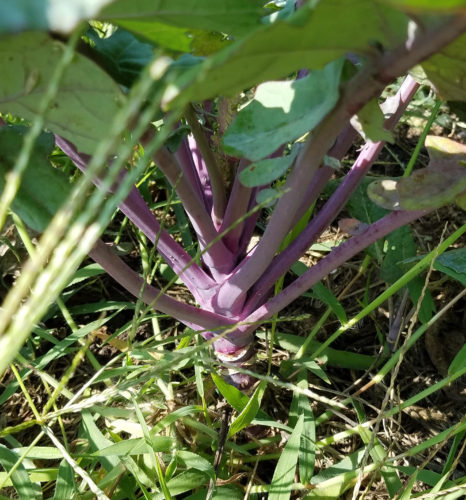 2018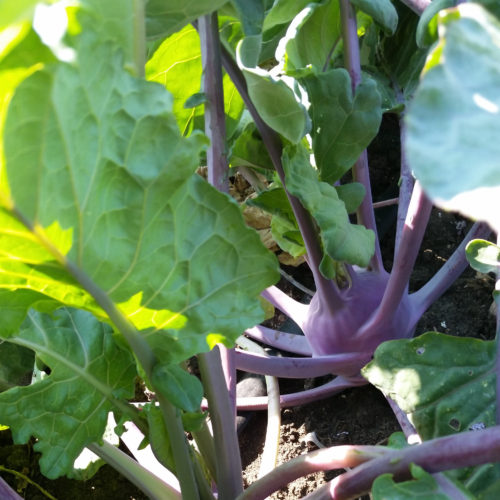 2017
Potential crop damage by weather and pests is one reason we grow so many different types of vegetables – if one is doing poorly, something else may be doing just fine. We're hopeful that our Kossak kohlrabi, which is looking fine right now, will yield a great crop. On a similar note, we're starting to think of this summer as The Year Of The Squash! As you know if you've been receiving vegetables shares, our summer squash has been very productive; and our winter squash looks to do the same! We're just starting to harvest the first winter squashes: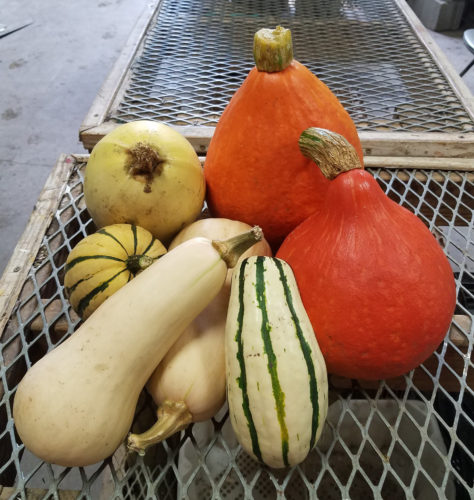 What's In Your Vegetables Share?
This week, we're planning to bring you cucumbers, beans, peppers, summer squash, parsley, and basil, and possibly lettuce and/or tomatoes.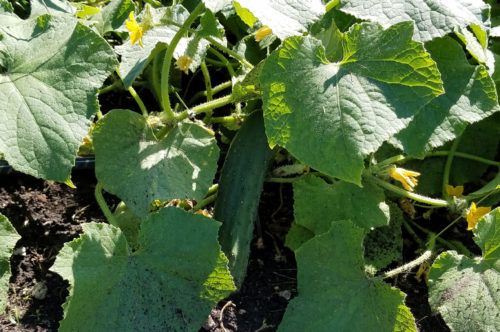 Storing
Parsley is another herb, like basil and cilantro, that stores well as a "bouquet." Trim a little bit from the bottoms of the stems, then stand the stems in a glass of water. Cover the tops loosely with a plastic bag and put the whole thing in a safe corner of your refrigerator, where it won't get knocked over.
For suggestions for storing your other vegetables, see our produce-storage web page.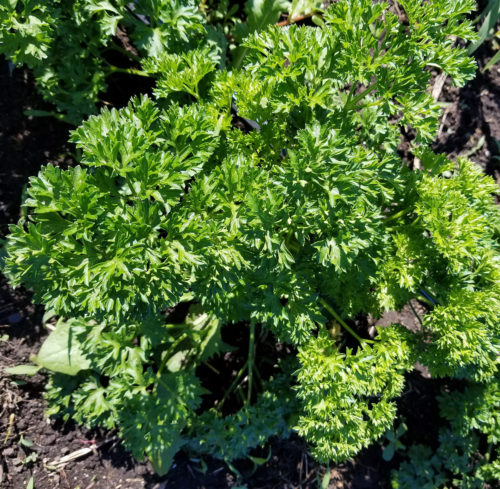 What to Make?
We're sure you already have many ways of enjoying cucumbers – including maybe just eating one whole, like an apple, which some of us like to do! But we thought you might enjoy this salad recipe:
Tiger Salad
(From bonappetit.com)
1 Tbsp. unseasoned rice vinegar
2 tsp. toasted sesame oil
1 tsp. toasted sesame seeds
¼ tsp. crushed red pepper flakes
1 bunch cilantro leaves with tender stems, cut into 2-inch pieces
4 celery stalks, thinly sliced on a diagonal
2 small cucumbers or ½ large, thinly sliced
6 scallions, thinly sliced on a diagonal
Kosher salt, freshly ground pepper
Whisk vinegar, oil, sesame seeds, and red pepper flakes in a large bowl. Add cilantro, celery, cucumbers, and scallions. Season with salt and pepper and toss to combine. Salad can be made 6 hours ahead. Cover and chill.
* * *
Pickled Mixed Peppers
(From jimdrohman.com)
2 lbs. small mixed peppers
3 cups water
3 cups white wine vinegar
3 tsp. fine sea salt
6 cloves garlic (peeled and germ removed)
6 sprigs thyme (washed and shaken dry)
1 Tbsp. black pepper corns
1 Tbsp. whole anise seeds
Heat the vinegar, water,and salt to 160 degrees F (vinegar is unstable at high heat, so should not be boiled). Simmer without reducing for 5 minutes.
Wash the canning jars and lids. Wash the peppers and then put a slit in the side of each (if the peppers are very large, they can be cut in half).
Fill the jars with peppers, packing very tightly, as the peppers will shrink a bit when they are cooked. Add a garlic clove, thyme sprig, peppercorns, and anise seeds to each jar. Fill the jars with the hot vinegar solution, leaving ½ inch head space. Close the jars tightly with 2-piece canning lids.
Process the jars in a hot water canner held at between 180 and 185 degrees for 15 minutes. Remove and cool away from drafts.
* * *
Summer Squash Oatmeal Cookies with Cinnamon Frosting
(From theliveinkitchen.com)
Cookies
1 cup white whole wheat flour
1 cup old fashioned oats
1 tsp. baking soda
¼ tsp. cinnamon
6 Tbsp. butter, partially melted
¾ cup dark brown sugar
½ cup mashed banana (about 1 large)
½ cup finely grated yellow squash (about ½ a small squash)
1 large egg
Frosting
1 Tbsp. butter, melted
1 cup powdered sugar
¼ teaspoon cinnamon
1 Tbsp. whole milk
Preheat the oven to 350º F. Line a baking sheet with parchment or a Silpat.
In a medium bowl, whisk together flour, oats, baking soda, and cinnamon.
In a large bowl, combine butter and sugar until creamy. Add banana, squash, and egg and mix until combined. Add dry ingredients and stir until just incorporated. Drop tablespoonfuls of dough onto the prepared baking sheet and bake 12-15 minutes or until the cookies are just set. Allow to cool on the pan 4-5 minutes, then transfer to a cooling rack to cool completely.
Once the cookies are completely cool, prepare the frosting. In a small bowl, combine all the ingredients and whisk until no sugar lumps remain. If you prefer a smoother glaze for drizzling, add a few drops of milk until it reaches the desired consistency.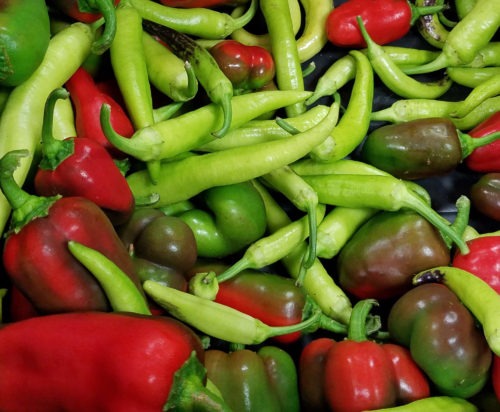 Can't Eat It Now? Save It For (Much) Later!
Parsley freezes and dries well. If freezing, you can freeze parsley as is, or consider puréeing it with some olive oil, then freezing the purée in dollops or in an ice cube tray. Alternatively, you could turn your parsley into something else, then store it for later use. Here are links to several delicious-sounding ways to do so:
https://www.allrecipes.com/recipe/46171/parsley-jelly/
For resources on lots of ways to preserve herbs and vegetables, go to our produce preservation web page.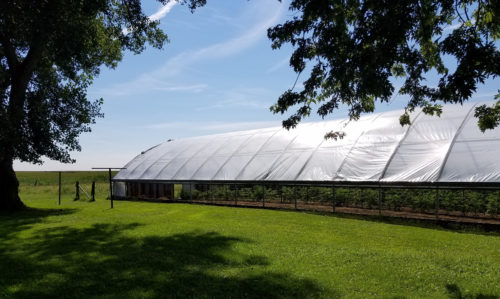 We're excited about next Wednesday, the 19th! From 9:30 a.m. to 1:30 p.m., we'll be at Iowa State University for ISU's fourth annual Local Food Festival. We'll be somewhere on central campus, between Beardshear and Curtiss Halls, and we're bringing samples! Stop by to check out the Festival and say hello – we hope to see you there!
Cheers –
Your Raccoon Forks Farms Team