Dear Friends and CSA Partners –
We feel as though we're always writing to you about the weather, this year – but the weather's been so…robust! and so present! Even as we write this! Have you had enough rain? Are you growing gills and fins, yet? We feel as though we are!
In happier "wether" news, we have two beautiful new goats! One is a buck, and one is a wether – a castrated male goat. We want to expand our herd, and we'll be breeding our goats next week. We already had one buck, and we'll pair him with our mature ewes. We purchased the new buck to expand the herd's genetics – we'll breed him with our doelings (young female goats). Next year, you can expect to hear that we've sold a buck or two and acquired new ones, to keep our genetic pool growing!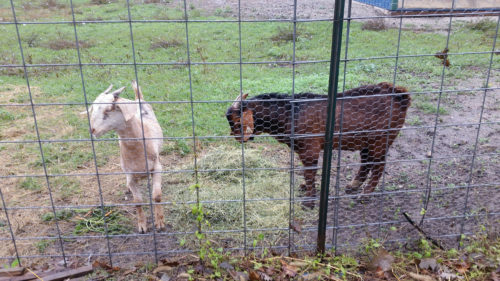 Wether on the left, buck on the right
At the Redfield farm, we're continuing to harvest vegetables, as the rains let us, and starting to plan our winter projects. As you would expect, we always do lots of cleaning, repair, and maintenance during the winter. And of course, we continue to take care of all of our livestock and to collect and process eggs all winter! But winter is also when we make a lot of our paper (from recycled egg cartons, of course!), soap boxes, and soap, as well as folk art pieces. We're thinking now about any changes we may want to make in these winter activities.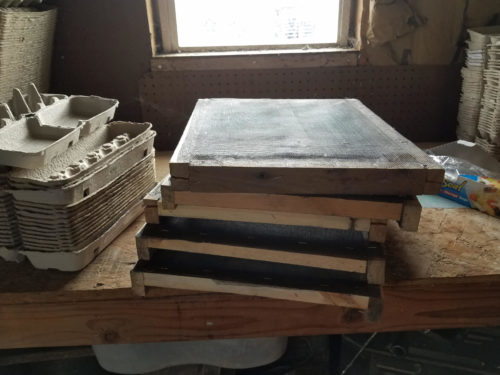 Paper-making central! Used egg cartons which will become paper,
and new screens we built so we can dry more paper!
At our Runnells farm, we're almost done with the pre-fencing work for the goat pasture. Some of our Redfield farm crew came to Runnells to help, last week, and we took down 10-12 big trees that were in the way of the fence line. (We'll turn those trees into firewood for the Redfield farm, by the way – we heat our main work building there with a wood stove.) Weather permitting, we'll start putting in fence posts next week!
And in our other exciting news from Runnells, our young hens there are finally starting to lay eggs!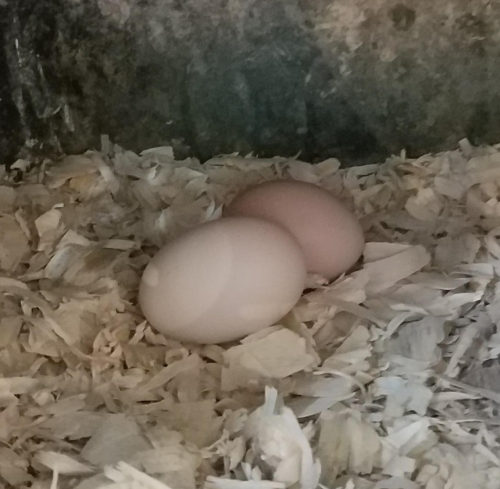 What's In Your Vegetables Share?
This week, we plan to bring you lettuce, peppers, spaghetti squash, kale, tomatoes, potatoes, cabbage, and turnips.
Beautiful fall kale
What Is It?
Spaghetti squash is an almost football-shaped and -sized winter squash. The ones we grew this year, and are sending in CSA boxes, have cream-colored and yellow rinds, although spaghetti squash can also come in shades of white and orange. Like other types of winter squash, spaghetti squash has a hard rind and mature seeds, and its flesh is hard until it's cooked. Unlike other winter squashes, though, when spaghetti squash is cooked, its flesh wants to come off the rind in ribbons, kind of like thin linguine. As a result, it's often used like pasta, with delicious results!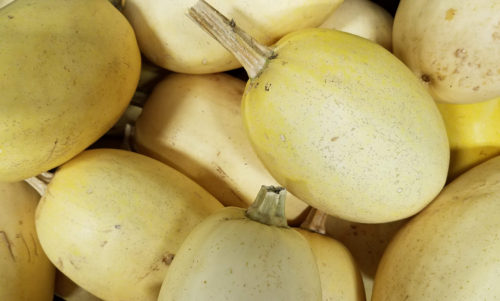 Storing
Store spaghetti squash like other winter squash – in a cool, dark, dry place with good air circulation.
For more information on storing your squash and other vegetables in this week's shares, see our produce storage web page!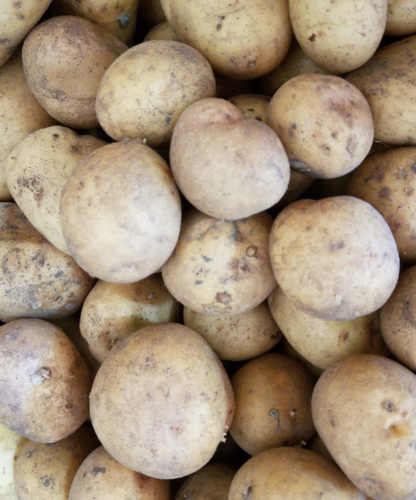 What to Make?
Baked Spaghetti Squash with Garlic and Butter
(Adapted from steamykitchen.com)
1 small spaghetti squash, about 3-4 lbs.
2 Tbsp. butter
2 cloves garlic, finely minced
¼ cup finely minced parsley or other fresh herb
½ tsp. salt or to taste
¼ cup shredded parmesan cheese
Preheat oven to 375° F. Pierce squash a few times with sharp paring knife (to let steam escape). Bake spaghetti squash for 60 minutes, or until a paring knife pierces easily through skin with little resistance. Let squash cool for 10 minutes.
Cut squash in half, lengthwise. Use a fork to remove and discard the seeds. Continue using fork to scrape the squash to get long, lovely strands. If the squash seems difficult to scrape, place squash halves cut side down, and bake for an additional 10 minutes.
To serve 4 people, you'll use about 4 cups of the spaghetti squash strands. Melt butter in a large sauté pan over medium-low heat and add the garlic. When garlic becomes fragrant, add parsley, salt and spaghetti squash strands. Toss well, sprinkle in the parmesan cheese, and taste to see if you need additional salt. The spaghetti squash should have a slight crunch - but if you like it softer, cover the pan and cook 2 more minutes.
* * *
Stuffed Spaghetti Squash with Pecans, Kale, and Dried Cranberries
(Adapted from feastingathome.com)
1 spaghetti squash, cut in half horizontally
1 Tbsp. olive oil
½ onion, diced
3 garlic cloves, roughly chopped
2 heaping handfuls of chopped kale
¼ cup pecan halves
¼ cup dried cranberries
4-5 fresh sage leaves, torn or chopped (optional)
¼ tsp. salt
¼ tsp. pepper
2-3 tsp. balsamic vinegar
2-3 tsp. maple syrup
Preheat oven to 450° F. Cut spaghetti squash in half horizontally (not the long way) and scoop out the seeds. Slice a sliver off each bottom, creating a flat surface, so that each half can stand upright when stuffed. Roast the squash halved, open side down, on a parchment-lined sheet pan, until you can pierce the skin with a fork, 35-40 minutes. (Alternatively, for faster cooking, microwave the squash cut side down in a baking dish, with a little water, for 10-12 minutes.)
While the squash is roasting, heat oil in a large skillet over medium-high heat and add the onions. Sauté 2-3 minutes, then turn the heat down to medium and add the garlic. Cook another 2-3 minutes or so, until fragrant and golden. Add the kale, pecans, and cranberries, and keep stirring and sautéing, lowering the heat if necessary, until nicely wilted. Stir in the sage, salt, and pepper. Finally, add one teaspoon each of the balsamic vinegar and maple syrup. Turn off heat.
Once the spaghetti squash Is tender, flip the halves over and unravel and fluff the strands with a fork. Sprinkle each half with a generous pinch of salt and pepper, a drizzle of olive oil, and maple syrup (about a teaspoon each) and toss the strands well with the fork. Divide the filling between the two squash halves, using a fork, gently mixing it in with the strands, and mounding it up high. Taste, adjust salt and maple syrup if needed, then enjoy!
* * *
Carmelized Turnips
(Adapted from allrecipes.com)
3 cups diced peeled turnips
¼ cup water
1 cube chicken bouillon, or equivalent chicken base
1 Tbsp. butter, or more as needed
2 Tbsp. white sugar
Place the turnips into a skillet with the water and chicken bouillon or chicken base over medium heat, and simmer until the water has evaporated and the turnips are tender, about 15 minutes. Stir in the butter, let melt, and sprinkle on the sugar. Gently cook and stir the turnips until the butter and sugar cook into a brown, sticky coating on the turnips, about 10 minutes. Serve hot.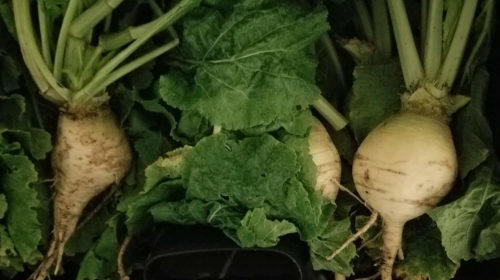 Turnips
Can't Eat It Now? Save It For (Much) Later!
Like other winter squashes, it's easy to preserve spaghetti squash, because you don't really need to do anything! Just keep it in a cool, dry, dark place that has good ventilation and check it occasionally to make sure it's not developing any bad spots. If it is, cut them out and enjoy the rest of the squash. Alternatively, you can cook spaghetti squash and then freeze it, either on its own or in dishes that incorporate it. See our preserving produce web page for resources on preserving your spaghetti squash and the other vegetables in this week's shares.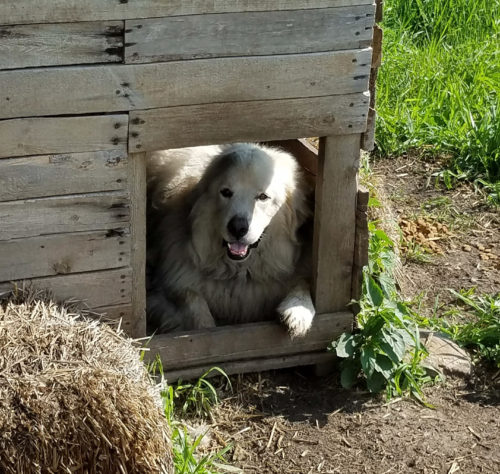 If you're one of our CSA members at Meredith Corporation, we're looking forward to seeing you at Meredith's wellness fair on Thursday! Please stop by our table to say hello!
Wishing everyone a great week –
Your Raccoon Forks Farms Team