Dear Friends and CSA Partners –
Welcome to October!  They say it's going to be in the upper 80s tomorrow – just for one day – enjoy one last blast of summer! – but then back to cool temperatures.  Weather or  not, we're well-embarked on fall chores!
At the Redfield farm, our summer tomato plants are still valiantly providing tomatoes, but they're pretty scraggly, now, after producing heavily all summer.  We'll be pulling them up, soon.  Don't despair, though, if you're a tomato-lover:  the tomatoes on our young plants, in the high tunnel, are just starting to get ripe!  We'll continue to have delicious tomatoes until it gets considerably colder. 
We're starting to pull in our irrigation lines from fields that don't need them any more this year.  In fact, the ground at both farms is quite damp, after all the rain we've had.  We're happy for the subsoil moisture to get replenished, of course, but the wetness is keeping us from harvesting all of our sweet potatoes and carrots!  We can dig them up, but they're really muddy.  It's difficult to remove the mud without damaging the vegetables' skins, which protect them and are necessary if they're going to store well.  So we're waiting for things to get a little bit drier.
We've been telling you all summer how we've been preparing the fence lines for our new goat pasture at our Runnells farm.  Well, we're getting close to finishing the prep work, and we finally took some pictures to show you!  As you can see, right now it's a wooded, overgrown area - the goats will help with that!
Did we mention that part of the challenge is vines?
What's In Your Vegetables Share?
This week, we plan to bring you tomatoes, cilantro, summer squash and acorn squash, peppers, parsley, garlic, and carrots (wet soil permitting).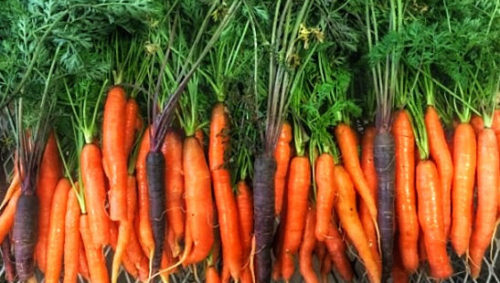 What Is It?
Since you're familiar with all the types of produce in this week's boxes, we thought we'd provide a little more information on summer and winter squash.  To start – both winter squash and summer squash are actually fruits!  They're from the same genus (Cucurbita) and some of the same and some different species. 
Summer squash are picked young, when they're solid in the middle, their skins are tender, and their seeds are not fully developed.  As you know, they need to be eaten or preserved relatively quickly.  Winter squash, on the other hand, are picked when their middles are hollowing, their seeds are mature, and their rinds are hard.  The hard rinds allow them to keep for weeks or months, depending on the type of winter squash and how you store them.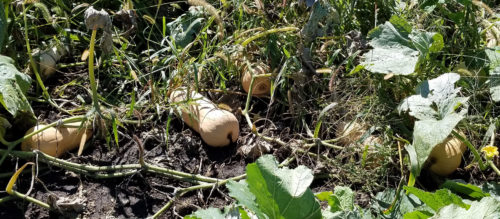 Our butternut squash did really well this year!  This is like the children's puzzles: How many butternuts can you find?
Storing
Carrot greens will continue to draw nutrients from the carrots as long as they're attached, so cut them off and store them separately.  And do store the tops as well as the carrots – you can eat both!  We've included several delicious-sounding carrot greens recipes, below.  In the meantime, keep your carrots in an open box or bag in the refrigerator.  To store the greens, don't wash them until you're ready to use them.  You can keep them in a plastic bag or container in the refrigerator, or treat them like a bouquet and stand them in a container of water in the fridge. 
For information on storing the rest of this week's produce, see our produce storage web page!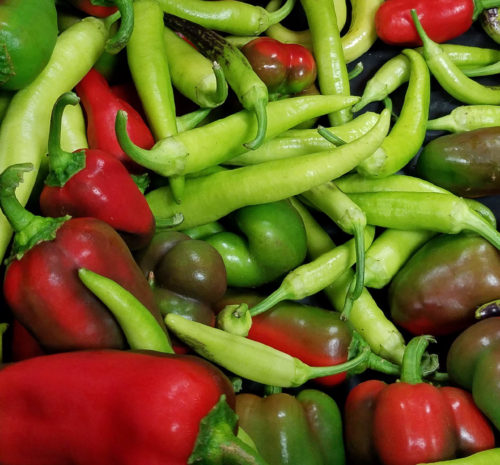 What to Make?
Warm Carrot Top Salad
(Adapted from organicauthority.com)
1 Tbsp. olive oil
1 tsp. ground cumin
1 medium onion, minced
1 clove garlic, minced
2 cups cooked chickpeas
1 cup chopped carrot greens
Juice of one lemon
Salt and pepper to taste
In a saucepan over medium-high heat, add the olive oil and cumin.  Stir and let cook for one minute to release the cumin's aromas.  Add the onion and sauté for a few minutes, or until the onions begin to turn translucent.  Add in the garlic and chickpeas and stir while cooking. After two to three minutes, remove the saucepan from the heat and fold in the carrot greens, lemon, and salt and pepper. Serve and enjoy.
*           *           *
Tuscan Carrot Top Soup
(From bostonorganics.com)
3 Tbsp. olive oil
1 onion, minced
2 carrots, diced
1 celery stalk, diced
3 cloves garlic, minced
½ tsp. salt
½ tsp. pepper
6 cups vegetable broth
½ cup rice
1½ cup carrot tops, chopped
4 Tbsp. Parmigiano Reggiano cheese, grated
Place oil in a large, heavy gauge soup pot.  Heat over medium-low heat, then add the onion, carrots, celery, and garlic.  Sauté for 5-7 minutes until translucent – take care not to burn the garlic!  Add salt and pepper and sauté for an additional 30 seconds.  Place broth in the pot and bring it to a boil.
Once the liquid is bubbling, add the rice.  Cook until the rice is almost tender, 15-20 minutes.  Add the carrot tops and stir well.  Cook, stirring occasionally, for an additional 5 minutes.  Continue cooking until the rice is done.  Serve with a sprinkle of grated cheese and enjoy!
*           *           *
Carrot Top Salsa
(Adapted from gardenbetty.com)
2 cups minced carrot tops
3 Tbsp. minced garlic
3 Tbsp. minced oregano
2 Tbsp. minced jalapeño pepper
1 to 1¼ cups extra virgin olive oil
¼ cup red wine vinegar
Juice and zest from 1 lemon
Combine all ingredients.  Can be used right away, or refrigerate overnight to allow the flavors to meld.
*           *           *
Summer Squash and Curry Stew
(Adapted from myrecipes.com)
2 lbs. summer squash, coarsely chopped
1 medium sweet onion, coarsely chopped
1 pint grape tomatoes
3 garlic cloves, thinly sliced
2 Tbsp. olive oil
2 tsp. curry powder
¼ tsp. dried crushed red pepper
1½ tsp. kosher salt, divided
3 cups organic vegetable or chicken broth, divided
2 Tbsp. butter
1 Tbsp. fresh lime juice
½ cup torn fresh basil
¼ cup loosely packed fresh parsley leaves
Preheat oven to 450° F.  Toss together first 7 ingredients and 1 tsp. salt.  Arrange in a single layer in a 15- x 10-inch jelly-roll pan.  Bake for 30 to 35 minutes or until vegetables are tender and lightly browned, stirring halfway through.
Remove pan from oven; process 2 cups squash mixture and 1 cup broth in a blender or food processor until smooth.  Divide remaining squash mixture among 4 shallow soup bowls.
Stir together vegetable puree and remaining 2 cups broth in a 3-qt. saucepan; bring to a boil over medium heat, stirring occasionally.  Remove from heat;  whisk in butter, lime juice, and remaining ½ tsp. salt.  Spoon broth mixture over squash mixture in bowls.  Sprinkle with fresh herbs, and serve immediately. 
*        *        *
Oven-Roasted Winter Squash with Garlic & Parsley
(Adapted from eatingwell.com)
2-5 lbs. winter squash, peeled, seeded, and cut into 1-inch chunks
2 Tbsp. extra virgin olive oil, divided
Salt and pepper, to taste
3 cloves garlic, minced
2 Tbsp. parsley, chopped
Preheat oven to 375° F.
Toss squash with 4 teaspoons oil, salt, and pepper.  Spread evenly on a large baking sheet.  Roast, stirring occasionally, until tender throughout and lightly browned, 30 to 45 minutes (depending on the variety of squash).
Heat the remaining 2 teaspoons oil in a small skillet over medium heat.  Add garlic and cook, stirring, until fragrant but not brown, 30 seconds to 1 minute.  Toss the roasted squash with the garlic and parsley.  Taste, adjust the seasoning, and serve.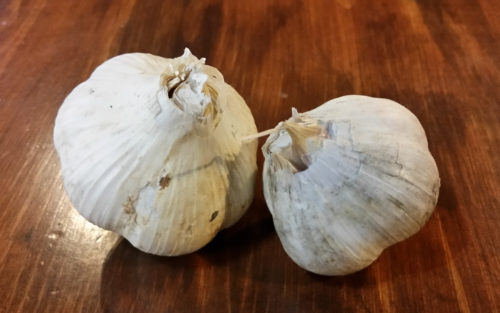 Can't Eat It Now?  Save It For (Much) Later!
Carrots preserve well a number of ways, including by freezing, canning, and drying.  If you're freezing carrots, consider cooking and puréeing them, then freezing the purée – it will be ready to go for soup, muffins, or other uses when you need it!  For information on the various methods of preserving carrots, as well as any of your other produce, see our preserving produce web page.  
Have you noticed we like pickles and preserves?  Here are links for a few carrot recipes that sound good:
https://www.tastingtable.com/cook/recipes/Taqueria-Style-Pickled-Carrots-Recipe-from-Kevin-West
https://www.ruchiskitchen.com/recipe/instant-carrot-chili-pickle/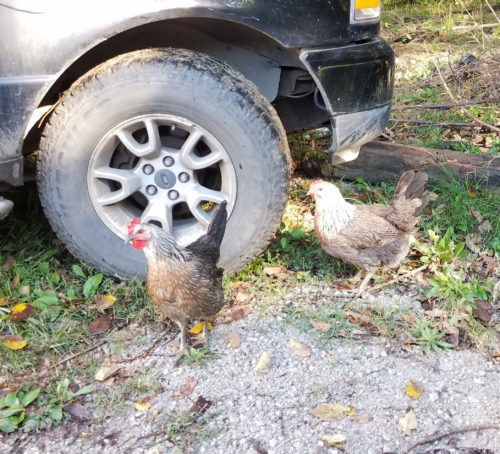 Iowa Blues, checking things out at the Runnells farm
A couple of quick CSA shares reminders:  Sadly, there are only three weeks left in our summer vegetables CSA season!  We'll be making the last vegetables deliveries the week of October 15th.  Summer eggs shares, however, continue through the end of November.  So if you've been getting summer eggs, you have two more months of eggs to enjoy!
Our fall vegetables shares are all sold, and we have a waiting list – let us know if you'd like us to add you to the list, just in case.  Delivery of fall vegetables shares will start the week of October 22nd.
We're planning some updates and additions to next year's summer vegetables CSA shares.  Details will be coming in the next couple of weeks' newsletters!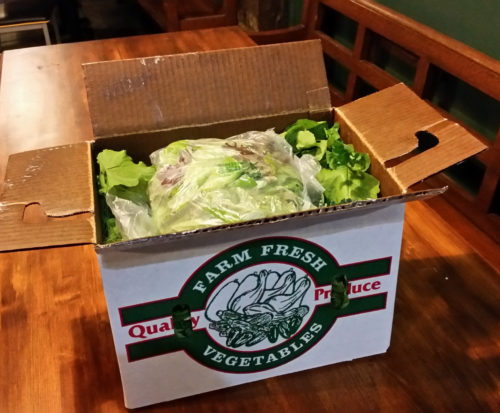 Have a great week!
Your Raccoon Forks Farms Team