Dear Friends and CSA Partners –
Well, we can hardly believe it, but our summer vegetables CSA season once again is coming to an end – this is the final week!  We hope you've had a wonderful CSA experience with us:  that you've eaten very well;  that we've introduced you to some new vegetable favorites;  and that you've tasted Iowa summer in every scallion and tomato.  Thank you very much again for investing and partnering with us in our CSA program.  We're grateful for your commitment to our dual missions of chemical-free, sustainable farming and providing employment opportunities to people with disabilities and other barriers to employment.  We truly couldn't do it without you!
A few updates and reminders about other shares types –
If you receive a summer eggs share, you still have eggs to come!  Your eggs share will continue through the last week of November.
If you have a frozen broiler chicken share, you are welcome to request your remaining chickens any time through the end of the year.  Just let us know by Monday of the week you want one or more of your birds, and we'll deliver your chicken that week to your regular CSA pick-up site.
We still have a waiting list for fall vegetables shares.
Our lamb, mutton, and goat meat are not offered as CSA shares, but we do still have some of each available!  For information, email us at rforksfarm@gmail.com.
Right on schedule with the end of our summer vegetables season, we've had frost, hard freezes, and even a little snow at the Farms.  Our plants in the high tunnel at the Redfield farm are fine, of course:  as the weather cools, we just roll down the sides and it stays nice and warm inside.  We've even had volunteer spinach growing in the high tunnel during the depths of winter!  And outside, we've been covering our peppers and some of our other cold-sensitive plants with cover cloth, trying to extend their productivity a little longer.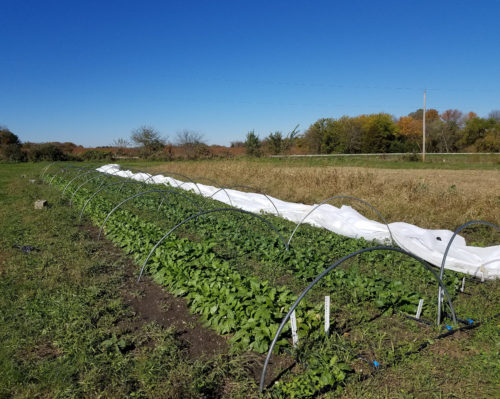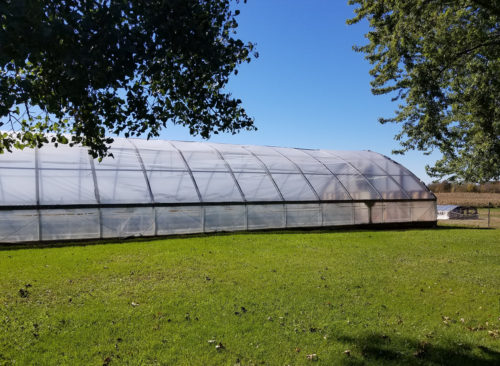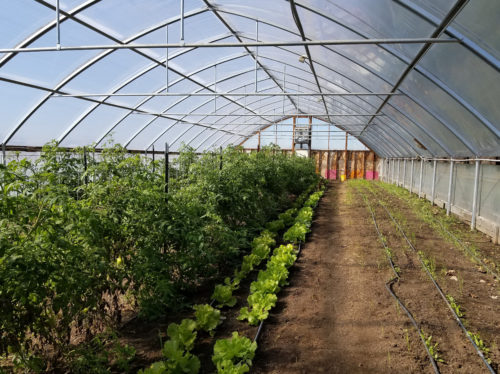 We roll back the cover cloth when it's warm, and put it back over the hoops, and plants, at night
What's In Your Vegetables Share?
Have you been eating your yellow vegetables lately?  This week, we plan to bring you sweet potatoes, red kuri squash, and carrots;  as well as kale, peppers, garlic, spinach, and Brussels sprouts.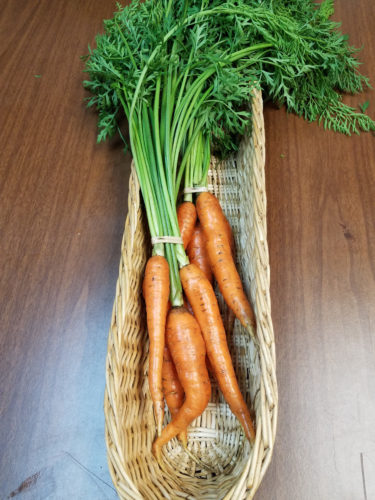 What Is It?
When some of us were growing up, the only "winter squash" we ever knew or saw were acorn squash, and maybe occasionally butternuts.  But there are many varieties of winter squash, and we love to grow them!  Red kuri squash are yet another of the beautiful winter squash varieties we raised this summer.  With a delicate, nutty flavor, red kuris can be used in all the ways you use any other winter squash.  And they're really cute – some of us use them for fall decorating for a while before we eat them!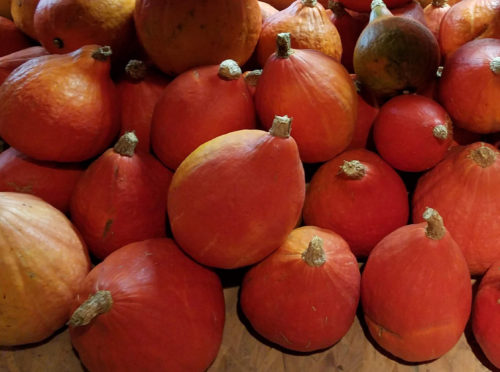 Storing
Red kuri squash can be stored just like other winter squashes – in a cool, dark, dry place.  And to store Brussels sprouts – well, first, have you ever had, or seen, Brussels sprouts on the stalk before? – you can keep them on the stalk or cut them off.  Don't wash them until you're ready to use them, and store them in a bag or container in the refrigerator.  The sooner you enjoy Brussels sprouts, the sweeter and better they are, so have them soon!
For information on storing the other vegetables in this week's shares, see our produce storage web page!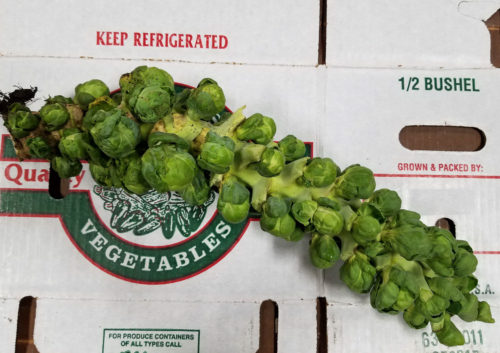 What to Make?
Roasted Brussels Sprouts with Garlic
(From cooking.nytimes.com)
1 pint Brussels sprouts (about a pound)
4 to 6 Tbsp. extra virgin olive oil, to coat bottom of pan
5 cloves garlic, peeled
 Salt and pepper to taste
1 Tbsp. balsamic vinegar
Heat oven to 400° F.  Trim bottoms of Brussels sprouts, and slice each in half top to bottom.  
Heat oil in cast-iron pan over medium-high heat until it shimmers;  put sprouts cut side down in one layer in pan.  Put in garlic, and sprinkle with salt and pepper.  Cook, undisturbed, until sprouts begin to brown on bottom, and transfer to oven.  Roast, shaking pan every 5 minutes, until sprouts are quite brown and tender, about 10 to 20 minutes.
Taste, and add more salt and pepper if necessary. Stir in balsamic vinegar, and serve hot or warm.
*           *           *
Red Kuri Squash Gnocchi
(Adapted from withinthewild.com)
1 medium red kuri squash (any other winter squash can be used)
Salt and freshly ground pepper
3 Tbsp. olive oil
1 large egg yolk
2 Tbsp. chopped mixed herbs, your choice (we used flat-leaf parsley)
2 cups all-purpose flour (possibly more for the dough and for rolling)
Preheat the oven to 350° F.  Cut the squash in half and remove the seeds.  Salt and pepper the squash halves and place face-side down on a baking sheet lined with parchment paper.  Bake for 45 minutes to an hour, until the squash is cooked thoroughly.  Remove from the oven and cool.
Remove the meat from the squash, placing it into a large bowl.  Add in two tablespoons of the olive oil, the egg yolk, herbs, and a little more salt and pepper.  Add in most of the flour and use a pastry scraper or knife to "cut" the flour into the squash meat so the squash remains as light and fluffy as possible.  Add more flour as necessary to form dough that is soft, but not sticky, and holds together.
Let the dough rest for about 10 minutes. In the meantime, in a medium pot, bring about two quarts of salted water to a boil on the stove. Place a strainer that can fit inside the pot into the water. Reduce the heat to a simmer.
Cut a piece of dough off from the resting ball and roll it with your hands into a cylinder in plenty of flour. The dough will be quite soft so you need to be gentle. Cut the dough into half-inch pieces. Using a gnocchi board, gently roll each piece of dough up and down the board. (If you don't have a gnocchi board, use the back of a fork to press grooves into the gnocchi.)
Drop some of the gnocchi into the simmering water. The dough will rise to the top of the water in a few minutes. Place one tablespoon of olive oil into a small saucepan over medium heat. Use the strainer to lift the gnocchi out, shake gently to remove extra water, and slide the gnocchi into the saucepan. Cook until the surfaces of the gnocchi are crispy, about 2-3 minutes. Remove the gnocchi from heat and serve with Parmesan cheese, browned butter, bacon or prosciutto, or whatever sauce you like.
*           *           *
Moroccan Spiced Sweet Potatoes
(From budgetbytes.com)
½ Tbsp. ground cumin
1 tsp. ground turmeric
1 tsp. cinnamon
¼ tsp. cayenne pepper
1 tsp. paprika
¼ tsp. salt
2 Tbsp. olive oil
2 lbs. sweet potatoes
¼ bunch cilantro
Preheat the oven to 400º F.  In a small bowl combine the cumin, turmeric, cinnamon, cayenne pepper, paprika, salt, and olive oil.
Peel the sweet potatoes, then cut them into about ¾-inch cubes.  Place the cubes in a bowl and pour the oil and spice mixture over the top.  Stir the potatoes until they are well coated in oil and spices.  Spread the spiced sweet potatoes out over a baking sheet so they are in a single layer.  Place the baking sheet in the oven and roast the potatoes for 15 minutes, then stir the sweet potatoes, return them to the oven, and roast for 15 minutes more, or until tender.
Once the sweet potatoes have finished roasting, give them a taste and add a pinch more salt, if needed.  Roughly chop the cilantro and sprinkle it over the top just before serving.
*           *           *
Sweet Potato Quesadillas
(Adapted from livingthenourishedlife.com)
[Note:  this is a quick and informal recipe!]
Grate sweet potatoes and fry them in olive oil with some diced onion, minced garlic, chili powder, cumin, oregano, and cayenne pepper to taste.  When the onion and potatoes are cooked, spread them over half a tortilla and top with a small handful of grated cheese. Fold the tortilla in half, over the filling, and cook for a couple of minutes on each side.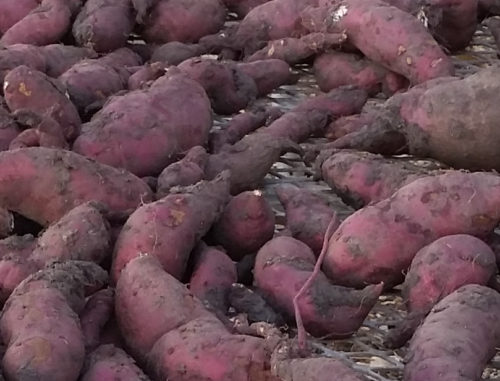 Can't Eat It Now?  Save It For (Much) Later!
Like other winter squashes, red kuri squash doesn't need to be preserved, unless you particularly want to – you can just store it in a cool, dark, dry place with some air circulation.  If kept in optimum conditions, it should stay good for a couple of months.  Check it periodically to make sure it isn't developing soft or bad spots.  (If it is, cut that area away, and enjoy the rest!)  Alternatively, you can cook your red kuri, then freeze it or can it.
Brussels sprouts can be frozen, canned, and dried, although many food writers seem to lean toward freezing.  For resources for preserving your Brussels sprouts, red kuri squash, and other vegetables, see our preserving produce web page!  And, if you care to transform your red kuri squash or your Brussels sprouts, here are links to some tasty-sounding recipes:
https://www.southernliving.com/recipes/traditional-quick-pickled-brussels-sprouts-recipe
https://www.geniuskitchen.com/recipe/brussels-sprouts-pickles-312739
http://www.letscookfrench.com/recipes/recipe_red-kuri-squash-jam_345731.aspx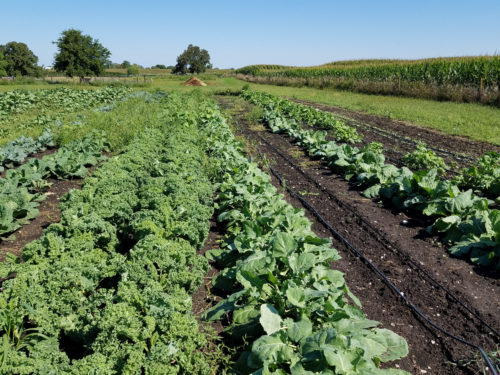 Again, many thanks for supporting our Summer 2018 efforts at the Farms!  We hope you've enjoyed your summer vegetables shares as much as we've enjoyed working with you – and that you'll be back with us next summer!
Your Raccoon Forks Farms Team