Dear Friends and CSA Partners –
And now – here comes winter! Not quite, of course, but did you hear that the temperatures are going to be in the teens at night later this week? Never a dull moment in Iowa weather, is there?
As a result of the coming cold, we're harvesting everything that we still have out in our fields. Temperatures that cold will kill the plants, even if they're sheltered by cover cloth, so we need to save the vegetables before that happens. Beets, spinach, radishes, kale, and Brussels sprouts are all coming in!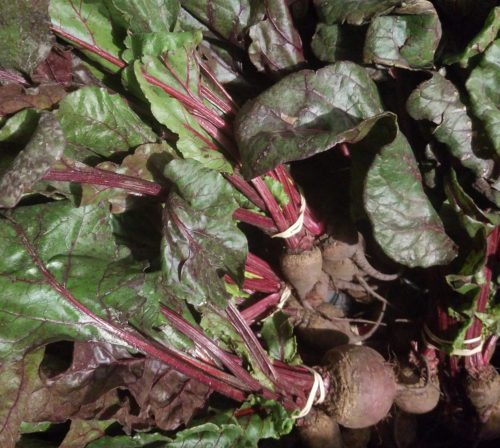 Beets
We'll take protective measures in the high tunnel, too. On these cold nights, we'll start covering the lettuce, tomatoes, and spinach we have growing in there – that degree of cold, even mitigated by the high tunnel, would set them back.
We're making progress with our goat fencing at the Runnells farm – we're starting to put in fence posts! In addition, as we've cleared the fence line, we're taking the time to process the wood we've cut into firewood. That slows us down on the fencing, but will keep us warm and toasty in the winter! And as the old saying goes, those who cut their own wood are warmed twice!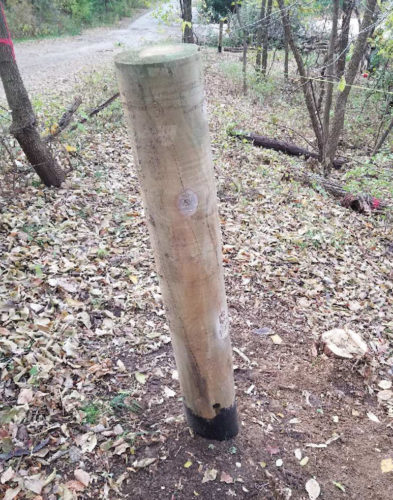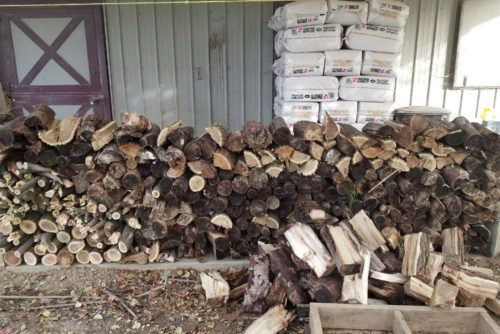 You may have picked up that we like to keep ourselves busy. One of our new projects is an experiment in microgreens! If it goes well, we may start growing – and selling – microgreens in quantity during the winters. For now, we're just trying things out. These are kale greens: aren't they beautiful?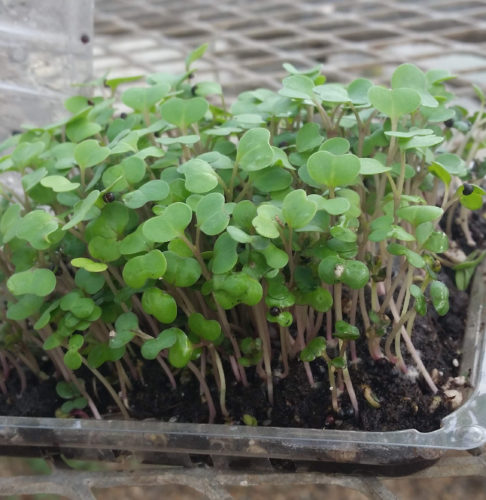 What's In Your Vegetables Share?
This week, we plan to bring you onions, turnips, carrots, Brussels sprouts, butterhead lettuce, garlic, and green tomatoes.
Brussels sprouts getting prepared for CSA shares; and the bits we trim off!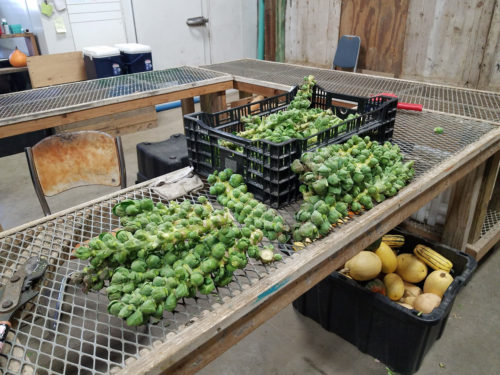 Brussels sprouts getting prepared for CSA shares...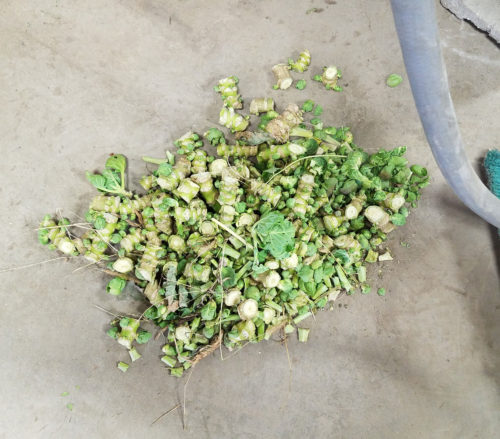 ...And the bits we trim off!
Storing
Your onions will be happiest if you keep them in a cool, dry, dark place where they get some air circulation. Don't close them up in a plastic bag or container, and don't refrigerate them. (Only refrigerate an onion when you've used part of it and have some left over.)
Your lettuce and carrots should be stored in the fridge. Your carrots will be fine in an open box or bag. Regarding the lettuce, you can wash it either before storing it or when you're ready to use it. If you wash it first, be sure to remove excess moisture with a spin in a salad spinner or a gentle tossing in a towel. Washed or unwashed, wrap your lettuce lightly in a towel or paper towel, again to absorb moisture. To protect this delicate lettuce, if you like, you can put the whole bundle into a lidded container and then refrigerate.
Brussels sprouts should also be refrigerated, but don't wash them until you're ready to use them. You can leave them on the stalk, or cut them off. The fresher Brussels sprouts are, the better, so enjoy them soon!
Don't refrigerate your green tomatoes! (In fact, never refrigerate any tomato! Refrigeration harms tomato flavor and texture.) Keep your green tomatoes in a single layer on the counter or somewhere similar. If you'd like them to ripen, eventually they will. Or, you can use them soon to make delicious green tomato recipes!
For more information on storing the other vegetables in this week's shares, see our produce storage web page.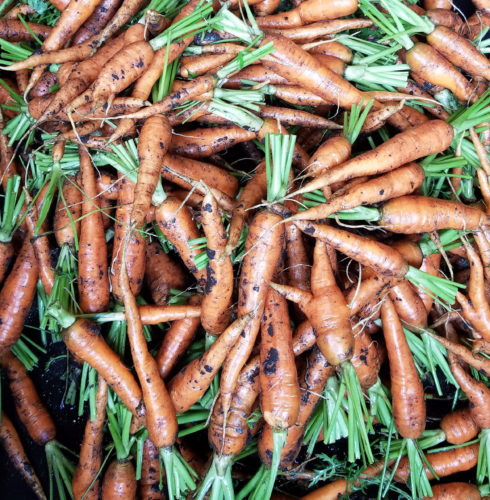 What to Make?
We love green tomatoes! In their honor, and hoping you enjoy green tomatoes as much as we do, we offer these green tomato recipes:
Fried Green Tomatoes
(From myrecipes.com)
1 large egg, lightly beaten
½ cup buttermilk
½ cup all-purpose flour, divided
½ cup cornmeal
1 tsp. salt
½ tsp. pepper
3 medium-size green tomatoes, cut into ⅓-inch slices
Vegetable oil
Salt to taste
Combine egg and buttermilk; set aside.
Combine ¼ cup all-purpose flour, cornmeal, 1 tsp. salt, and pepper in a shallow bowl or pan. Dredge tomato slices in remaining 1/4 cup flour; dip in egg mixture, and dredge in cornmeal mixture.
Pour oil to a depth of ¼ to ½ inch in a large cast-iron skillet; heat to 375°. Drop tomatoes, in batches, into hot oil, and cook 2 minutes on each side or until golden. Drain on paper towels or a rack. Sprinkle hot tomatoes with salt.
* * *
Green Tomato Frittata
(From cooking.nytimes.com)
1 pound green tomatoes
Salt
Freshly ground pepper to taste
Cornmeal for dredging
3 Tbsp. extra virgin olive oil
¼ cup finely chopped onion
2 garlic cloves, green shoots removed, minced
1 Tbsp. slivered fresh basil
1 Tbsp. snipped chives
8 large eggs
2 Tbsp. low-fat milk
Core the tomatoes and slice half of them about ⅓ inch thick. Set aside. Peel the remaining tomatoes by dropping them in a pot of boiling water for 30 seconds, then transferring to a bowl of ice water. Cut in half, squeeze or scoop out the seeds, and chop fine.
Season the sliced tomatoes lightly with salt and pepper, and dredge lightly in the cornmeal. Heat 2 Tbsp. of the olive oil in a heavy, nonstick 10-inch skillet over medium-high heat, and fry the sliced tomatoes for two to three minutes on each side, just until lightly colored. Remove from the heat and set aside. If there is cornmeal in the pan, clean and dry the pan.
Heat the remaining olive oil in the pan over medium heat, and add the chopped onion. Cook, stirring, until tender, three to five minutes, and add a generous pinch of salt and the garlic. Stir together until fragrant, about 30 seconds, and stir in the chopped tomatoes. Season to taste with salt and pepper, and cook, stirring often, until the tomatoes have softened and are beginning to stick to the pan, about 10 minutes. Taste and adjust seasoning. Stir in the basil and chives.
Meanwhile, beat the eggs and milk together in a large bowl, and season with salt and pepper (about ½ tsp. salt). When the chopped tomatoes have cooked down, turn the heat up to medium-high and pour in the eggs. Swirl the pan to distribute the eggs and filling evenly over the surface. Shake the pan gently, tilting it slightly with one hand while lifting up the edges of the frittata with the spatula in your other hand, letting the eggs run underneath during the first few minutes of cooking. Distribute the fried sliced green tomatoes over the surface of the frittata. Turn the heat down to low, cover and cook 10 minutes, shaking the pan gently every once in a while. From time to time, remove the lid and loosen the bottom with a spatula. Meanwhile, preheat the broiler.
Finish the frittata under the broiler for one to three minutes, watching very carefully to make sure the top doesn't burn. Remove from the heat, shake the pan to make sure the frittata isn't sticking (it will slide around a bit in the nonstick pan) and allow to cool for at least 5 minutes, up to 15 minutes. Loosen the edges with a wooden or plastic spatula. Carefully slide from the pan onto a large round platter. Cut in wedges and serve, or serve at room temperature.
* * *
Grilled Green Tomato Tostadas with Black Beans, Avocado, and Cilantro
(From food52.com)
2 Tbsp. plus 1 tsp. vegetable oil, divided
¼ tsp. ground cumin
1 small garlic clove, finely grated
3 medium green tomatoes (about 1 pound), sliced ½-inch thick
4 (8-inch) flour tortillas
1 cup coarsely grated Monterey Jack
4 cups baby arugula
1 (15-oz.) can black beans, rinsed and drained
1 medium, ripe avocado, sliced
2 tsp. fresh lime juice, plus wedges for serving
3 Tbsp. roughly chopped fresh cilantro
Preheat grill or grill pan over medium-high.
In a small bowl, stir together 1 tablespoon oil with cumin and garlic; season with salt and pepper. Rub tomatoes with flavored oil. Brush both sides of tortillas with 1 tablespoon oil; season with salt and pepper.
Grill one side of tortilla until puffed and golden, about 2 minutes. Flip tortillas and divide cheese among them. Cook until cheese has melted, 2 minutes; transfer to a platter. Add tomatoes to grill and cook until charred and slightly softened, about 4 minutes. Toss beans with cilantro, lime juice and remaining 1 tsp. oil. Top tostadas with arugula, grilled tomatoes and dressed beans. Serve avocado on the side. Sprinkle with additional salt and pepper and serve with lime wedges.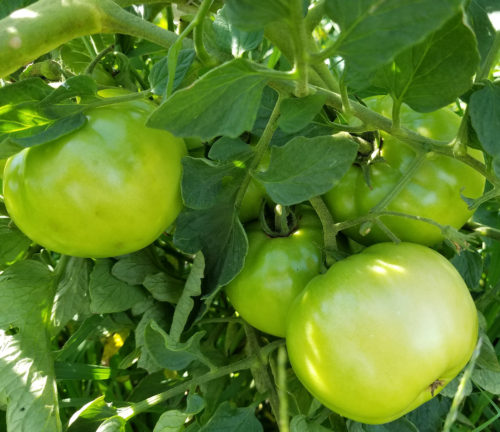 Can't Eat It Now? Save It For (Much) Later!
Your onions don't need special preservation, of course; they'll keep well as is. But onions, as well as most of the rest of this week's vegetables, can be frozen, dried, and otherwise preserved. For ideas and methods for preserving your produce, see our preserving produce web page!
The one item in your vegetables share this week that shouldn't be saved for later is your butterhead lettuce. There are ways to preserve lettuce; but really, the essence of lettuce is in its freshness. We encourage you to enjoy your lettuce now!
Of course, you can also make a variety of wonderful types of preserves from this week's vegetables. Here are links to a few recipes we thought sounded good:
https://www.daringgourmet.com/pickled-turnips/
https://www.huffingtonpost.com/craig-goldwyn/pickled-green-tomatoes-recipe_b_754850.html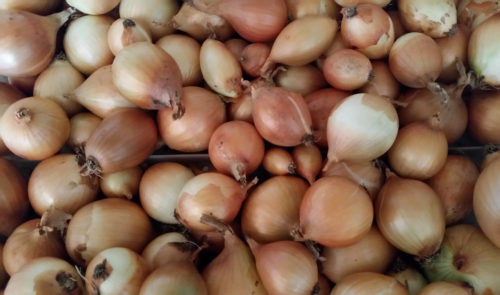 We'll be at Wheatsfield Coop this Saturday for their Thanksgiving Sample Day! Come visit with us between 11 a.m. and 2 p.m., and try something yummy made with our delicious eggs! We'd love to see you!
Your Raccoon Forks Farms Team