Dear Friends and CSA Partners –
Thanksgiving is right around the corner! We're looking forward to it, and we hope you are, too! Please note our holiday delivery schedule adjustment:
Thanksgiving week CSA schedule – All CSA shares need to be picked up on Wednesday, next week, even if your regular pick-up day is Thursday. You can pick up your shares between 3-6 p.m. on Wednesday.
If you aren't able to pick up your share on Wednesday next week – Just let us know! We'll be happy to hold your shares for you and deliver them the following week. Otherwise, it's fine to ask someone else to pick up your shares for you.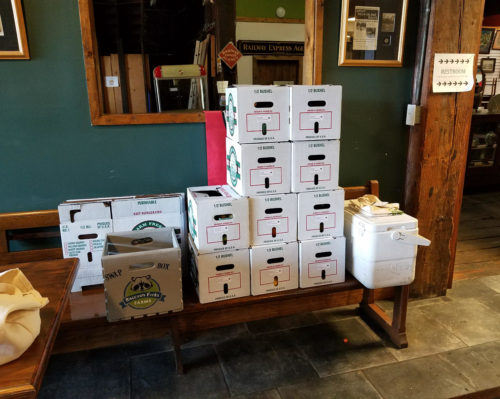 In other updates, it's time to order "winter" eggs! Our summer eggs CSA season ends at the end of November. Be sure to keep our beautiful, brown eggs coming – sign up for a winter share! Winter shares start the first week of December and run through the last week of May, 2019. To order, contact us at rforksfarm@gmail.com or call (515) 729-8664.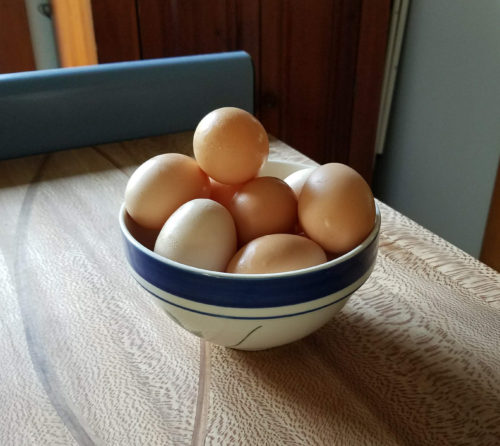 What's In Your Vegetables Share?
This week, we plan to bring you garlic, turnips, red kuri squash, sweet potatoes, kale, spinach, and radishes. Who says you can't have beautiful salads in November?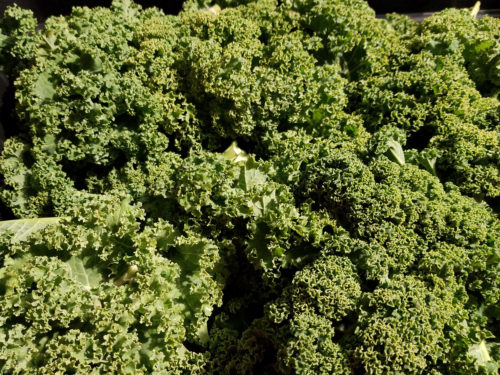 Kale
What Is It?
Red kuri squash is a delicious winter squash with delicate, nutty flavor. It's versatile and can be roasted, baked, puréed, sautéed – really, cooked any way you choose. Some folks even eat the (well-cooked) skins! If you keep your red kuri squash in a cool, dry, dark place, it will last up to several months. But you may want to enjoy it sooner than that!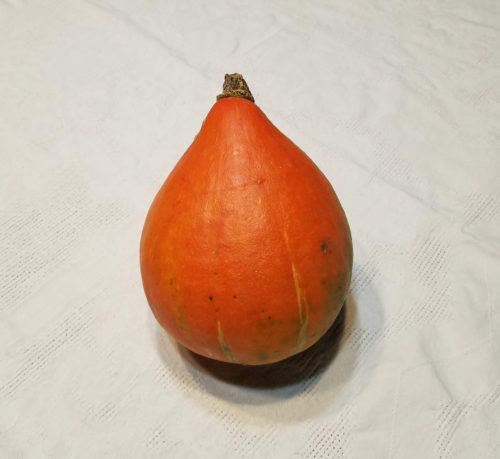 Storing
Interestingly, you can store radishes and spinach in the same way, using the same approach as you would for lettuce. Wash spinach/radishes when you get them or when you're ready to use them; remove any excess water; and then wrap them in a towel or paper towel and keep them in the refrigerator.
Store your red kuri squash as you would any type of winter squash: keep it in a cool, dry, dark place that gets some air circulation (but not in the refrigerator). Check it occasionally to make sure that it has not developed any bad spots. If you do find a soft or bad spot, that's your cue to cut that part away and go ahead and use the rest of the squash.
Information on storing your garlic, turnips, sweet potatoes, and kale can be found in previous newsletters and on our produce storage web page.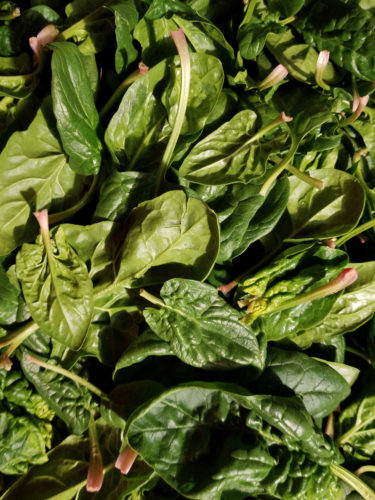 What to Make?
Red Curry Kuri Squash Soup
(From loveandlemons.com)
1 medium red kuri squash, about 3 pounds
2 shallots, sliced in half
3 garlic cloves, unpeeled
1 (14-oz.) can coconut milk, reserve ¼ cup for garnish
1 stalk lemongrass (or 1 Tbsp. lime zest)
2 tsp. fresh grated ginger
1 Tbsp. red curry paste* (or less, to taste)
1 cup water or vegetable broth, more as needed for consistency
2 Tbsp. fresh lime juice
1 Tbsp. extra-virgin olive oil
Sea salt and freshly ground black pepper
Preheat the oven to 400°F and line a large baking sheet with parchment paper. Cut the squash in half lengthwise and scrape out the seeds. Place the squash and the shallots on the baking sheet, drizzle with olive oil and pinches of salt and pepper, and turn cut-side down. Wrap the whole garlic cloves in foil and place on the sheet. Roast for 40 to 50 minutes, or until the squash is tender and the shallots are nicely browned.
Prepare the lemongrass by cutting off the root end and the tough upper stem of the stalk. Smash the stalk with a rolling pin to loosen the layers then pull off the thick outer layers and dice the inner, tender parts. Measure out 1 tablespoon chopped lemongrass.
Scoop the flesh from the squash and unwrap and peel the garlic. In a blender, place the squash, shallots, garlic, coconut milk, lemongrass, ginger, curry paste, and a few generous pinches of salt and pepper. Blend until creamy. Add the water or broth, lime juice, and olive oil and blend again. Add more water or broth to thin the soup to your desired consistency. Taste and adjust seasonings with more salt, pepper, and lime juice.
Ladle the soup into bowls and garnish with the coconut milk; toasted, chopped cashews; and microgreens.
* * *
Mediterranean Scrambled Eggs with Spinach, Tomato, and Feta
(Adapted from aheadofthyme.com)
1 Tbsp. olive oil
⅓ cup tomato, diced and seeded (roughly ½ a medium tomato)
1 cup spinach
3 eggs
2 Tbsp. feta cheese, cubed
Salt and pepper to taste
Heat oil in a frying pan on medium heat. Sauté the tomatoes and spinach until the spinach is wilted. Add the eggs and mix to scramble. After 30 seconds, add the feta cheese. Continue to cook until the egg is cooked to your preference. Season with salt and pepper.
* * *
Sweet Potatoes Roasted with Garlic and Rosemary
(Adapted from geniuskitchen.com)
2 lbs. sweet potatoes, cut into 1- to 2-inch pieces
4-5 garlic cloves, chopped
2 Tbsp. fresh rosemary, chopped
2-4 Tbsp. olive oil
Kosher salt and freshly ground black pepper
Preheat the oven to 375° F. Combine the chopped garlic with 1 Tbsp. of the olive oil and half of the rosemary; set aside. Toss the potato pieces with remaining olive oil, remaining half of the rosemary, and salt and pepper.
Bake for 20 minutes, tossing occasionally in order to crisp the outsides. Toss with the reserved garlic, rosemary, and olive oil and continue to bake until the potatoes are soft on the inside, about 15 minutes more.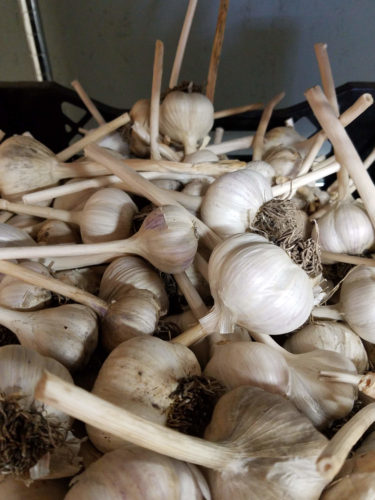 Can't Eat It Now? Save It For (Much) Later!
Your garlic and red kuri squash will keep well without any special efforts at preserving them, although they can certainly be preserved.
Like many other vegetables, turnips, radishes, and spinach can all be blanched and frozen; canned; or dried. (Freezing changes radishes' texture, although blanching helps with this.) Certain ways of preserving them are more common than others, though: freezing spinach, pickling radishes, and so forth. If you're going to freeze your vegetables, consider processing them a bit, first. For instance, mashed turnips freeze well, as does spinach purée; and transforming them now can make them more convenient to use later. For ideas and methods for preserving all of this week's vegetables, see our preserving produce web page!
Meanwhile, we've found some interesting-sounding links for preserving garlic, spinach, and turnips:
https://farmfreshforlife.com/creamed-spinach-heaven/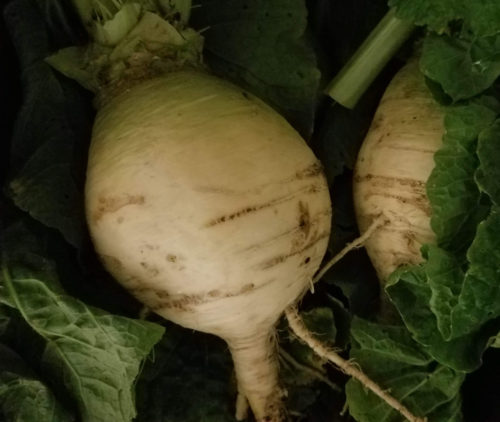 Stay warm and have a great week!
Your Raccoon Forks Farms Team