Dear Friends and CSA Partners –
Happy Thanksgiving week! One last reminder about this week's deliveries – all shares will be delivered on Wednesday, even for those of you who normally receive your shares on Thursdays. Please pick up all shares between 3-6 p.m. on Wednesday, or have someone pick them up for you.
At our Runnells farm, we're busy with regular chores – tending chickens and gathering, cleaning, and packing eggs – and continuing to work on our big goat fencing project. Not surprisingly, perhaps, considering how much wood we've been cutting, our chainsaw broke! So we're working on fixing the chainsaw, too. But the fencing is progressing: almost all the corner posts, and their supports, are in, and we're working on the intermediate posts. We hope to start putting up the wire fencing next week.
We received 342 new chicks today! Over the next few weeks, we'll receive hundreds more. When they're grown up, these chicks will be our next flock of laying hens. Here they are, settling into the fancy holding pen we built for them in the high tunnel at the Redfield farm: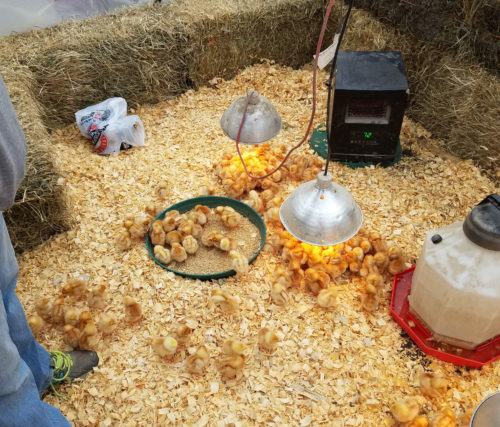 What's In Your Vegetables Share?
This week, we plan to bring you kohlrabi, garlic, pumpkin, carrots, cabbage, Brussels sprouts, and beets. You'll notice the beets are different colors – we have a mix of golden beets, Chioggia beets, and dark red beets!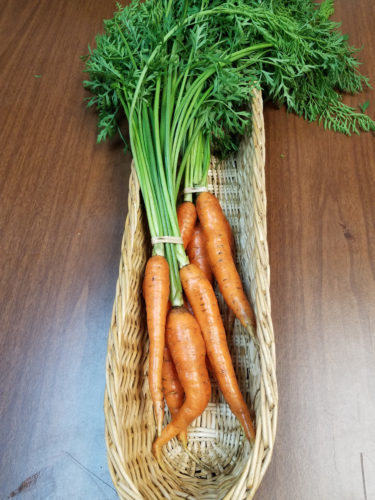 What Is It?
Often, when thinking about beets, we tend to picture dark red beets – the classic, red-purple beet that's often served steamed or pickled. Golden beets have a rosy exterior and a beautiful golden interior. And are you familiar with Chioggia beets? They're an Italian heirloom beet; they're very tasty; and they have pink and white striped interiors! How great is that? Unfortunately, the stripes of the Chioggias fade with cooking, so enjoy some raw, if you can!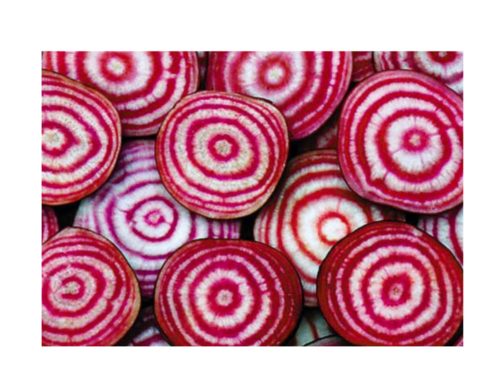 Storing
The pumpkins we're including in this week's vegetables shares are cooking pumpkins – New England pie pumpkins, to be precise. They should be stored like other winter squash – in a cool, dark, dry place with good air circulation. Store your cabbage in the refrigerator, loosely wrapped in a plastic bag. Don't wash the cabbage until you're ready to use it.
For information on storing the other vegetables in this week's boxes, see our produce storage web page!
What to Make?
Creamy Roasted Pumpkin Soup
(Adapted from cookieandkate.com)
4 Tbsp. olive oil, divided
One 4-pound pie pumpkin
1 large yellow onion, chopped
4 large or 6 medium garlic cloves, pressed or minced
½ tsp. sea salt
½ tsp. ground cinnamon
½ tsp. ground nutmeg
⅛ tsp. cloves
Tiny dash of cayenne pepper (optional, if you like spice)
Freshly ground black pepper
4 cups (32 oz.) vegetable broth
½ cup full-fat coconut milk or heavy cream
2 Tbsp. maple syrup or honey
¼ cup pepitas (green pumpkin seeds)
Preheat oven to 425° F.
Line a baking sheet with parchment paper for easy cleanup. Carefully halve the pumpkin and scoop out the seeds. Slice each pumpkin half in half to make quarters. Brush or rub 1 Tbsp. olive oil over the flesh of the pumpkin and place the quarters, cut sides down, onto the baking sheet. Roast for 35 minutes or longer, until the orange flesh is easily pierced through with a fork. Set it aside to cool for a few minutes.
Heat the remaining 3 Tbsp. olive oil in a large Dutch oven or heavy-bottomed pot over medium heat. Once the oil is shimmering, add onion, garlic and salt to the skillet. Stir to combine. Cook, stirring occasionally, until onion is translucent, about 8 to 10 minutes. In the meantime, peel the pumpkin skin off the pumpkins and discard the skin. Add the pumpkin flesh, cinnamon, nutmeg, cloves, cayenne pepper (if using), and a few twists of freshly ground black pepper to the onions and garlic. Use your stirring spoon to break up the pumpkin a bit. Pour in the broth. Bring the mixture to a boil, then reduce heat and simmer for about 15 minutes, to give the flavors time to meld.
While the soup is cooking, toast the pepitas in a medium skillet over medium-low heat, stirring frequently, until fragrant, golden and making little popping noises. You want them to be nice and toasty, but not burnt. Transfer pepitas to a bowl to cool.
Once the pumpkin mixture is done cooking, stir in the coconut milk and maple syrup. Remove the soup from heat and let it cool slightly. Using an immersion blender or stand blender, purée the mixture until smooth. If using a stand blender, work in small batches to avoid a mess. Transfer the puréed soup to a serving bowl and repeat with the remaining batches.
Taste, and adjust seasonings if necessary. Ladle the soup into individual bowls. Sprinkle pepitas over the soup and serve.
Let leftover soup cool completely before transferring it to a proper storage container and refrigerating it for up to 4 days (leftovers taste even better the next day!). Or, freeze this soup for up to 3 months.
* * *
Brussels Sprouts Hash with Fried or Soft Poached Eggs and Aleppo Chili Pepper
(Adapted from feastingathome.com)
3 slices bacon (optional)
4 cups sliced Brussels sprouts
½ small onion, thinly sliced
Salt and pepper to taste
4-8 eggs, poached (or fried)
Pinch of Aleppo chili pepper (or chili flakes)
If using bacon, cook it until crisp, then set it aside on some paper towels. Wipe out the pan and re-use it. Heat 1 Tbsp. of bacon fat or olive oil over medium high heat and add onions. Cook, stirring, for 2-3 minutes. Add sliced Brussels sprouts and a generous pinch of salt and pepper. Lower heat to medium and stir frequently, until Brussels sprouts are melting and tender, about 7 minutes. Crumble bacon into the Brussels sprouts, stirring to incorporate. Keep on very low heat while making eggs.
Poach or fry eggs to desired doneness. Divide Brussels sprouts hash among 3-4 bowls and top with eggs. Sprinkle with salt, pepper, and Aleppo pepper or chili flakes. Serve immediately.
* * *
Cabbage and Kohlrabi Slaw
(From athoughtforfood.net)
1 medium or ½ large kohlrabi
½ white cabbage (8 to 9 oz.)
Large bunch of dill, roughly chopped
1 cup fresh cranberries, sliced in half
Grated zest of 1 lemon
Juice of 1 lemon
¼ cup olive oil
1 garlic clove, minced
½ tsp. sugar
Salt
Black pepper
Peel the kohlrabi and cut into thick matchsticks that are about ¼ inch wide and 2 inches long. Slice the cabbage into ¼-inch thick strips. Put all the ingredients in a large mixing bowl. Use your hands to massage everything together for about a minute so the flavors mix and the lemon can soften the cabbage and cranberries. Let the slaw sit for about 10 minutes. Check for seasoning and, if necessary, add more salt. Transfer to a serving bowl.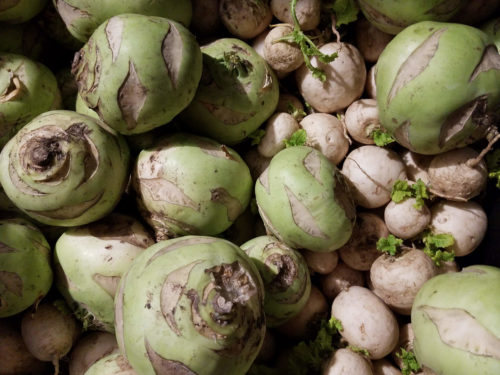 Can't Eat It Now? Save It For (Much) Later!
Your pumpkin, like other winter squashes, will last well without special preservation efforts if you keep it in a cool, dry, dark place. However, you certainly can freeze it or can it, if you wish. Cabbage also freezes well, and it can be dried; but canning cabbage is discouraged, unless you're pickling it in some way. For more on preserving all of this week's vegetables, see our preserving produce web page!
Here are links to a few pickled cabbage recipes that sounded interesting:
We're thankful for many things, including the Farms' bounty, and for friends and supporters like you! Wishing you and your loved ones a very happy Thanksgiving –
Your Raccoon Forks Farms Team