Dear Friends of Raccoon Forks Farms –
We hope this email finds you well! Our hearts are with everyone who's coping with flooding, and we hope that you and your loved ones are all okay. Fingers crossed for kinder weather to come!
We're lucky that neither of our farms is flood-prone, and we're progressing as usual with spring planting. When we last wrote to you, it was just starting to get warmer, and wild plants were just starting to get a little bit green around the edges. But now – we're into a really great time of year! Spring has sprung, and we're going full speed getting plants and seeds into our fields. The cold-hardy, early season vegetables are in – broccoli, cabbages, peas, fennel, spinach, beets, and so forth. The potatoes and onions are planted, too, and the garlic, which we planted last fall, is coming up!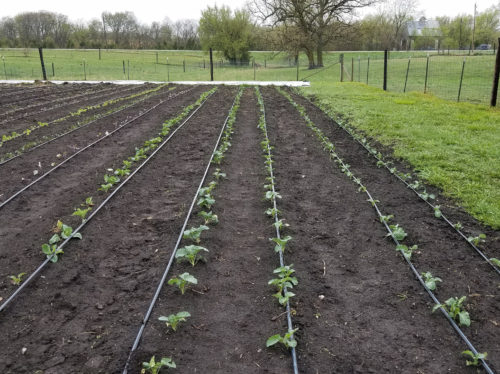 Cabbages, broccoli, and spinach
We also have vegetables growing in the high tunnel!

Our tomatoes are growing really well! (Why are there so many feathers in the tomato bed?
Because we had young chickens growing up in the high tunnel over the winter!)
Remember how we spent lots and lots of time putting in fence at our Runnells farm last year? We're finished, and the goats are enjoying their new pastures! All of our goats have moved to Runnells from their temporary quarters at our Redfield farm.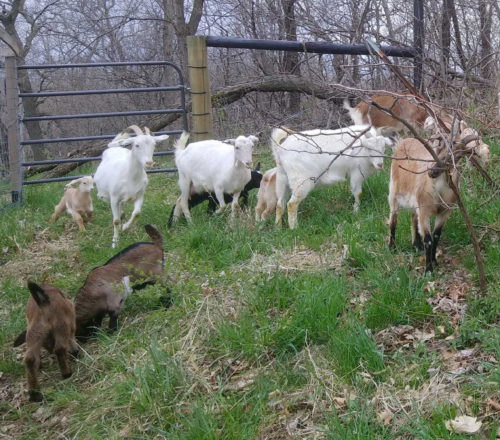 And while we're on the subject of moving animals, have you ever moved over 800 chickens? We have! We're referring, of course, to those chicks we raised in our high tunnel over the winter. The chicks are grown-up laying hens, now, and over two memorable days, we moved them all into our big chicken barn and pasture! The hens stay in the barn at night, where they choose their own roosting spots and are safe from predators; and during the day, they go in and out as they please!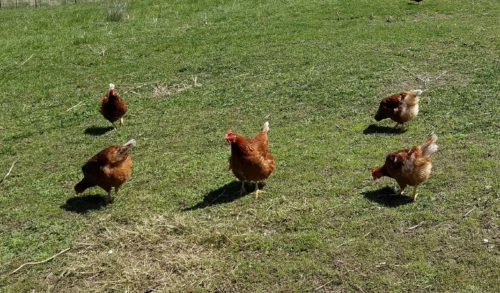 We're very happy to announce that we have a couple of new products available. We now offer (frozen) goat meat and mutton by the cut! Not familiar with goat? It's one of the most popular meats in many countries and is widely used in the cuisines of the Middle East, Africa, Latin America, the Caribbean, and India. Goat meat is lean and nutritious – similar in protein, but lower in calories, cholesterol, and fat than beef, pork, and chicken. Many people compare the flavor of goat meat to beef, or to a combination of beef and venison. Goat can be prepared many ways, including roasting, stewing, and braising. Think curries, Jamaican jerk goat, and any number of delicious kinds of goat stew!
And are you familiar with mutton? Lamb and mutton both come from sheep, of course: lamb is from younger animals, while mutton comes from mature animals. The flavor of mutton is stronger than lamb; if you enjoy game, such as venison and duck, you're likely to enjoy mutton! In the U.S., mutton has been hard to find, so we tend to be unacquainted with it. In Europe and the Middle East, though, mutton is often preferred to lamb. Mutton benefits from long, slow cooking – again, think stews, braises, etc. The Food Network lists a mutton stew recipe that sounds amazing – have us sell you some of our mutton and give it a try! Contact us at rforksfarm@gmail.com for a list of cuts and prices.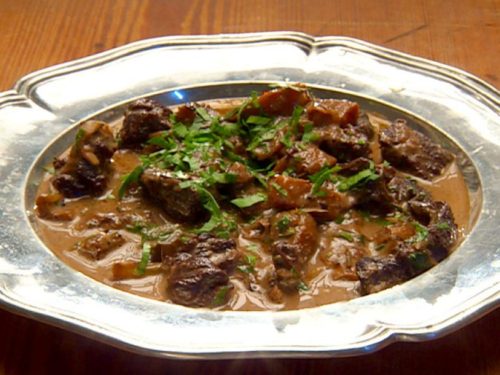 (Photo: Food Network)
We'll be out and about over the next couple of weeks – we're holding two plant sales, and participating in a third! We grow all of our own seedlings, using an organic potting mix, for both our own use at the Farms and for the sales. Here are a few of our beautiful herb, flower, and vegetable seedlings:
Come see us at one or more of the following: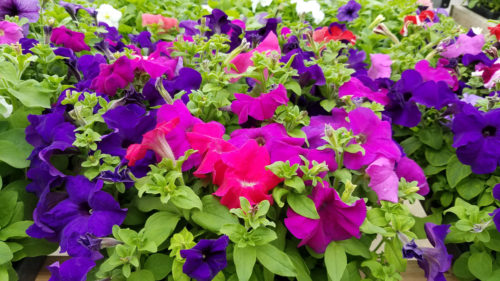 * Saturday, May 4th, 10 a.m. to 2 p.m. – we're bringing the Farms to the city! We're holding a plant sale in the East Village, at 513 East 6th Street (corner of East 6th and Des Moines Street).
* Thursday, May 9th, 4 p.m. to 7 p.m. – we'll be at the Iowa Food Coop's annual spring plant sale! 4944 Franklin Avenue, Des Moines.
* Saturday, May 11th, 9 a.m. to 11 a.m. – it's a sale at the source! We're holding our second annual plant sale in our Adel greenhouse, at 401 Visions Parkway. This is the Saturday right before Mother's Day – buy Mom's seedlings and plant them with her, or for her, a fantastic Mother's Day gift!
These sales are lots of fun – there's nothing better than seedlings in the spring! We hope you'll come by, we'd love to see you!
Wishing you a wonderful May -
Your Raccoon Forks Farms Team