Dear Friends of Raccoon Forks Farms –
Well, we're finally nearing the end of what turned out to be a tough winter – but we don't need to tell you that, right? We hope you're not affected by any flooding, and that you're enjoying the sunshine and warmer temperatures. At the Farms, we're fine, just increasingly muddy!
We spent the winter preparing for this year's produce season – more on that in a minute – and making folk art. We have some really talented, versatile farmers! Below are just a few examples of their work. All are made with reclaimed wood. You can find a selection of our folk art pieces at our sister Optimae LifeServices Microbusiness Raccoon Forks Trading Company, in Des Moines' East Village, and we're also developing other venues for showing and selling them. Last month, we held an art sale in our Adel greenhouse! (Our spaces always serve multiple functions!) The sale was fun and successful, and we think it's going to be an annual event. We'll be holding another folk art sale toward the end of May – this one will be outdoors, at 513 East 6th Street in Des Moines' East Village. Check next month's newsletter for the date!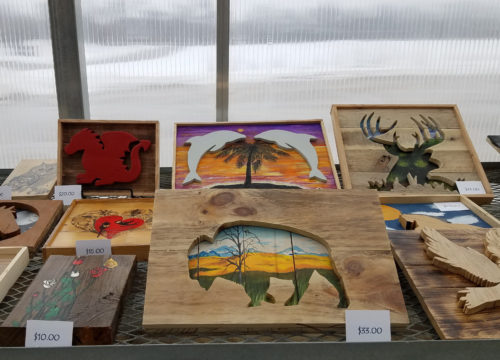 We also take advantage of the winter months to build up inventory of our handmade soaps and soap boxes. We make paper – by hand, of course – out of recycled egg cartons, then use the paper to make the soap boxes. It's not unusual to find paper drying in our greenhouse during the winter! Simultaneously, we're making soap, as each bar takes time to harden and cure.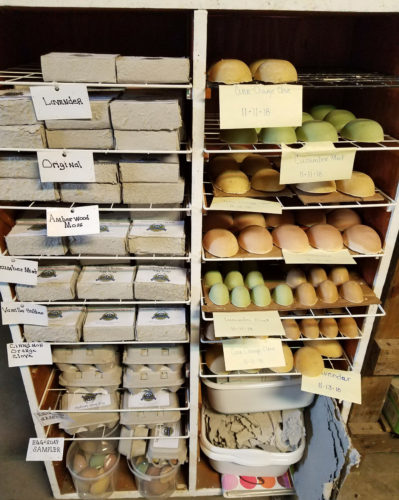 And as you might imagine, our other big focus over the winter was planning for this summer's vegetables! We've ordered and received all of our seeds; our fields – and succession plantings – are planned. It's a little bit complicated, and interesting, to determine what to plant where, and when, in order to have the best odds of harvesting the crops we hope for at the times we need. Does that sentence give you a feel for some of the complexities and uncertainties of farming?
And in very exciting news, we've started planting seedlings – indoors, of course, at this point – and they've started sprouting! We have vegetables, herbs, and flowers all coming up. We love this time of year!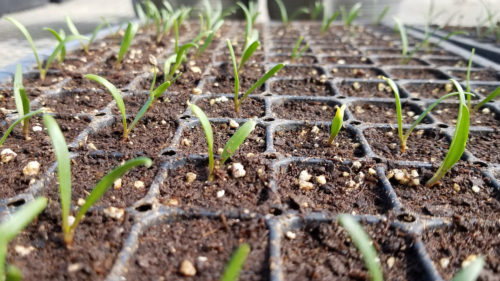 In other happy news, we're the proud new godparents of five beautiful lambs and one kid! That's at the time of this writing – by the time you read this, there may be more! We have another ewe and several does (goats) who are also pregnant.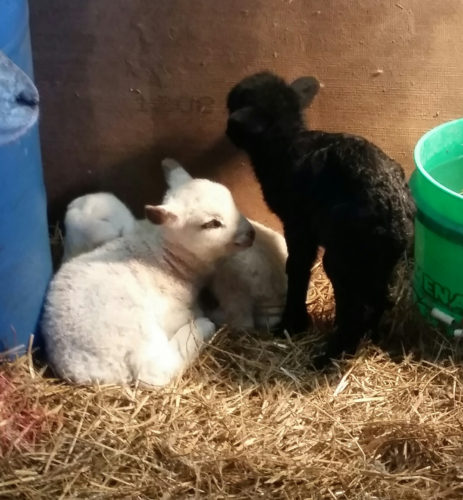 We have very exciting news regarding our summer CSA shares! This year, in collaboration with Berry Patch Farm, we're offering a fruit add-on option to our summer vegetables CSA shares! If you sign up for a full share or half share of summer vegetables, you're welcome to sign up for a fruit share, as well! The fruit share will feature a variety of Berry Patch Farm's delicious berries, apples, and other fruits. We'll deliver fruit for 10 weeks, roughly over the middle of our 20-week summer vegetables season (the actual timing will depend on growing conditions, of course). The cost will be $110.00 per share. We're really pleased to be offering the fruit add-on share and hope you'll join us in enjoying local fruit!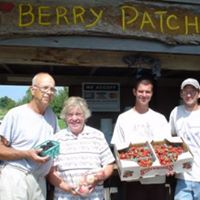 Photo courtesy of Berry Patch Farm
While we're on the topic of CSA shares, please note that our summer and fall vegetables CSA shares are selling briskly. If you're interested in partnering with us for vegetables shares this year, we recommend that you purchase your shares now. Last year we sold all of our available shares and had to put some folks on a waiting list – and we don't want that to happen to you! For information on share types, prices, and pick-up sites, contact us at (515) 729-8664 or rforksfarm@gmail.com; or, go to our web page.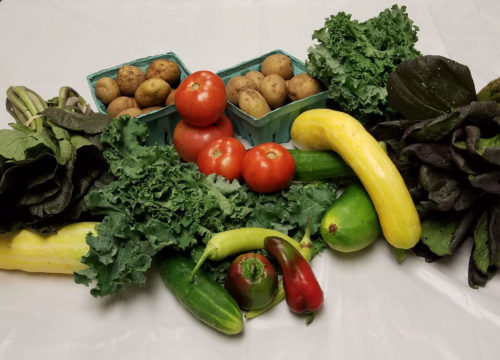 Remember when we were expecting to acquire a bunch of baby chicks?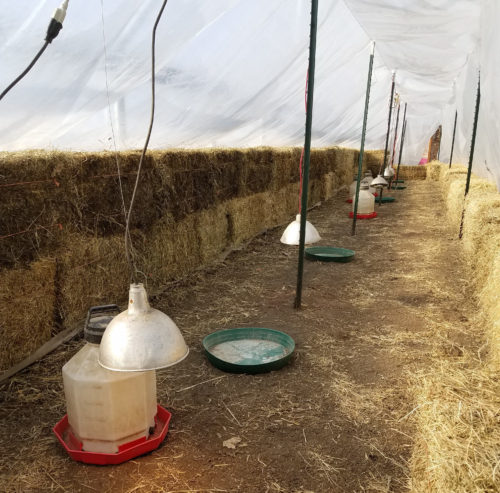 Well, the chicks arrived; our luxury condominium holding pen worked beautifully for them, and now they're almost grown up! They're still living in our high tunnel, until things warm up and they're a little older. These chickens are just starting to lay eggs, and we're looking forward to many beautiful, delicious brown eggs to come!
Happy spring – it's almost here!
Your Raccoon Forks Farms Team