Dear Friends and CSA Partners –
Happy summer, and welcome to the start of our summer CSA season! This is the first of the weekly newsletters we'll be sending you to accompany your shares. We'll update you on what's happening at the Farms, and we'll include information on using, storing, and preserving your shares, with an emphasis on produce. We'll also send you alerts and updates, as needed, such as when we'll be delivering during the week of July 4th!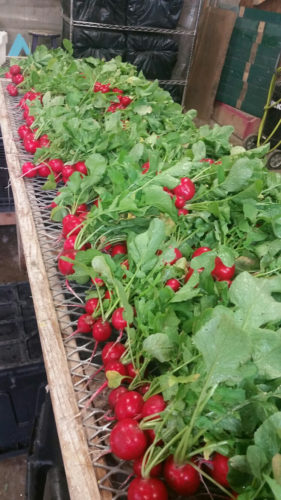 A couple of important reminders:
 - Please make sure that the shares you pick up have your name on them
 - If you have a vegetables share, please remember 1) to transfer the contents of the box into your own box or bags, 2) to unfold the CSA box, and 3) to leave the CSA box for us to pick up and re-use – thanks for doing this!
 - If you signed up for a fruit share, the first week of fruit will probably be in early July (we'll keep you posted about that), and
 - Please share your favorite recipes for eggs, produce, and chicken with us so we can share them with the rest of the CSA group! And if you send us photos of the dishes you create, we'd love to include them in the newsletter!
If you have questions any time during the CSA season, please let us know.
Thank you again for participating in our CSA! You support us in our dual missions: offering employment and job-coaching to people with disabilities and mental illness; and farming sustainably to raise fresh, healthy, local, chemical-free food. We're excited to share this year's harvests with you!
What's Happening at the Farms
As you know, we've had a cool, wet spring in central Iowa. In the words of the manager at our Redfield farm, "It's a muddy mess!" We're trying to catch up on our planting while not tilling fields when they're too wet. It's a challenge! At Redfield, this week, we've been planting leeks, summer squash, okra, habañero peppers, and more radishes. We're also working on getting our sweet potatoes planted. To grow sweet potatoes, we plant slips – short sections of sweet potato vine. This year, we're planting 400!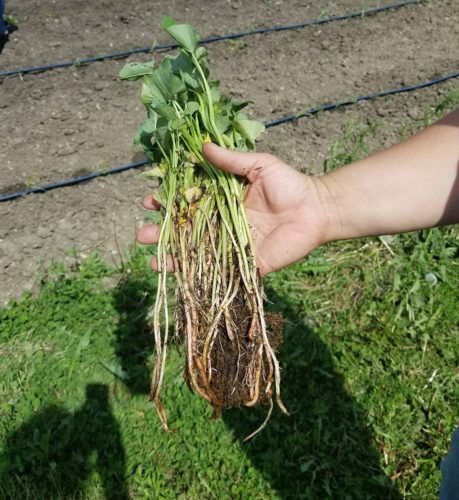 Sweet potato slips
At our Runnells farm, we're continuing to expand our fenced pastures, as the weather allows. And our big news is that the strawberry plants we put in last year are growing berries!
What's In Your Vegetables Share?
At the start of each vegetables CSA season, we always need to mention that there are a lot of variables and moving parts in farming! Sometimes, due to weather, insects, and so forth, we have to make last-minute changes in the vegetables we put in our CSA boxes. For that reason, we'll never promise exactly what you'll receive in your CSA box each week – we'll just tell you what we're planning to put in your box!
So with that in mind, this week we're planning to bring you beautiful early crops: lettuce, radishes, spinach, kale, and green garlic.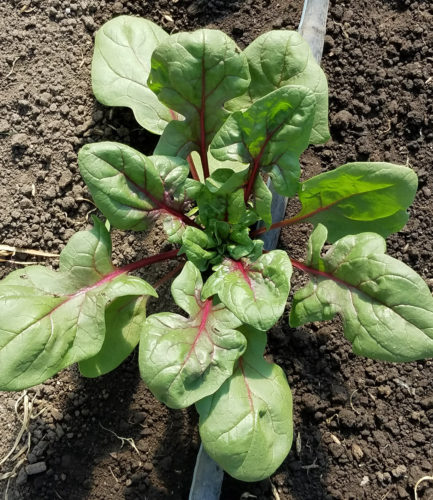 Green Garlic
Green garlic is garlic that we pick while it's immature, before it can form and grow into big heads of garlic. In looks and opportunity, green garlic is similar to scallions or spring onions – small, mild, and good raw or cooked. Try chopping it and using it raw as a garnish or salad ingredient, or cooked alone or with other foods, just as you'd use onion and/or garlic. Another great way to enjoy green garlic is to roast it, in the oven or on the grill!
Storing
Lettuce, kale, and spinach should be stored in the refrigerator. You can wash all your greens at once, before storing them; if you do, be sure to remove excess moisture with a salad spinner or gentle tossing. Or, you can wash greens as you need them. Either way, wrap your greens lightly in a towel or paper towel, to absorb moisture. To prevent their getting crushed and bruised by other objects, you can put the whole bundle into a lidded container.
To store green garlic, stand the stalks in 1-2 inches of water in a glass or other container. Cover their tops loosely with a plastic bag and stand the glass in a sheltered corner inside your refrigerator. Replace the water every 2-3 days. Or, if you'd rather, you can wrap the green garlic in a damp towel or paper towel and store it in the fridge that way.
Radishes should also be stored in the refrigerator. Like lettuce, you can wash them ahead of time or when you're ready to use them. If they're damp, wrap them in a towel or paper towel before you put them in the fridge. And did you know that radish greens are both delicious and highly nutritious? Don't throw the greens out – use them like any bitter greens.
More information on storing produce is available on our web page.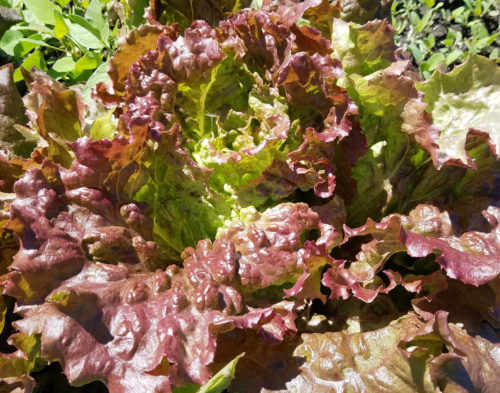 What to Make?
Sautéed Spinach and Garlic
(Adapted from The New Vegetarian Epicure)
Fresh spinach
Olive oil
Garlic, chopped (or 2-3 stems of green garlic, or more, chopped)
Salt to taste
Dash of rice vinegar or lemon juice
Wash the spinach well and trim off the heavier stems. Shake the spinach in a kitchen towel or spin it in a salad spinner.
Heat 1-2 tablespoons of olive oil in a large sauté pan and add the garlic. Stir the garlic around in the hot oil for a minute, then add the as much of the spinach as the pan will hold and start turning it gently as it wilts. Continue adding spinach and turning it over until you've added all of it. Salt it to your taste and keep cooking until there is no excess liquid in the pan.
Just before serving, toss the spinach with a little dash of rice vinegar, or some lemon juice if you prefer.
Egg and Radish Salad
(Adapted from geniuskitchen.com)
1 lb. radishes, cleaned, trimmed, and sliced
3 hard-boiled eggs, peeled and coarsely chopped
½ cup sour cream
1 bunch scallions, trimmed and chopped
Salt
Pepper
2 springs fresh dill, chopped
Mix all ingredients except dill and place in a serving bowl. Garnish with chopped dill.
Kale and Black Bean Burritos
(Adapted from cookieandkate.com)
1 bunch of kale
1 bunch cilantro, roughly chopped
2 (or more) tsp. seeded and finely chopped fresh jalapeño (optional)
1-2 big squeezes of fresh lime juice
Splash of olive oil
Pinch of ground cumin
Dash of chili powder
Dash of sea salt
2 cups cooked or canned black beans, rinsed and drained
2-4 cloves garlic, minced or pressed
Small (8-inch) whole wheat tortillas
1-2 avocados, pitted and sliced into strips lengthwise
¼ cup chopped red onion
½ cup crumbled feta cheese
Sour cream or plain Greek yogurt to serve on the side (optional)
Wash and dry the kale and remove any tough stems. Chop kale roughly into bite-sized pieces. Place kale in a bowl with the cilantro, jalapeño, lime juice, olive oil, cumin, chili powder, and sea salt. Mix well, adjust seasonings to taste, and set the bowl aside to marinate.
Sauté the garlic in a drizzle of olive oil, then add the beans with a few tablespoons of water. Warm the beans and garlic over medium-low heat, adding little splashes of water as necessary. Use a fork to mash up the beans a little and add salt to taste.
To construct a burrito, warm one tortilla in a skillet or in the microwave for a few seconds. Top the tortilla with some black bean mixture, sliced avocado, and marinated kale (you may end up with more kale than will fit in your burritos, which you can serve on the side as a salad). Top with red onion and feta.
Roll up the burrito by first folding the tortilla over from the bottom to partially cover the beans and greens, then fold in the 2 sides; finish rolling and put the burrito seam side down on a plate. Slice in half, if desired, and serve with sour cream or plain Greek yogurt on the side.
We're growing several types of kale - all wonderful!
Preserving
Over the past couple of summers, we've found ourselves getting pretty repetitive when it comes to providing information on preserving your produce. This is partly because we frequently defer to the experts, suggesting links to web sites which we think may be helpful to you. It's also because freezing is often the easiest way to preserve produce, particularly if you don't have a lot of time, and the basic method for freezing many vegetables is very similar across vegetables. Therefore, in each newsletter, we're going to include a link to our web page on preserving produce. This page includes the basic instructions for freezing vegetables as well as links to sites that specialize in food preservation and safety. Each week, we'll also make a few suggestions regarding good methods of preservation for that week's vegetables. Primarily, though, we'll focus on including a few recipes for pickles, preserves, and so forth, hoping that will be more interesting and fun for you!
So, to preserve this week's vegetables? Kale, spinach, and green garlic all freeze well. Green garlic is also well-suited for drying. Although radishes can also be frozen and dried, both methods of preservation take a toll on the radishes' texture. We recommend eating your radishes fresh, and/or pickling them – and we definitely recommend using your lettuce when it's fresh! Lettuce can be cooked and preserved (fermented lettuce, anyone?), but lettuce is really the epitome of a vegetable that's best when it's fresh, so enjoy it now!
Pickled Radishes
(Adapted from davidlebovitz.com)
(If you like, you can pack in a bay leaf, some tarragon, or a few sprigs of fresh dill in the jar before closing it up. The chile pepper is optional, if you'd like to give them an extra kick.)
1 bunch radishes
1 cup water
1 cup white vinegar
2 tsp. sea salt
2 tsp. sugar or honey
½ tsp. crushed peppercorns
1 to 2 cloves garlic, peeled
optional: 1 chile pepper, split lengthwise
Slice the radishes into rounds. In a non-reactive saucepan, bring the water, vinegar, salt, and sugar or honey to a boil, until the sugar and salt are dissolved. Remove from heat and add the peppercorns, garlic and chile pepper, if using.
Pack the radishes in a clean pint-sized jar, and pour the hot liquid over them, adding the garlic and chile into the jar as well. Cover and let cool to room temperature, then refrigerate.
The radishes will be ready to eat after 24 hours. During storage, the liquid will turn a nice rosy color and any added flavors – such as garlic and hot peppers – will get stronger. The radishes can be kept in the refrigerator for up to one month.
Green Garlic Jam
(Adapted from highgroundorganics.com)
1 bunch green garlic
1 medium brown onion
Thyme leaves fro 2 sprigs
1 Tbsp. olive oil or olive oil/butter combination
Salt and fresh ground pepper to taste
½ cup water, white wine, white vermouth, or a combination
1 tsp. sugar (or as needed)
1 Tbsp. white wine vinegar (optional)
Remove most of the greens from the garlic. Split each stalk down its length and thoroughly rinse in cold water to remove possible grit in the layers. Finely slice into half-moons.
Split the onion through the stem and peel. Cut each half again through the stem and finely slice into ¼ moons.
Heat the oil/butter over medium-high heat in a smallish, heavy pan. When the oil is hot, add the thyme leaves, and as soon as you can smell them, add the garlic and the onion. Stir around to coat with the oil, turn up the heat and sauté until the onions and garlic are wilting and starting to color. Keep this up until everything is picking up a nice color and you get some browning on the bottom of the pan. Be careful not to let it scorch.
Add the liquid, and reduce the heat to low, stirring to scrape up the brown bits from the pan bottom. Sprinkle the sugar over all and stir. Cook at a low heat until the contents of the pan take on a thick, syrupy look – in effect, jammy. Taste for balance. Sometimes a little vinegar will help spark the flavors, bringing out nuance. When the jam is done to your taste, allow it to cool and put it into a jar that has a tight seal. If the jam seems a little dry when in the jar, add a splash of oil to the top. Keeps a week or two in the refrigerator.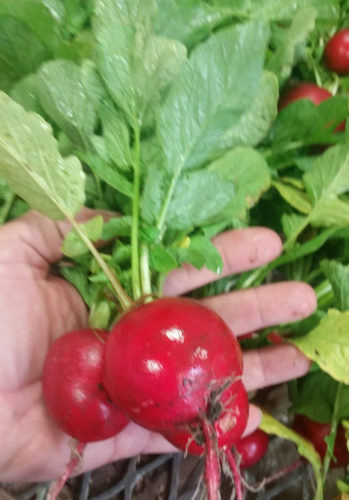 Whether you've invested in vegetables, eggs, frozen broiler chickens, and/or soap CSA shares this summer, thank you for your support, and we hope you enjoy them! Please stay in touch – we'd love to hear from you. If you have questions, concerns, suggestions, or anything you'd like to share, please let us know. You can reach us at 515/729-8664 and rforksfarm@gmail.com.
All the best from –
Your Raccoon Forks Farm Team