Dear Friends and CSA Partners –
Can you believe it's the end of June, already? On that note, here's one more reminder about our delivery schedule changes next week:
 - Next week, we'll be delivering all CSA shares on Tuesday, July 2nd! Please pick up your CSA share(s) on Tuesday, the 2nd, rather than Wednesday or Thursday, as you would, normally.
 - If you'll be out of town or otherwise unable to pick up your share(s) next week, please let us know by Monday. We'll be happy to hold your share(s) and deliver them with your share(s) the following week!
In Farms news, we're continuing our summer planting, and this week we're planting collard greens and more beans, fennel, and cucumbers.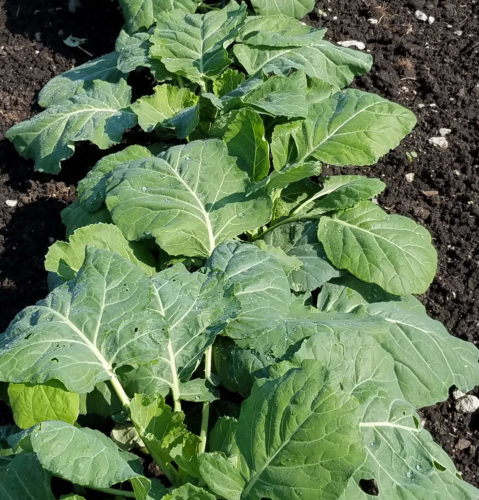 Mature collards in the field last summer
Unfortunately, the word is out in the insect world that we grow lots of squash and cucumbers – so now we have lots cucumber and squash beetles, also! These pests can damage or kill the plants, so we're hand-picking them off the plants early in the mornings to try to save the plants.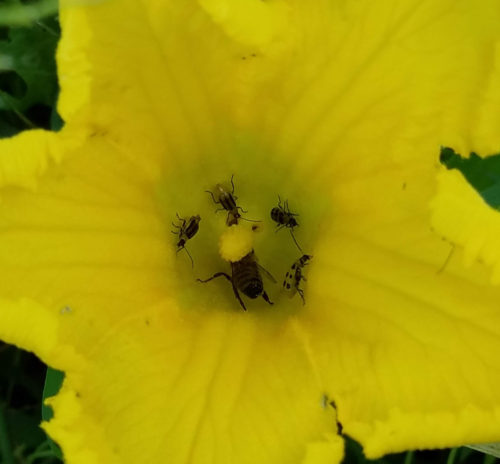 Beetles (boo!) and a bee (yay!) in a squash blossom
On a happier note, we have another batch of baby chicks! And we hope – and think – we've bred Aude, one of our Great Pyrenees, again. We'll find out later this week if she's pregnant or not!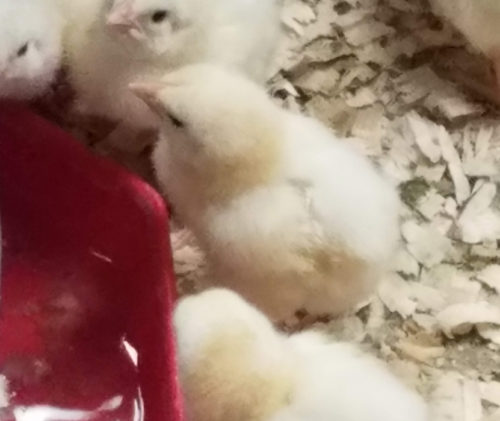 What's In Your Vegetables Share?
This week, we're planning to bring you lettuce, broccoli, garlic scapes, and fennel!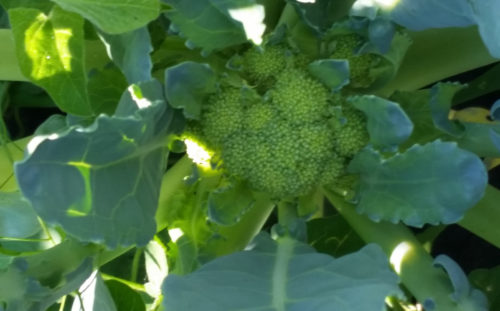 Fennel
We're always happy when it's fennel season! Fennel is a crunchy, elegant vegetable that's a member of the carrot family. Rather than eating the root, though, with fennel, we eat everything that grows above ground – the bulb at the plant's base, its stalks, and its feathery fronds. Fennel can be eaten raw or cooked and has a mild anise/licorice flavor. The bulb and fronds are tender, while the stalks are tougher and require more chopping and/or cooking. The fronds can be used in many dishes, particularly pestos, and they also make a beautiful garnish, either chopped on in sprigs!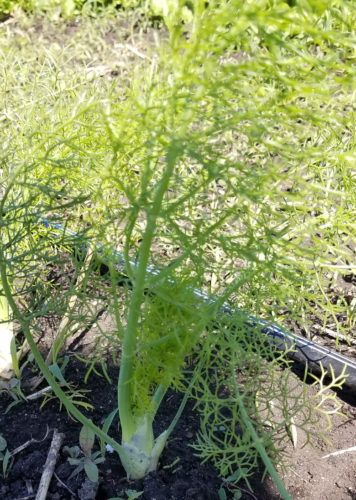 Storing
Leave the stalks and fronds on your fennel bulb until you're ready to use part, or all, of the vegetable. Store fennel in the refrigerator, loosely wrapped in a plastic bag – or two! Depending on the size of your fennel and the size of your bags, sometimes you'll need to bag fennel from the top and bottom to cover the whole thing.
Broccoli should also be stored in the fridge. You can wrap it in a damp (but not wet) towel or paper towel; or you can store it in "bouquet" fashion – trim a little off the stem end, and stand your broccoli in a container of water, then put it in a safe corner of the refrigerator.
For information on storing your other vegetables, see our produce storage web page.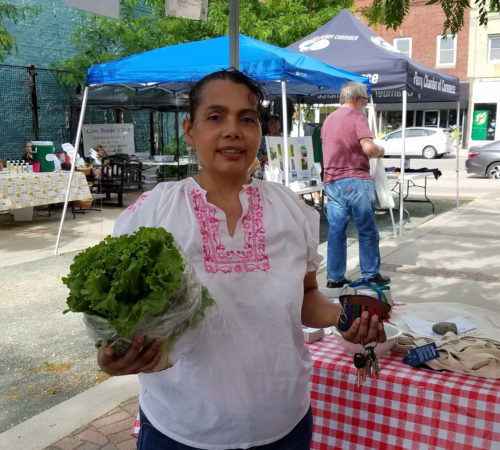 A customer with one of our beautiful heads of lettuce at the Perry farmers' market!
What to Make?
Caramelized Fennel
(From putneyfarm.com)
2 large fennel bulbs
¼ cup olive oil
Kosher salt
Black pepper
½ lemon
The key to this dish is to brown, not steam, the fennel. Keep the pan hot and spread out the fennel, no crowding. Cook in batches, if necessary.
Using a very sharp knife, cut the top and bottom from the fennel bulbs and then remove tough or bruised outer layers. You will end up with a bulb about the size of your fist. Slice the bulbs in half and then remove the cores from the fennel. Then cut the fennel lengthwise into ⅛-inch slices (it is ok if a little thicker).
Heat a large skillet or sauté pan over medium-high heat. When hot, add the olive oil and then the fennel slices. Spread the fennel out in the pan to encourage browning.
Cook for 10-12 minutes, flipping the fennel slices every few minutes, until golden brown. Remove the fennel from the pan and drain off any excess oil. Season with salt, pepper and lemon juice, to taste. Serve.
• • •
Roasted Chicken with Fennel and Lemon
(Adapted from myrecipes.com)
1 4-lb. whole roasting chicken
1 Tbsp. chopped fresh oregano plus 1 fresh oregano sprig
2 sprigs fresh marjoram
2 garlic cloves, minced
2 garlic cloves, smashed
1 Tbsp. olive oil
1 cup dry white wine
1 lemon, cut in half
1 fennel bulb, trimmed and cut into 8 wedges, plus fronds
½ tsp. sea salt
¼ tsp. freshly ground pepper
Preheat oven to 400° F. Rinse chicken inside and out, removing all inside parts; cut off any excess fat, and pat dry.
Combine chopped oregano, marjoram, minced garlic, and 1 teaspoon olive oil in a small bowl. Place chicken in a large roasting pan on a roasting rack, breast side up. Starting at neck cavity, loosen skin from breast and drumsticks by inserting fingers and gently pushing between the skin and meat. Place oregano mixture beneath skin on breasts and drumsticks.
Pour wine over chicken and into the pan. Rub the inside cavity of chicken with lemon, squeezing juice over and around outside of chicken. Place lemon halves, 2 fennel pieces, smashed garlic cloves, and sprig of oregano in cavity of chicken. Add 1 cup water to pan. Add remaining fennel and fronds to bottom of pan. Pour remaining 2 teaspoons olive oil over breast, and add salt and pepper.
Insert meat thermometer into meaty part of thigh, making sure not to touch bone. Roast at 400° for 1 hour or until thermometer registers 175°, basting every 20 minutes with pan liquid.
Remove chicken from oven, transfer to a serving platter, and let rest 15 minutes. Use pan drippings to make gravy to serve with the chicken.
• • •
Fennel Frond Falafel
(From humbleradish.com)
1 15 oz. can chickpeas, drained
1 cup loosely packed fennel fronds
1 cup loosely packed parsley
½ cup onion
4 garlic cloves
¼ cup chickpea flour
1 tsp. baking powder
1 tsp. salt
½ tsp. pepper
1 tsp. ground cumin
1 tsp. ground coriander
Juice of 1 lemon
1 Tbsp. extra virgin olive oil (plus extra for panfrying)
Yields 8-10 patties, depending on their size.
Preheat oven to 350° F. Combine all of the ingredients using a food processor. The finished batter will be slightly thicker and grainier than hummus. In a nonstick pan, heat 1-2 tablespoons of EVOO on medium-high heat. Add rounded tablespoons of batter to the pan, and allow a couple inches of spread room between each scoop. Use the back of the spoon to flatten the rounds into ½-inch thick patties. Fry for 3-5 minutes on each side, or until golden brown. Transfer to a parchment-lined baking sheet and bake for 10 minutes on each side, or until set.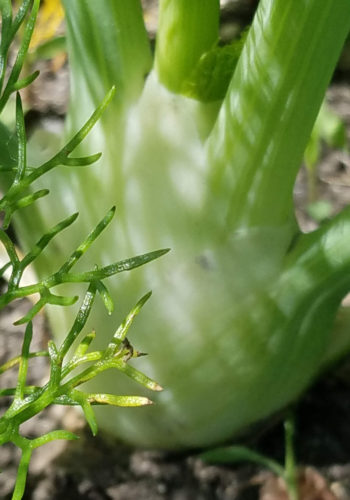 Preserving
Broccoli, garlic scapes, and fennel all freeze well, and fennel and garlic scapes also lend themselves to drying. As we've written previously, though, lettuce really is best fresh!
For more information on preserving this week's vegetables, see our web page on preserving produce.
Fennel Stem Pickles
(From marthastewart.com)
1 large onion, cut into 1-inch pieces
1 Tbsp. canola oil
1 Tbsp. plus 2½ tsp. coarse salt
¼ tsp. freshly ground pepper
1½ cups cider vinegar
1 cup sugar
1 tsp. crushed red pepper flakes
1 tsp. crushed brown mustard seeds
1 tsp. mild chile powder
½ tsp. garlic powder
½ tsp. Chinese five spice
¼ tsp. turmeric
1 ½ to 2 cups fennel stems, trimmed and sliced crosswise ½-inch thick
1 English cucumber, quartered lengthwise, then cut into ½-inch slices
1 jalapeño, seeded and minced
½ cup chopped red bell pepper, ribs and seeds removed
Preheat oven to 400° F. In a medium bowl, mix together onion, oil, 1 tablespoon salt, and pepper. Spread onion mixture in an even layer on a rimmed baking sheet and transfer to oven. Bake until onions are tender and beginning to brown, about 15 minutes. Remove from oven and let cool to room temperature.
In a small nonreactive saucepan, mix together vinegar, sugar, and remaining 2½ teaspoons salt; bring to a boil over high heat, stirring occasionally, until sugar has completely dissolved. Remove from heat and stir in red pepper flakes, mustard seeds, chile powder, garlic powder, Chinese five spice, and turmeric.
Place cooled onion mixture, fennel stems, cucumber, jalapeno, and bell pepper in two 1-quart glass jars or one 2-quart glass jar; toss to combine. Pour hot vinegar mixture over vegetables, adding water if necessary to cover. Cover jar and transfer to refrigerator; refrigerate at least 24 hours before serving, and up to 2 weeks.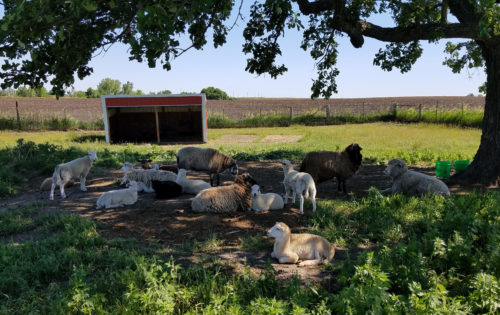 This Sunday, from 11 a.m. until 1-1:30 p.m., we'll be at the Johnston Hy-Vee, offering samples of our delicious eggs! If you're out and about, stop by and say hello – we'd love to see you!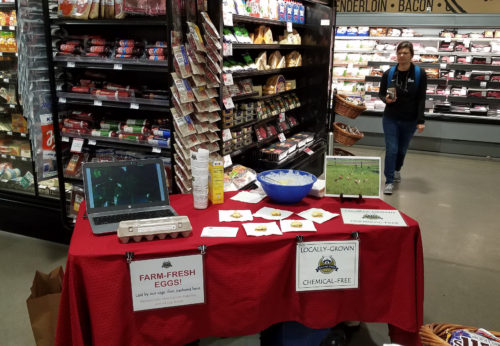 Well, we didn't mean to make this into "the fennel issue," but we do love fennel – and if you haven't used fennel much, before, we hope these recipes help you love it, too! Happy cooking and eating, from –
Your Raccoon Forks Farms Team