Dear Friends and CSA Partners –
Welcome to the third week of our summer CSA season! We hope your summer is going well, so far. The 4th of July holiday is right around the corner, and that will affect our delivery schedule. Please note the following schedule adjustment:
 - The first week of July, due to the July 4th holiday, all CSA deliveries will be on Tuesday, July 2nd! Please pick up your CSA share(s) on Tuesday, the 2nd, rather than Wednesday or Thursday, as you would, normally.
 - If you will be out of town or otherwise unable to pick up your share(s) that week (or any week, really), please let us know by Monday of that week. We'll be happy to hold your share(s) and deliver them with your share(s) the following week!
What are we doing at the Farms this week? Weeding, weeding, and more weeding! We're also planting. We practice succession planting: we use some of our fields to grow more than one crop per season, planting again after harvesting the first crop. We also plant many vegetables more than once and over time, so that we have repeated harvests of vegetables such as spinach, kale, and even tomatoes. So this week, we've already planted more bok choi and basil; and we're starting seedlings again – for Swiss chard, parsley, and broccoli, at this point. Do you feel as though summer's just really started? So do we; but we're also thinking about fall, and the seedlings we need to get going now in order to harvest vegetables during the fall. It makes for an interesting perspective on time!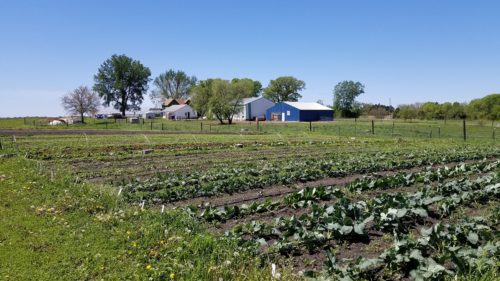 What's In Your Vegetables Share?
This week, we're planning to bring you mixed lettuces, winterbore kale, bok choi, garlic scapes, and radishes.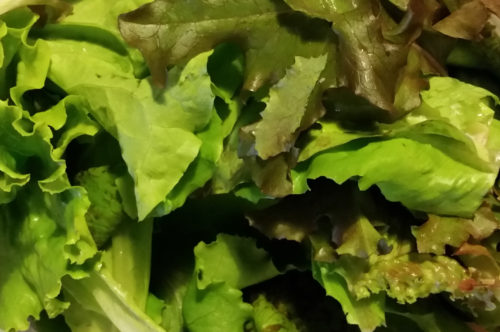 Garlic Scapes
If you've never had garlic scapes before, you're in for a treat! What are garlic scapes? They're the flower stalks of the garlic plant. In the photo below, the pale yellow, wider portions of the stems are what would develop into flowers, if allowed. We remove the garlic scapes from the plants, though, because flowering reduces the size of the eventual heads of garlic we're growing. Happily, garlic scapes are worth harvesting in their own right! They're a delicious, mild, alternative form of garlic and can be used raw or cooked. Use them like scallions or clove garlic to add flavor to something else you're cooking; or, make them the focus of a dish. One of our favorite ways to use garlic scapes is to roast them – just toss whole scapes with a little olive oil and salt, then roast them in the oven or on the grill, and enjoy!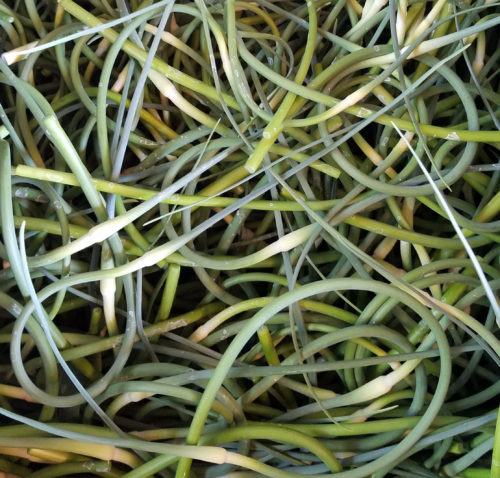 Storing
Bok choi should not be washed until you're ready to use it; just keep it in the refrigerator, loosely wrapped, until then. Bok choi bruises easily, so keeping it in a hard container may provide it the best protection. Garlic scapes should also be stored in the fridge. You can wrap them in a damp towel or paper towel; alternatively, you can stand them in a glass of water, with their tops loosely covered by a plastic bag. Be careful to place the glass in an area of your refrigerator where it won't get knocked over!
For information on storing your other vegetables, see our produce storage web page.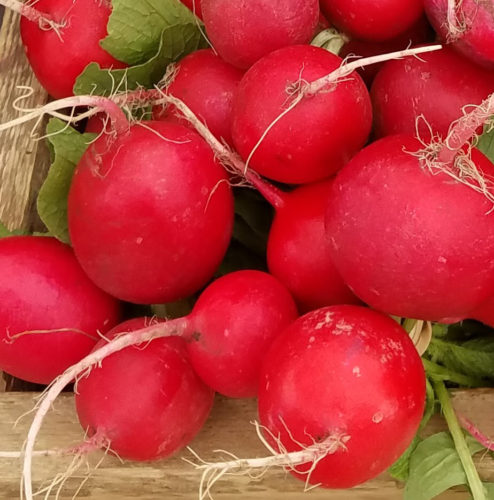 What to Make?
Our CSA partners Sandy and Mahlon Barker sent the following recipe for kale and said it was amazing. They made it using the lacinto kale in last week's CSA boxes, and recommend serving the salad with poached eggs on top. Thanks, Mahlon and Sandy!
Kale Salad with Roasted Sweet Potatoes and Pomegranate
(From America's Test Kitchen)
1½ lbs. sweet potatoes, peeled, quartered lengthwise, sliced crosswise ½ inch thick
⅓ cup olive oil
1 shallot, minced
1 Tbsp. honey
1 Tbsp. balsamic vinegar
12 oz. kale, stemmed and cut into ½ inch strips
½ head of radicchio, cored and sliced thin
½ cup of pecans, toasted and chopped
½ cup of pomegranate seeds.
Adjust oven rack to middle position and heat to 400 degrees F. Toss sweet potatoes with 1 tablespoon of the olive oil, and season to taste with salt and pepper. Lay potatoes in a single layer on a rimmed baking sheet and roast until bottom edges are browned on both sides, 25-30 minutes, flipping potatoes halfway through roasting. Transfer potatoes to a plate and let cool for 20 minutes.
Whisk shallot, honey, vinegar, ½ teaspoon salt, and ¼ teaspoon of pepper together in a large bowl. Whisking constantly, gradually drizzle in the remaining olive oil until emulsified.
Place kale in a large bowl or on the counter and vigorously squeeze for 1 minute. Add kale, radicchio, and sweet potatoes to the dressing and toss to combine. Transfer to serving platter and sprinkle with pecans and pomegranate seeds.
Garlic Scape and Gruyere Biscuits
(From pink-apron.com)
2 cups all purpose flour
1 Tbsp. baking powder
½ tsp. sea salt
½ tsp. freshly ground black pepper
8 Tbsp. cold unsalted butter, cut into pieces
1¼ cups shredded Gruyere cheese
¼ cup chopped garlic scapes
¾ cup buttermilk
2 Tbsp. melted butter
Preheat oven to 400 degrees F. Line a baking sheet with parchment paper.
In a bowl, whisk together the flour, baking powder, salt and pepper. Add the cold butter and, using a pastry blender or your fingertips, mix the flour and butter together until small, coarse crumbs form. Stir in the cheese and garlic scapes. Add the buttermilk and, using a rubber spatula, stir to form large, moist clumps.
Turn the dough out onto a well-floured surface and knead 4 or 5 times, until the dough just holds together. Using floured hands, press the dough together to form a large ball. Roll out the dough to ½-inch thickness, dusting with more flour as needed. Using a 2½-inch round biscuit cutter, cut out the dough and transfer the rounds to the prepared baking sheet. Gather up the scraps, reroll and cut out more rounds. Brush the tops of the biscuits with the melted butter.
Bake, rotating the pan from front to back halfway through baking, until the biscuits are golden brown, about 20 minutes. Let cool for 10 minutes before serving. Makes 14 biscuits.
Bok Choy with Garlic
(Adapted from foodandwine.com)
½ cup chicken stock or low-sodium broth
2 tsp. cornstarch
1 Tbsp. vegetable oil
2 garlic cloves, minced
Salt and freshly ground pepper
2 pounds bok choy, stems cut into 1-inch lengths, leafy tops left about 4 inches long
In a bowl, whisk the stock with the cornstarch. In a large skillet, heat the oil. Add the garlic and cook over high heat until fragrant, 20 seconds. Add the bok choy and stir-fry until the leaves start to wilt, 2 minutes. Add the stock and cook, stirring, until slightly thickened, 30 seconds. Remove the bok choy from the heat, season with salt and pepper and serve.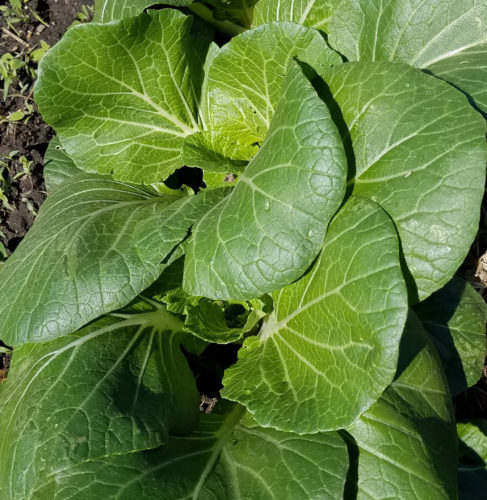 Bok choy
Preserving
In general, this week's vegetables are best fresh! Kale and garlic scapes freeze well, though, and bok choi and radishes can also be frozen and canned. For more information on preserving this week's vegetables, see our web page on preserving produce.
That being said, garlic scapes pickle nicely:
Pickled Garlic Scapes
(From homeinthefingerlakes.com)
1 bunch garlic scapes, approximately what you can wrap two hands around, shoots aligned
1 cup vinegar, white vinegar or cider vinegar is fine, as long as the acidity is 5 percent
1 cup water
2 Tbsp. canning & pickling salt
1 Tbsp. pickling spice mix
2 cloves garlic, split
Trim the ends of the scapes, both the blossom end and the straighter end near the original cut, and cut them into lengths that will fit in your jar.
Prepare a small boiling water bath and a single pint jar and lid. Once the jar is sanitized, place the pickling spice mix in the jar. Pack the trimmed scapes and garlic into the jar.
Combine the vinegar, water and pickling salt in a pot and bring to a boil.
Slowly pour the hot brine over the garlic scapes, leaving 1/2 inch headspace. Once the jar is full, tap the jar lightly to dislodge any air bubbles.
Check the headspace again and add more brine if necessary. Wipe the rim, apply the lid and ring, and process in a hot water bath for 10 minutes, adjusting for altitude if necessary.
Check for seal after 24 hours. Lids should not flex up and down when the center is pressed. Let these pickles cure for at least a week before eating. Pickles will last for several weeks in refrigerator after the initial seal is broken.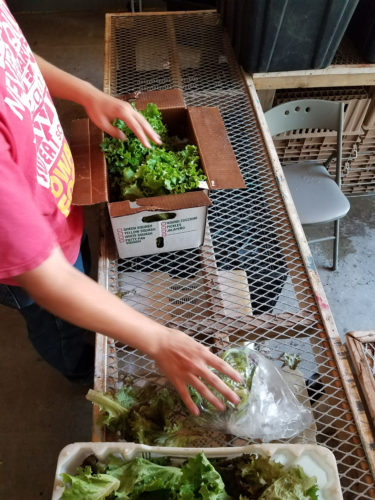 Wishing you a great week -
Your Raccoon Forks Farms Team