Dear Friends and CSA Partners –
We hope this finds you well! It's been a busy week at the Farms – of course, we could write that every week!
We're continuing to plant: this week, we're planting winter squashes, Brussels sprouts, more basil (we've already got a bunch of basil planted, but there's no such thing as too much, right?), cabbages, and melons.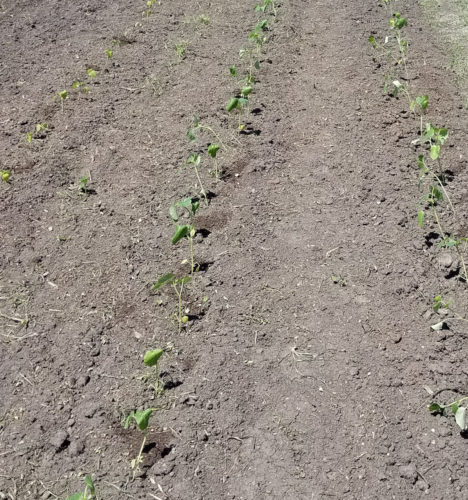 Okra, planted last week
We're weeding! We have a ton of weeds. Weeds are always an issue, but they seem to be doing particularly well right now. So we have been doing, and will continue to be doing, a lot of weeding!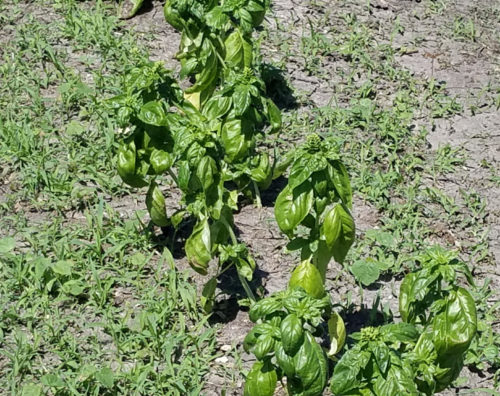 Basil...with more than a few weedy friends
But never fear - we're really good at catching up with weeds!
It feels kind of funny to be grateful for cooler weather when we haven't had a lot of hot weather so far this year. But maybe because it got hot so abruptly over the past couple of weeks, we – and our animals – are grateful that it's a little cooler this week.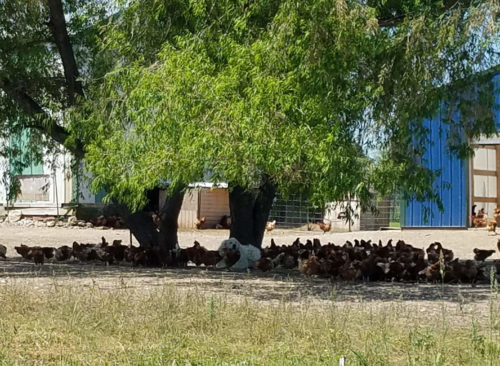 One of our dogs, and many chickens, keeping cool in the shade on a recent hot day
And in tomato news – tomatoes love heat, by the way – we have lots of tomatoes planted in our fields and our high tunnel, and they're coming along nicely!
Are you familiar with high tunnels? They're like greenhouses, but are covered with thick, clear plastic. They keep the soil warm and have sides that roll up and down, so we can adjust the temperature inside. High tunnels are season-extenders: we use ours to start plants earlier and later than Iowa weather would normally allow. The tomato plants in our high tunnel already have many big, fine-looking tomatoes growing on them, and some of us can't wait for the first one to get ripe!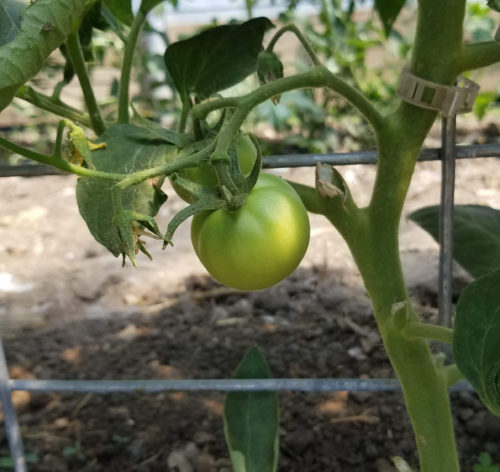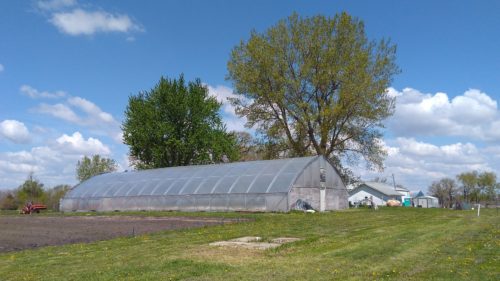 What's In Your Vegetables Share?
This week, we're planning to bring you lacinato kale, green garlic, turnips, head lettuce, and broccoli raab.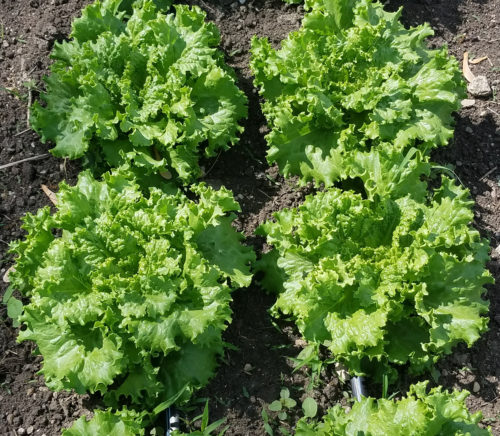 Broccoli Raab
This is a delicious, highly nutritious vegetable with many names: you may have seen it referred to as broccoli raab, broccoli rabe, rapine, rapini, Italian broccoli, and Chinese broccoli, among others. Broccoli raab is a member of the mustard family and is related to turnips, not broccoli. However, it does produce flowering buds that look like small broccoli heads. Broccoli raab's stems, leaves, heads, and flowers are all edible. Its slightly bitter, nutty flavor combines very well with rich foods (see below). Just trim off the end of the stem and enjoy the rest!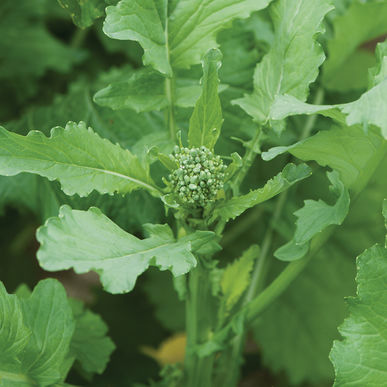 (Photo by Johnny's Selected Seeds)
Storing
In last week's newsletter, we forgot to mention that over the course of the season, we'll write about how to store each vegetable once, the first time it appears in our CSA vegetables boxes. We want to avoid being repetitive! However, we keep information about storing produce on our web page, so it's always available if you need it.
With that said, broccoli raab and turnips are new for the season this week. Turnips like a cold (but not freezing), damp environment, so store them in the refrigerator, wrapped in a damp cloth or paper towel. Don't wash broccoli raab until you're ready to use it. To store broccoli raab, keep it in a plastic bag or box in the refrigerator.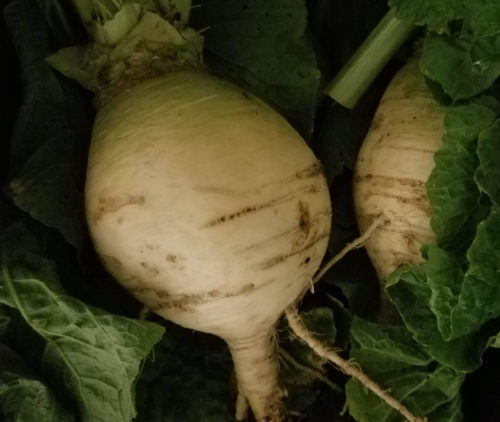 What to Make?
Cavatelli with Roasted Broccoli Rabe & Harissa
(From foodandwine.com)
1¼ pounds broccoli rabe, ends trimmed
¼ cup extra-virgin olive oil
Salt
Freshly ground pepper
6 garlic cloves, thinly sliced
1 Fresno or jalapeño chile, seeded and thinly sliced
2 tsp. harissa*
½ tsp. sweet smoked paprika
1 pound cavatelli
Freshly grated Parmigiano-Reggiano cheese, plus more for serving
½ cup packed mint leaves, chopped
½ cup packed parsley leaves, chopped
*Harissa is Tunisian chile paste, quite spicy. It's available in many local groceries; it's also fairly easy to make. Alternatively, you can substitute any hot, plain, red chile paste – sriracha works well, for instance.
Preheat the oven to 425°. In a bowl, toss the broccoli rabe with 2 Tbsp. of the oil and season with salt and pepper. Arrange the broccoli rabe on 2 baking sheets and roast for 15 minutes, until crisp-tender, then chop.
In a deep skillet, heat the remaining 2 Tbsp. of oil. Add the garlic, chile, and harissa and cook over moderate heat, stirring for 2 minutes. Add the broccoli rabe and smoked paprika and cook until tender, 2 minutes.
Meanwhile, in a large pot of salted boiling water, cook the pasta until al dente; drain, reserving 1 cup of the cooking liquid. Add the pasta, cooking water and 1/4 cup of Parmigiano to the skillet and cook, stirring, until the pasta is coated in a thick sauce, 2 minutes. Stir in the herbs and serve with more cheese.
Roast Chicken with Turnips
(From cooking.nytimes.com)
1 chicken, about 3 pounds
Salt and pepper to taste
4 Tbsp. softened butter or olive oil
2 pounds white turnips, peeled and cut in slices ¼ inch thick
Heat oven to 450° F. Place a nonstick roasting pan on a rack set low in oven. Season chicken with salt and pepper, and rub it with about a third of the butter or oil.
When oven is hot, add another third of the butter or oil to pan. Place chicken in hot pan, breast up; roast 15 minutes, or until top begins to brown. Remove from oven, and scatter turnips around it; dot them with remaining butter, or drizzle with remaining oil. Tilt pan so juices run out of chicken.
Roast 15 minutes longer, and then baste chicken with pan juices. Continue to roast (lower heat to 350 if bird is becoming too brown) until an instant-read thermometer inserted in meaty part of thigh registers 155 degrees, 15 to 30 minutes more. Remove bird from pan, and raise heat to 500 degrees. Return turnips to oven in pan.
Let chicken rest while turnips brown, about 5 minutes. Carve chicken, and serve with turnips and pan juices.
Sesame Kale
(From budgetbytes.com)
1 bunch lacinato kale
1 Tbsp. cooking oil
2 cloves garlic
1 Tbsp. soy sauce
1 tsp. toasted sesame oil
1 Tbsp. sesame seeds
Remove the woody stems from the kale leaves either by slicing down each side with a sharp knife, or by pinching the leaf at the base and pulling out toward the tip. Stack the leaves and then slice crosswise into one inch wide strips. Wash the leaves well in a colander with cool running water.
Mince the of garlic and add it to a large pot with one tablespoon of neutral cooking oil (or your favorite cooking oil). Sauté the garlic for about one minute over medium heat.
Add the washed kale leaves to the pot. Stir and cook the kale until it is wilted and glossy (about 5 minutes). If you prefer a more tender leaf, cook longer.
Add the soy sauce, toasted sesame oil, and sesame seeds to the pot. Stir to coat. Taste and adjust the seasoning to your liking. Serve warm.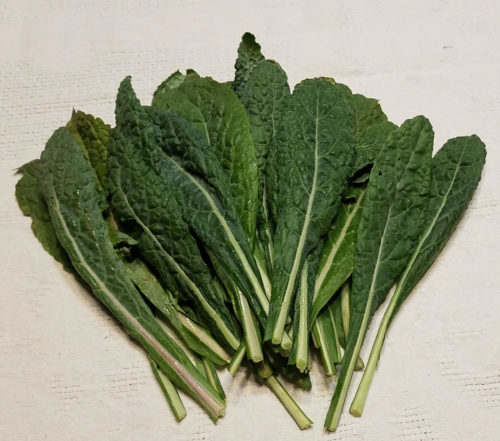 Lacinato kale
Preserving
As mentioned in last week's newsletter, fresh lettuce really is best as is – fresh and lovely. We've been eating wonderful salads and happily adding extra lettuce to sandwiches, lately, and we hope you are, too! The rest of this week's vegetables all freeze well. They can also all be dried; turnips might dry best, of the group. For more information on preserving this week's vegetables, see our web page on preserving produce.
Here's a recipe for preserving broccoli raab:
Pickled Rapini
(Adapted from staceysnacksonline.com)
1 lb. broccoli raab
1 cup white wine vinegar or white vinegar
1 cup water
2 cloves garlic, sliced super thin
2 Tbsp. sea salt
Olive oil
Crushed red pepper flakes
You will need one sterilized pint jar with lid.
Trim the broccoli raab and discard the tough stems.
In a heavy saucepan, bring the vinegar, water, garlic, and salt to a boil over medium heat. Stir until the salt dissolves. Add the broccoli raab, pushing it down with a spoon or tongs to keep it submerged in the brine. Cook at a boil for 5 minutes.
Drain the broccoli raab and discard the brine. Spread broccoli raab on a kitchen towel on a baking sheet for about an hour.
Pour a little olive oil in the bottom of the jar and pack in the broccoli raab, sprinkling the red pepper flakes in as you go. Slowly pour enough olive oil to cover. Screw the lid on tightly and let stand at room temperature for 24 hours.
Let the broccoli raab "cure" in the fridge for about a week before using. It will keep about 2 months in the refrigerator.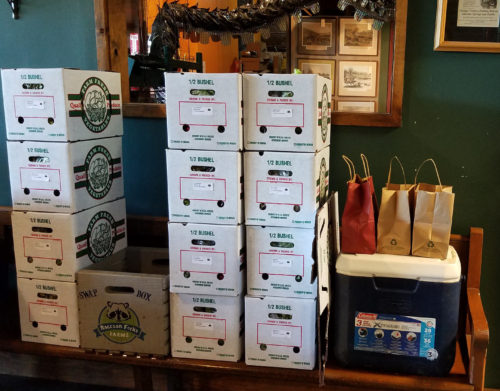 CSA shares waiting to be picked up at Railroad Bill's Dining Car!
Have a wonderful week!
Your Raccoon Forks Farms Team