Dear Friends of Raccoon Forks Farms –
Season's greetings! Can you believe it's the end of the year, already? We hope you had a wonderful Thanksgiving and that you're enjoying the holidays thus far.
It's been another busy and productive year at the Farms. As we wrote last month, it turned out to be a pretty good year for produce, particularly later in the summer. We had big crops of tomatoes, peppers, okra, garlic, potatoes, beans, and other vegetables – and 2018 will definitely live in our memories as "The Year of the Squash!"
Our squashes grew with exuberance last summer!
A lot of our attention has been focused on our pastured sheep and goats this year. We increased our flocks by breeding as well as by purchasing some additional animals. The goats have been living with the sheep and chickens at our Redfield farm on a temporary basis, while we've been engaged in the major project of fencing a goat pasture at our Runnells farm. We've been clearing brush and cutting trees off and on for months – and we're almost done!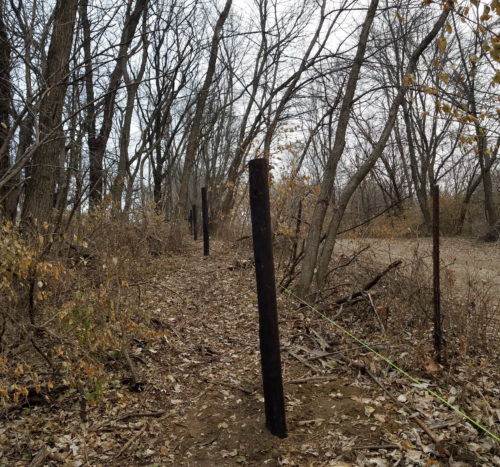 Last year, we planted pear trees at both farms, and most of them grew quite well this year. They're still too young to produce fruit, but they're coming along! In addition, this year, at the Runnells farm, we also planted berry bushes in the pear orchard, and in other areas around the farm we planted strawberries and rhubarb – we're excited to see how all of these plants come through the winter and grow next year!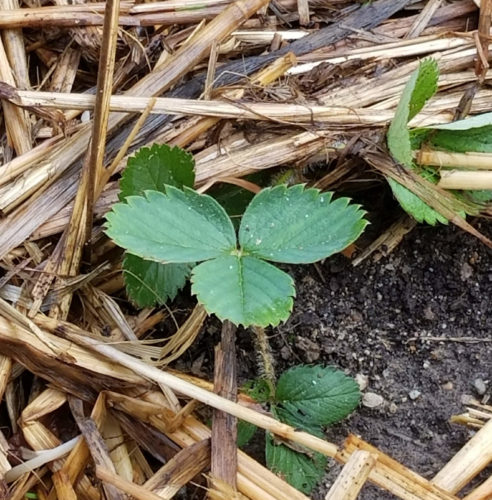 In other developments, we invested in some better equipment for washing eggs; increased production and sales of our hand-made soap; and started selling lamb, mutton, and goat meat. We also launched our web site and updated our CSA brochure!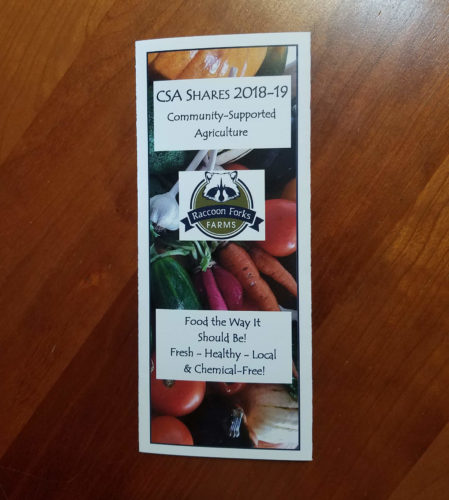 If you'd like to be one of our 2019 summer vegetables CSA partners, now is a great time to sign up – we're running an Early Bird Special! If you purchase before the end of the year, we'll thank you with a free soap sampler CSA share! Does this seem like a strange time of year to be thinking about summer vegetables? Early share purchases help us prepare for the season to come. They're an important part of our operations and we are truly grateful to our CSA partners who sign up early!
We also encourage giving CSA shares as holiday gifts – and it's not too late! Call or email us to find out how to give a gift full of love to the really special people in your life.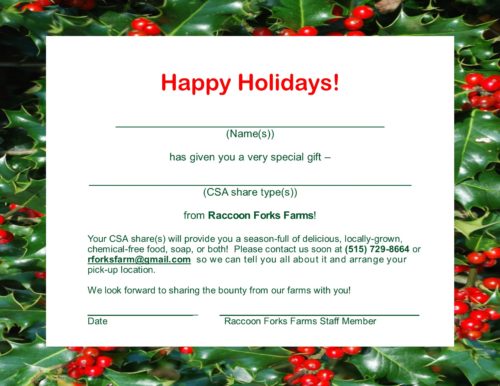 And looking ahead, we always have something new going on! In addition to cleaning and repairing tools and equipment after a summer of hard use, our farmers are busy making beautiful folk art; we're experimenting with growing micro-greens in our greenhouse; and we're raising hundreds of baby chicks who will be growing into our newest flock of laying hens!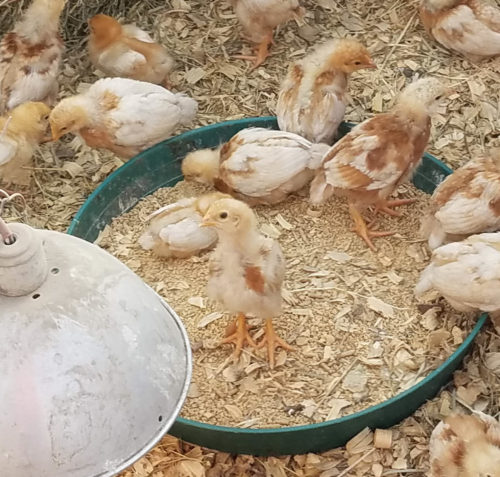 We look forward to the coming year and keeping you posted on all our new developments!
Thank you for your interest and investment in Raccoon Forks Farms – for your support in our providing employment opportunities and job coaching to team members who have disabilities and other barriers to employment – for your appreciation of our fresh, healthy, chemical-free food – for your support for local food and local farmers – and for your friendship!
We send you and your loved ones our very best wishes for happy holidays and a wonderful new year in 2019!
Your Raccoon Forks Farms Team