Dear Friends and CSA Partners –
Happy National Farmers' Market Week! This USDA-sponsored week celebrates farmers, ranchers, and other local food producers and their communities. The Farmers Market Coalition (an independent, non-profit farmers' market advocacy organization) holds that farmers' markets have a "…triple bottom line:
Farmers earn fair prices for the fruits of their labor by selling directly to consumers.
Consumers gain access to fresh, nutritious, local produce.
Communities regain a figurative 'town square,' experiencing the many positive outcomes of foot traffic and animated public space."
And of course, community-supported agriculture does much the same thing! And if farmers' markets are the "town square," then picking up CSA shares is like stopping by the old corner grocery. As we celebrate National Farmers' Market Week, we want to thank you, as always, for being our wonderful CSA partners and supporting local food and farmers!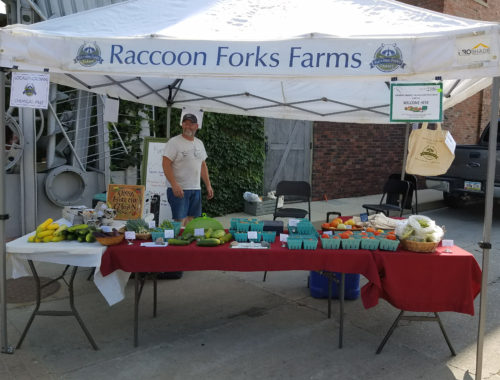 Due to circumstances beyond our control, this week's newsletter isn't quite as newsy as usual. We apologize, and we'll be back up to speed next week!
Also, as we write this, our web page is down, and we apologize for that, as well. Technology! We'll have it fixed as soon as possible.
What's In Your Vegetables Share?
This week, we plan to bring you cucumbers, garlic, summer squash, tomatoes, potatoes, and kale.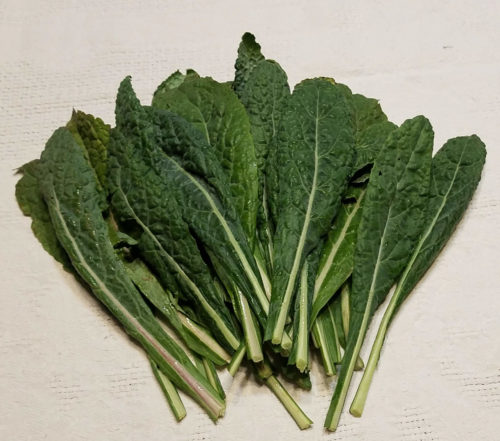 Storing
Fresh cucumbers do not need to be refrigerated. They'll do fine if you leave them in a shady spot on the counter. If you prefer to keep your cukes in the fridge, though, just make sure they're dry, and pop them in. There's no need to bag them or wrap them in anything.
Storage suggestions for each of this week's other vegetables have been offered in previous newsletters and can be found on our produce storage web page.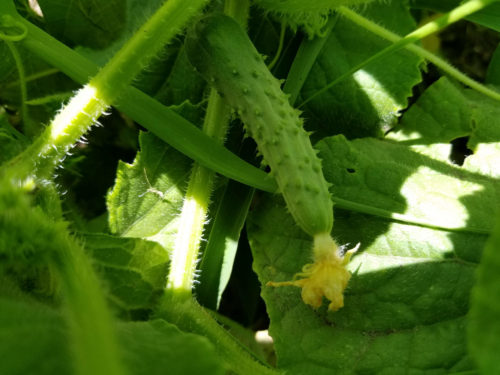 What to Make?
Egg, Kale, and Tomato Breakfast Wraps with Hummus
(Adapted from epicurious.com)
[Note: we think these would be great for any meal!]
5 large kale leaves
2 Tbsp. extra-virgin olive oil
1¼ cups grape tomatoes, halved
1 large shallot, chopped
2 garlic cloves, chopped
1 tsp. chopped fresh thyme
⅛ tsp. crushed red pepper flakes (optional)
½ tsp. kosher salt
¼ tsp. freshly ground black pepper
¼ cup chopped fresh basil leaves
4 large eggs, at room temperature
4 (10-inch) whole-wheat tortillas
¼ cup store-bought plain hummus
Cut away and discard the stem from the center of each kale leaf. Coarsely chop the kale into 1-inch pieces.
Heat the oil in a large nonstick skillet over medium heat. Add the tomatoes, shallot, garlic, thyme, and red pepper flakes, if using. Sauté until the tomatoes and shallot soften, about 4 minutes. Add the kale and sprinkle with the salt and pepper. Toss with until the kale wilts but is still bright green, about 2 minutes. Stir in the basil. Remove from the heat.
Scramble or poach the eggs, whichever you prefer. While the eggs are cooking, using tongs, toast each tortilla directly over high heat until beginning to blacken in spots, about 15 seconds per side. Put the warm tortillas on plates. Spoon 1 tablespoon of hummus on each tortilla and spread to cover, leaving a 1-inch border. Divide the kale mixture over the hummus.
Divide the eggs equally between the 4 tortillas. If using poached eggs, using a slotted spoon, lift each egg from the water, wiping excess liquid from the bottom of the spoon. Put the eggs on top of the kale. Slit the yolks and press on the eggs a bit so the yolks begin to run (this will make them easier to eat).
Fold up the bottom of each tortilla and then fold in the sides, leaving the wraps open at the top. Serve.
* * *
Tzatziki Sauce
(Adapted from themediterraneandish.com)
[Tzatziki sauce is one of our favorite ways to use summer cucumbers – simple, quick, and delicious! You can serve it with Greek and Middle Eastern food, of course, but consider it also as a great dip or sauce for, well, pretty much anything!]
1 medium or large cucumber, partially peeled (striped) and sliced.
1 tsp. kosher salt, divided
4-5 garlic cloves, peeled and minced
1 tsp. white vinegar
1 Tbsp. extra virgin olive oil
2 cups Greek yogurt (whole milk, 2%, and fat-free are all fine)
¼ tsp. ground white pepper
Grate the cucumbers, then toss with ½ tsp. kosher salt. Place the grated cucumber in a fine mesh strainer over a deep bowl to drain. Then place drained cucumber into cheesecloth or a double-thickness cloth napkin and squeeze it dry. Set aside.
Place the garlic, remaining ½ tsp. salt, vinegar, and olive oil in a large bowl and mix to combine. Add the cucumber, yogurt, and white pepper. Stir to combine thoroughly. Cover tightly and refrigerate for a couple of hours before using.
* * *
Squash Cake
(Adapted from themeaningofpie.com)
Cake
3 cups sugar
3 cups flour
1½ tsp. cinnamon
1½ tsp. baking powder
1 tsp. baking soda
½ tsp. salt
3 cups finely chopped yellow squash (do not peel)
4 eggs
1½ cups vegetable oil
1 tsp. vanilla
(optional: 1 cup chopped pecans and/or 1 cup golden raisins)
Icing
4 cups confectioners' sugar
1 (8-oz.) package cream cheese
1 cup unsalted butter, softened
Chopped pecans for decoration
Dried sugared squash slices for decoration (optional)
In a large bowl, combine the sugar, flour, cinnamon, baking powder, baking soda and salt. Stir with a whisk.
In a food processor, pulse approximately 4 to 5 yellow squash until they are evenly chopped (chop them into chunks before putting them in the processor). In a medium bowl, combine the eggs, oil and vanilla. Add the squash and mix well.
Add the squash mixture to the dry ingredients and mix until combined, using a large scraper/spatula. (If using nuts and/or raisins in the batter, this is when you will add them and stir them in to combine).
Pour the batter into a well greased 9″ X 13″ pan, lined with parchment paper on the bottom. Bake at 350 degrees Fahrenheit for 50 minutes to an hour or until a toothpick pierced into the middle of the cake comes out clean. Remove from the oven and allow the cake to rest in the pan for at least 10 minutes. You can either frost it in the pan or turn the cake out onto a large plate.
To make the icing, allow the cream cheese and butter to soften thoroughly. Beat them together with an electric mixer. Add the confectioners' sugar, one cup at a time until fully combined. Ice the top of the cake with the cream cheese frosting. Decorate the top of the cake with chopped pecans and squash slices, if using.
To make squash slices, slice a squash very thinly. Dip each slice in a combination of cinnamon and sugar (1/2 cup sugar to 1 teaspoon cinnamon). Bake on a rack in a 200 degree oven for an hour and a half. Turn the slices half way through. They will drip sugar and moisture so make sure there is a cookie sheet underneath the rack. At the end of the baking time, they will be dry but still pliable. They are roughly the texture of dried apples. Remove to a piece of parchment and cool.
Can't Eat It Now? Save It For (Much) Later!
The classic way to preserve cucumbers, of course, is by pickling! And there are tons of wonderful recipes out there – for dill pickles, spicy pickles, sweet pickles, pickle relish, you name it. There are other ways to preserve cucumbers, too, though, including drying cucumber chips; juicing cucumbers and freezing the juice; and making jelly or jam - among others!
See our web page on preserving produce for ideas and useful links for preserving this week's other vegetables.
Here are links to a few great-sounding recipes for preserving cucumbers, just for fun:
Cheers!
Your Raccoon Forks Farms Team