Dear Friends of Raccoon Forks Farms –
It's transition time! That mixed time of year when many human activities suggest autumn – the State Fair's come and gone, school's back in session – but the weather says it's still summer. It's definitely summer at the Farms, although the transition is apparent here, too: our hot weather vegetables like tomatoes and peppers and beans are still thriving, but we're also starting to harvest "fall" crops such as lettuce, kale, and carrots. Before fall really comes, it's time to enjoy both!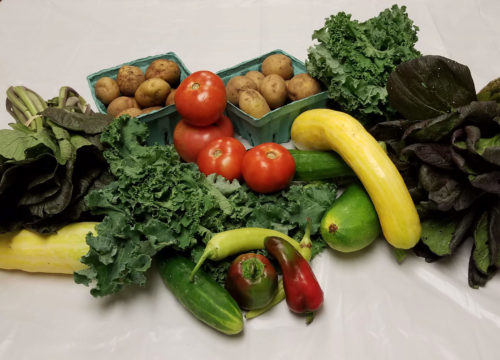 We're very happy to report that a number of crops that struggled in the spring and early summer – remember when we had too much cold weather, followed too quickly by too much rain and heat? – are doing a great deal better this fall:
From left: cabbage, broccoli, collards, kale
As usual at this time of year, we're spending most of our time and effort harvesting and cleaning vegetables, for the farmers' market and our CSA shares; tending to our chickens and eggs, of course; and weeding, weeding, weeding!
We're also taking care of less routine and/or less frequent chores. At the Redfield farm, we've been thinning our turnip plants, so that the turnips themselves have a chance to grow and fill out. Right now, they look like radishes, but after they grow a bit more, they'll look like turnips! In the meantime, from the thinning, we've had beautiful turnip greens available: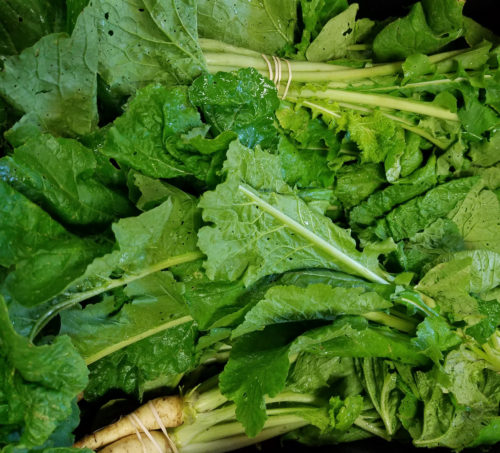 We recently put up a bunch more wire trellising for tomato plants in our high tunnel. When we can stay ahead of the tomatoes (which is difficult) and keep the vines tied up, it reduces the risk of pest and disease problems and makes harvesting much easier!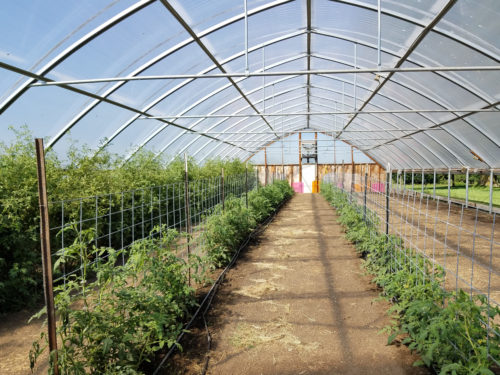 And we just changed out our chicken bedding. We put shavings down in our poultry barns and as you can imagine, periodically we need to dig it all out and put down fresh shavings. This is a big job, but the reward is healthy, happy chickens and a lot of great material for our compost pile!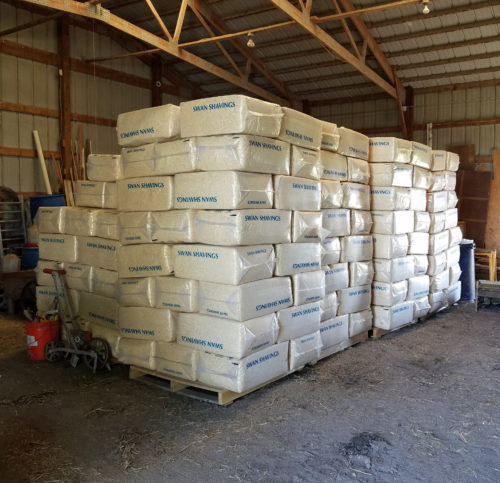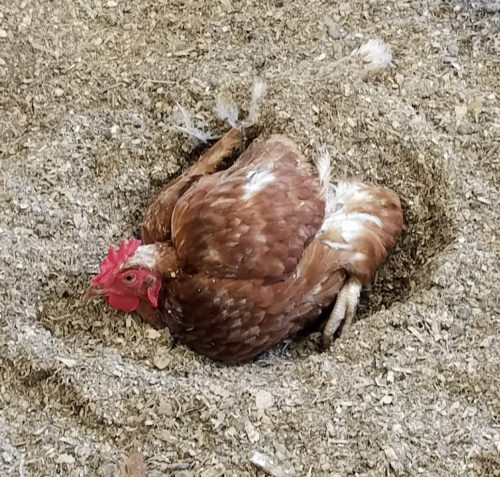 When you have hundreds of chickens, you need a lot of bedding!
At the Runnells farm, we're still completing the groundwork for installing our new goat fencing. We've cut most of the brush – including overgrown vines, some several inches in diameter – and are almost ready to start cutting trees. Fortunately, there are fewer, and smaller, trees to be cut than we initially anticipated. Our goal is to be able to move the goats from our Redfield farm to the Runnells farm before the ground freezes this fall.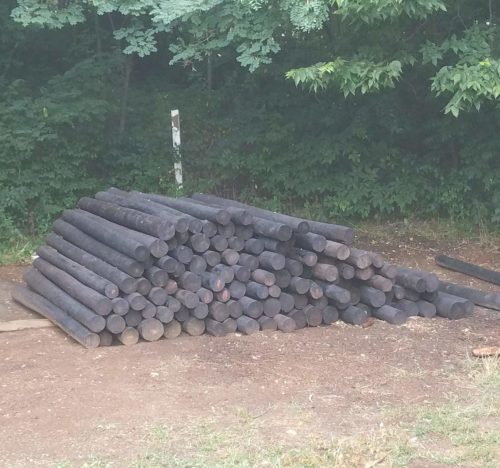 Waiting fence posts
Speaking of goats, we're ready to start accepting orders for goat meat, lamb, and mutton! All of these will be available late this year and early next year, and we're taking reservations for half and whole animals. We offer several options: you can pick up a live animal at the farm, or pick up processed and frozen meat at the farm or at one of six regional meat lockers. If you're interested in reserving some lamb, mutton, and/or goat meat, or if you have questions, please give us a call! (515) 729-8664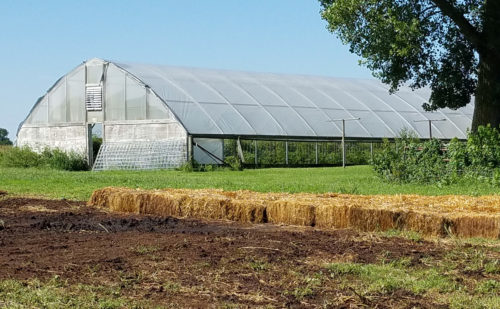 Next year's garlic field, in development
We'll be out and about quite a lot in September, and we hope to see you during our travels! The weekend of September 8th and 9th, we'll be participating in the Arts & Crafts Fair at Pufferbilly Days in Boone. Stop by our booth to see how we keep busy during the winter – making folk art creations that are both functional and beautiful!
On Wednesday, September 19th, we're looking forward to spending several hours at Iowa State University. No, we're not taking a short course – it's ISU's fourth annual Local Food Festival! The Festival runs from 9:30 a.m. to 1:30 p.m., and we'll be somewhere on central campus, between Beardshear and Curtiss Halls. Stop by our booth for a visit and a sample!
And on Saturday, September 29th, we'll be at Wheatsfield Coop, in Ames, from 12-2, for Wheatsfield's Member Celebration.
We'd love to see you at any and all of these fun events!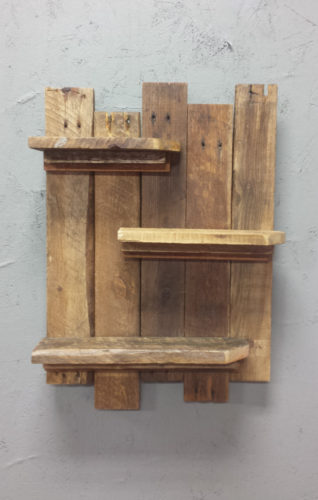 Can you believe September starts tomorrow? Have a great Labor Day weekend!
Your Raccoon Forks Farms Team