Dear Friends and CSA Partners –
Well, it's that mixed time of year when many human activities suggest autumn, but the weather – and the crops – still say summer! Can you believe September is right around the corner? We hope your school year is off to a great start, if school is part of your life in any way!
Thank you to all of you who completed our mid-season survey! We want to provide as good a CSA experience as we can for you, whether you're getting shares of vegetables, eggs, frozen broiler chickens, or a combination thereof. Your feedback and suggestions are much-appreciated and we'll use them as we think about next year's CSA shares. In the meantime, if you haven't completed the survey, yet, and would like to, please do!
Also, we want to mention that this was a mid-season survey – meaning that the "summer" season is far from over! Summer Vegetables shares continue through the week of October 15th, and Summer Eggs shares run through the last week of November. Frozen Broiler Chickens shares, of course, are always available.
At the Farms, we continue with our regular chores – harvesting, cleaning, packaging, and weeding being the most prevalent! One of the items in this week's CSA vegetables boxes will be turnip greens – we've been thinning our turnip plants so that the turnips themselves have a chance to grow and fill out. They'll take another few weeks to reach maturity, but in the meantime, the greens can be enjoyed! See below for a few recipe ideas.
We're very happy to report that a number of crops that struggled in the spring – remember when we had too much cold weather, followed too quickly by too much rain and heat? – are doing a great deal better this fall:
From left to right: carrots, collards, kale, cabbage, broccoli
Good things to come!
What's In Your Vegetables Share?
This week, we're planning to bring you a heart-of-Iowa-summer assortment – peppers, tomatoes, onions, summer squash, basil, garlic, turnip greens, and head lettuce. Dreaming of vegetable tarts and fabulous salads…
What Is It?
Turnip greens are what they sound like – the green leaves of the turnip plant that grow above ground, while the turnip itself is the plant's bulbous root (a thinner taproot grows below the turnip and is removed at harvest). Turnips are brassicas, related to cabbage, broccoli, and the mustards, among others. Like mustard greens, turnip greens have a slightly peppery flavor, but they're milder than mustard greens. They're also highly nutritious and a beloved part of the cuisine of the American south!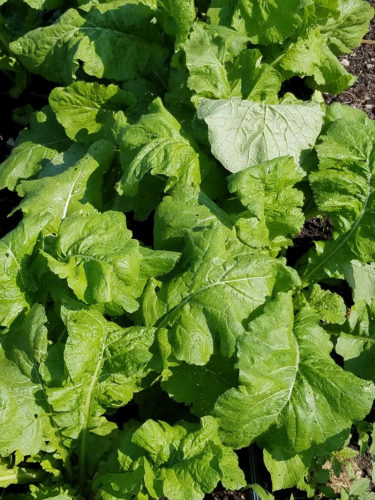 Storing
To store turnip greens, wash them thoroughly, then spin or pat them dry. Wrap them in towels or paper towels and refrigerate in a plastic bag or container until you're ready to use them.
For information on storing the other vegetables in this week's shares, see our produce-storage web page.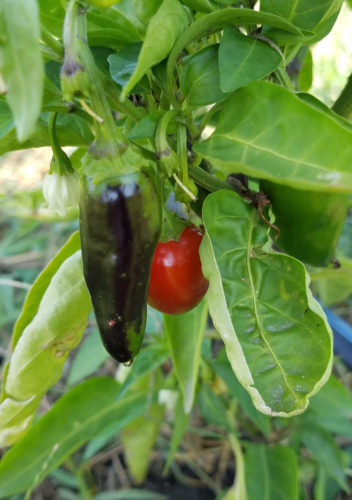 What to Make?
Maggie, our Assistant Farm Manager, is a great cook and recommends the following when preparing turnip greens: "These are delicious cooked with pork neck bones, ham hocks, or bacon. And also with white beans and a pinch of red pepper flakes in a wee bit of chicken broth." A family recipe from our farm "family" to you - if you're comfortable cooking from general guidelines like these, this is definitely the way to go with your turnip greens!
If you prefer a more structured recipe, here's one along the same lines:
Greens (Collard or Turnip)
(Adapted from familysavvy.com)
1 bunch fresh greens (prepped) or 2 bags greens
1 Tbsp. olive oil (preferred) or canola oil
3-4 slices thick bacon, diced into small pieces (or 1-2 Tbsp. bacon fat)
1 onion, diced
4-5 cloves garlic, minced
1 large carton chicken broth
Pinch red pepper flakes
Pinch sugar
Heat oil in skillet. Add diced bacon, frying until all fat is rendered (or simply add bacon fat if you have it). Remove bacon (discard or keep for other purposes), leaving fat in skillet. Add diced onion; sauté until translucent. Add garlic; sauté until just tender.
Pour broth into skillet, add red pepper flakes and sugar. Bring mixture to a boil; add greens. Stir and toss greens until well coated in broth. Reduce to a simmer and cook for 30-45 minutes - tossing occasionally with tongs. The greens will "cook down" and yield a flavorful liquor.
Serve with pepper sauce.
Warm Turnip Green Dip
(Adapted from myrecipes.com)
5 bacon slices, chopped
½ medium-size sweet onion,chopped
2 garlic cloves, chopped
¼ cup dry white wine
1 bunch turnip greens
12 oz. cream cheese, cut into pieces
8 oz. sour cream
½ tsp. dried crushed red pepper
¼ tsp. salt
¾ cup freshly grated Parmesan cheese
Garnish: dried crushed red pepper
Preheat oven to broil. Cook bacon in a Dutch oven over medium-high heat 5 to 6 minutes or until crisp; remove bacon, and drain on paper towels, reserving 1 Tbsp. drippings in Dutch oven.
Sauté onion and garlic in hot drippings 3 to 4 minutes. Add wine, and cook 1 to 2 minutes, stirring to loosen particles from bottom of Dutch oven. Stir in turnip greens, next 4 ingredients, and 1/2 cup Parmesan cheese. Cook, stirring often, 6 to 8 minutes or until cream cheese is melted and mixture is thoroughly heated.
Transfer to a lightly greased 1½-qt. baking dish. (Make certain that you use a broiler-safe baking dish.) Sprinkle with remaining 1/4 cup Parmesan cheese. Broil 6 inches from heat 4 to 5 minutes or until cheese is lightly browned. Sprinkle with bacon. Garnish, if desired. Serve with assorted crackers, flatbread, and wafers.
Squash Chips
(Adapted from mydarlingvegan.com)
4-5 large summer squash*
1-3 Tbsp. olive oil (depending on the size of the batch and preference)
Salt and freshly ground pepper
*you can also use beets, sweet potatoes, carrots, etc.
Slice vegetables as thin as possible (about 1/8th-1/16th inch). Place squash in a big bowl, drizzle with olive oil and season with salt and pepper. Mix together to coat the squash.
To bake: Spread single layer on cookie sheets. Bake at 220° F for several hours until crisp. Allow to cool completely before storing.
To dehydrate: Place in single layer in your dehydrator, set to vegetable setting, and turn on for about 8 hours, until dry and a little crispy.
Store at room temperature in an airtight container.
Best Ever Zucchini Hummus Recipe
(Adapted from lindawagner.net)
3 medium summer squash
¼ cup extra virgin olive oil
½ cup lemon juice
½ cup tahini
1½ tsp. sea salt
1½ tsp. cumin
3 cloves garlic
½ tsp. garlic powder
¼ tsp. cayenne pepper
Optional garnishes: Sprinkle of paprika; pumpkin seeds; drizzle of hot chili oil
In a high-speed blender or food processor, blend all ingredients until a smooth consistency is reached. Taste and adjust seasonings to your preference. This will make about 12 oz. of hummus.
Can't Eat It Now? Save It For (Much) Later!
Like other greens, turnip greens freeze well. You can blanch them and freeze them, plain; you can also cook them in your favorite turnip greens recipe, then freeze that, so it's ready to go when you need it. Or, how about turnip greens pesto:
or turnip greens pickles?
For freezing and other preservation techniques for the produce in this week's CSA shares, see our preserving produce web page.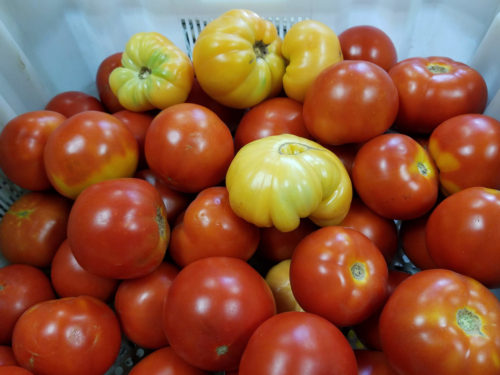 Have a great Labor Day Weekend!
Your Raccoon Forks Farms Team