Dear Friends and CSA Partners –
Time is just racing along, isn't it? It's the State Fair, already! The Fair is a summer highlight, but it can also seem like a turning point toward the start of the new school year and the coming of fall. Fortunately, it's high summer in the vegetable world! It's that wonderful time of year when it's hot and fresh vegetables are abundant and they're so good they don't need much cooking, if any – time for reveling in ripe tomatoes, salads, fresh basil, roasted squash and peppers, and so many more great summer foods!
We're hoping it's time for some rain in Iowa, too. It's dry at the farms. As we write this, there's a pretty good forecast for rain for our farms over the next 24 hours or so – fingers crossed.
At our Redfield farm, it's time to change the chicken bedding! We put shavings down in our poultry barns and periodically we dig it all out and put down fresh shavings. This is a big job, but the reward is healthy, happy chickens and a lot of great material for our homemade compost!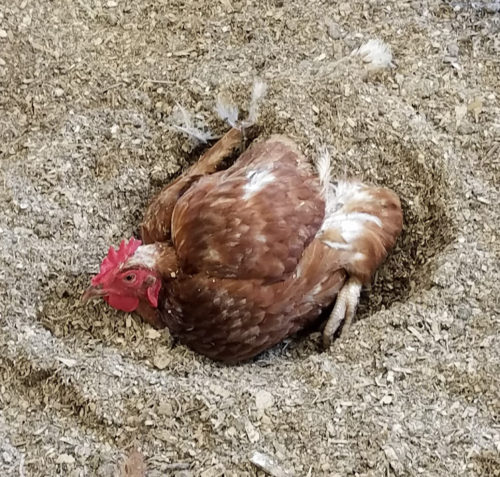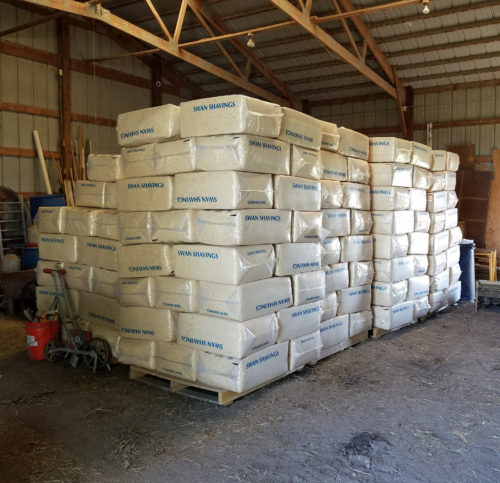 When you have as many chickens as we do, you need a lot of bedding!
And at our Runnells farm, we're still preparing to put in the fencing for our new goat pasture. We're continuing to clear brush, and we're marking the trees we'll need to cut down. Our goal is to be able to move the goats from our Redfield farm to the Runnells farm before the ground freezes this fall!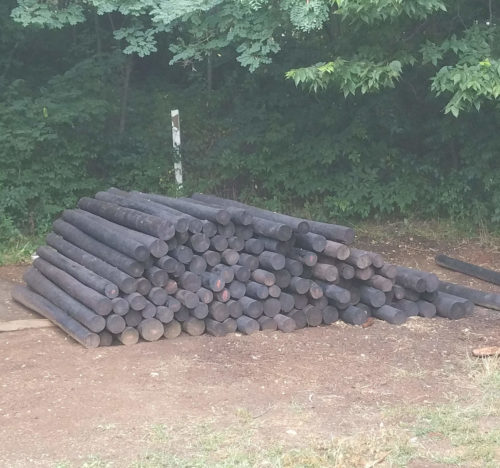 Fenceposts!
What's In Your Vegetables Share?
This week, we're planning to bring you peppers, scallions, tomatoes, summer squash, basil, garlic, and possibly cucumbers. The peppers you receive will be a mix of varieties – most, though, will probably be Goddess peppers, which are a mild, sweet pepper.
What Is It?
We think you're likely familiar with all of the produce that will be in your CSA vegetables box this week! If you're not, though, or if you have any questions, please let us know. Questions could develop into future newsletter content, in fact. We'd be happy for this newsletter to serve as more of a conversation – send us your comments and questions, and we'll be happy to respond!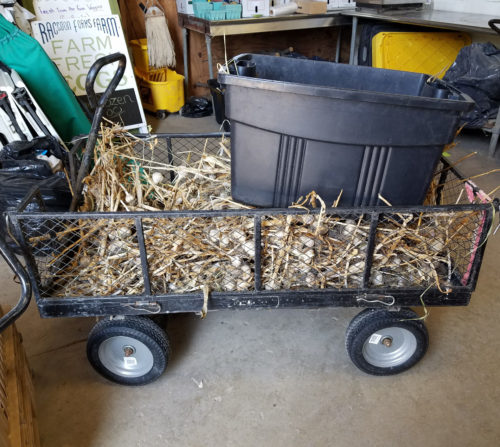 Storing
Don't wash peppers until you're ready to use them. Until then, keep them dry and store them in the refrigerator, in an open container or paper bag.
For storage ideas for your other vegetables, see our produce-storage web page.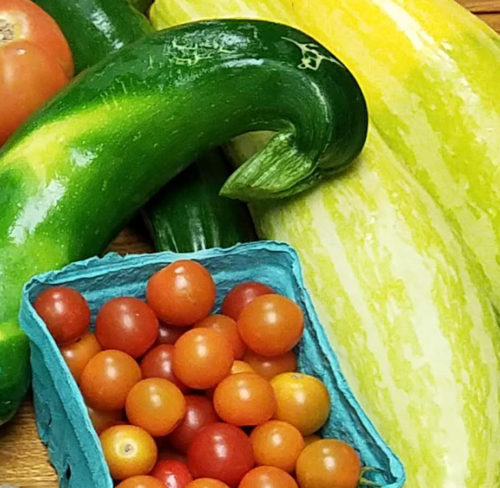 What to Make?
Huevos Pericos (Scrambled Eggs with Tomato and Scallions) (From mycolombianrecipes.com)
4 eggs
2 medium tomatoes, finely chopped
2 tablespoons olive oil
4 tablespoons chopped scallions
Salt to taste
In a medium non-stick skillet heat the oil over medium heat. Add the tomatoes and scallions and cook about 5 minutes, stirring occasionally.
Meanwhile, in a small bowl beat the eggs and salt. Pour the eggs in the skillet with the tomato mixture and cook over medium heat, without stirring, until mixture begins to set. Stir twice or until the eggs mix with the tomato and scallions and cook about 2 minutes or until the eggs are the consistency you like.
Transfer to a serving plate and serve with arepa or toast.
* * *
Summer Squash Soup
(From naturallyella.com)
[Note: This recipe calls for yellow summer squash, but some of us made it with a mixture of the green and Zephyr squashes we've been including in the CSA boxes, doubling the recipe, and it was terrific! Also, we think this soup is delicious both hot and cold.]
1 Tbsp. olive oil
½ cup minced yellow onion
2 cups finely diced yellow summer squash
1 cup peeled and diced Yukon gold potato
¼ cup diced carrot
1 clove garlic minced
¾ tsp. cumin powder
½ tsp. coriander
½ tsp. turmeric
½ tsp. smoked paprika plus extra for topping
¼ tsp. mustard powder
¼ tsp. cinnamon
pinch cayenne pepper optional
¼ cup dry white wine
2 cups low-sodium vegetable broth
¼ cup coconut milk plus extra for topping
Salt to taste
Cilantro for topping
Heat a heavy-bottomed pot over medium-low heat. Add the olive oil followed by the onions. Cook until the onions are fragrant and translucent, 4 to 5 minutes. Stir in the squash, potato, and carrot. Continue to cook until the squash begins to soften, 5 minutes or so. Stir in the garlic, cook for a minute then add in all the spices, cooking for another minute more.
Add the wine, scraping up any pieces stuck to the bottom. Allow some of the wine to cook out then measure in the vegetable broth. Bring to a boil, reduce to a simmer, and let cook until the potatoes are tender, 10 to 15 minutes.
Puree the soup using a blender or an immersion blender. Add in the coconut milk and continue to heat the soup until hot. Taste and add salt as needed (usually depends on how salty the broth is). Divide into two bowls and top with a drizzle of coconut milk, sprinkle of paprika, and cilantro.
* * *
Linguine with Tomatoes and Basil
(From The Silver Palate Cookbook)
4 ripe large tomatoes, cut into ½-inch cubes
1 lb. Brie cheese, rind removed, torn into irregular pieces
1 cup cleaned fresh basil leaves, cut into strips
3 garlic cloves, peeled and finely minced
1 cup plus 1 Tbsp. best-quality olive oil
2½ tsp. salt
½ tsp. freshly ground black pepper
1½ lbs. linguine
Freshly grated imported Parmesan cheese (optional)
Combine tomatoes, Brie, basil, garlic, 1 cup olive oil, ½ tsp. salt and the pepper in a large serving bowl. Prepare at least 2 hours before serving and set aside, covered, at room temperature.
Bring 6 quarts water to a boil in a large pot. Add 1 Tbsp. olive oil and remaining salt. Add the linquine and boil until tender but still firm, 8 to 10 minutes.
Drain pasta and immediately toss with the tomato sauce. Serve at once, passing the peppermill, and grated Parmesan cheese if you like.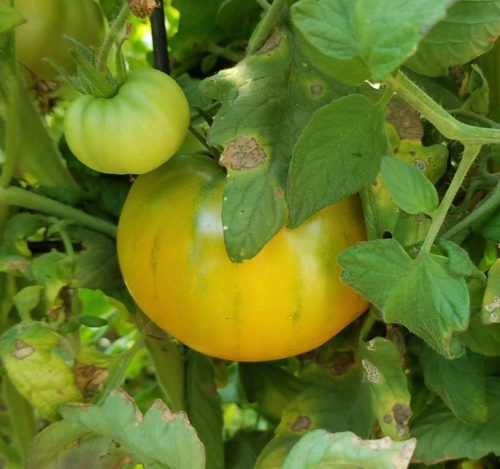 Can't Eat It Now? Save It For (Much) Later!
There are many ways to preserve peppers, including freezing, drying, and canning them as is; or, you can make something delicious with them – think salsa, or roasted peppers – and then freeze or can them! One of our favorite ways to preserve peppers is to make quick, refrigerator pickled peppers.
It's important to use caution when you're dealing with hot peppers! When cutting them, wear gloves (some of us use our dishwashing gloves, well-washed), and keep your hands away from your eyes! In addition, we want to share this hard-earned knowledge: some of us like to dry hot peppers, then run them through a food processor to make hot pepper flakes. This works beautifully – now that we've learned to wear a mask and gloves, provide ourselves plenty of ventilation, and turn our heads away from the work area to breath!
We've included links to a couple of recipes, below; also, for other ideas for preserving your peppers as well as other produce, see our preserving-produce web page.
https://www.simplyrecipes.com/recipes/bell_pepper_salsa/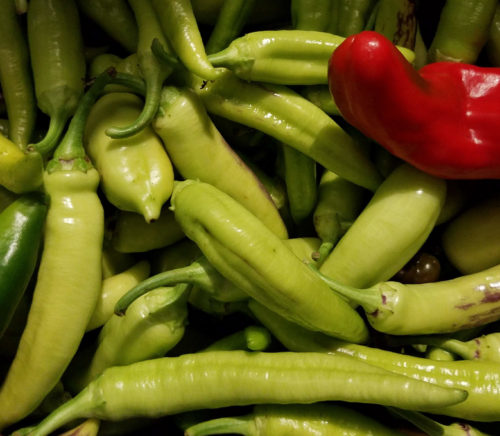 Wishing you a great week – enjoy your shares!
-Your Raccoon Forks Farms Team