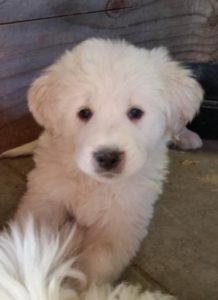 What Are You Giving Your Sweetheart for Valentine's Day?
We recommend a puppy! In fact, we recommend a sweet, beautiful Great Pyrenees puppy from Raccoon Forks Farms! Our livestock guardian dog, Aude, had seven puppies in December. Two have been purchased, but we have two females and three males remaining. All the puppies are extremely well-socialized – because somehow we keep diverting ourselves from our work to play and snuggle with them. Can you imagine?
The puppies are purebred Great Pyrenees. Great Pyrenees make wonderful family pets and excellent livestock guard dogs. Aude and our other dogs do a terrific job of protecting the chickens, sheep, and general goings-on at the Farms. The puppies are AKC-registerable and, potentially, showable. We're asking $800.00 per dog. Call or email us if you have any questions!
Someone in your life – your children, your sweetie, your livestock – needs at least one puppy! They will be old enough to leave the farm for their new homes on Valentine's Day. ♥