Author Nathan Nash will be joining us at Plain Talk Books & Coffee on Saturday, April 14 at 11 am to celebrate his new book, "Looking into the Eyes of a Wayward Riddle."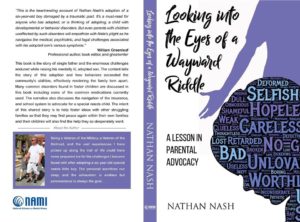 Nash's book is about his experience adopting a six-year-old boy with developmental disorders.
"It's a must-read for anyone who has adopted, or is thinking of adopting, a child with developmental or behavior disorders," wrote author William Greenleaf about Nash's book. "But even parents with children unaffected by such disorders will empathize with Nate's plight as he navigates the medical, psychiatric, and legal challenge's associated with his adopted son's various symptoms."
Stop by and learn more about Mr. Nash and a topic that is near and dear to our hearts. Plain Talk is operated by Optimae LifeServices, a mental health care services provider, and provides jobs and job training to individuals with disabilities. We hope to see you over the lunch hour on Saturday!