Prologue - Drinks
Coffee ~ $1.60 / $1.85 / $2.00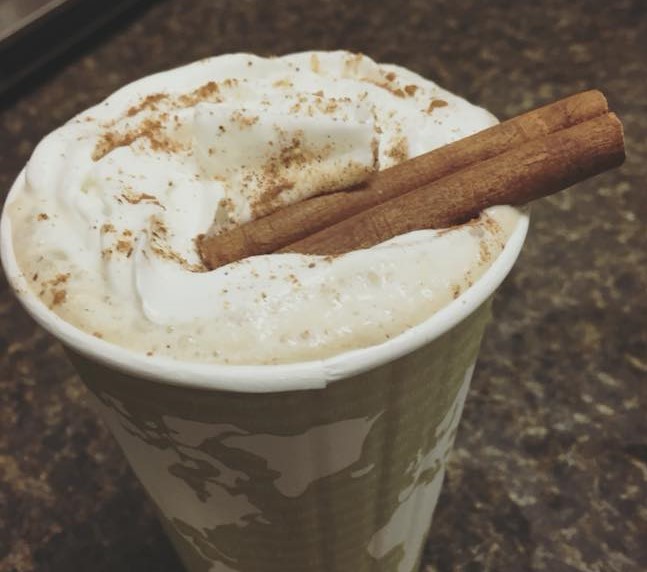 Organic, fair trade coffee from Just Coffee Cooperative
Latté (unflavored) ~ $3.00 / $3.50 / $4.00
Latté (w/flavor) / Mocha / Other Specialty ~ $3.75 / $4.00 / $4.75
Cappuccino ~ $3.00 / $3.50 / $4.25
Kick in the Razz (Redbull® & raspberry syrup over ice) ~ $3.50
Italian Soda ~ $2.50 / $3.00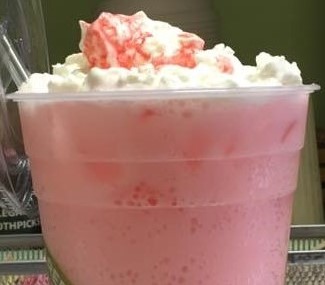 Italian Cream Soda ~ $3.00 / $3.50
Red Eye - Depth Charge (Espresso shots added to coffee) ~ $2.25 (S/single), $2.50 (M/single), $3.50 (L/double)
Espresso ~ $1.75 single / $2.50 double / $3.25 triple
Tea (Hot or Iced) ~ $1.50 / $2.00
Lemonade ~ $1.50 / $2.00
Raspberry Lemonade ~ $2.25 / $3.00
Chai ~ $2.50 / $3.00 / $3.50
Chapter 1 - Breakfast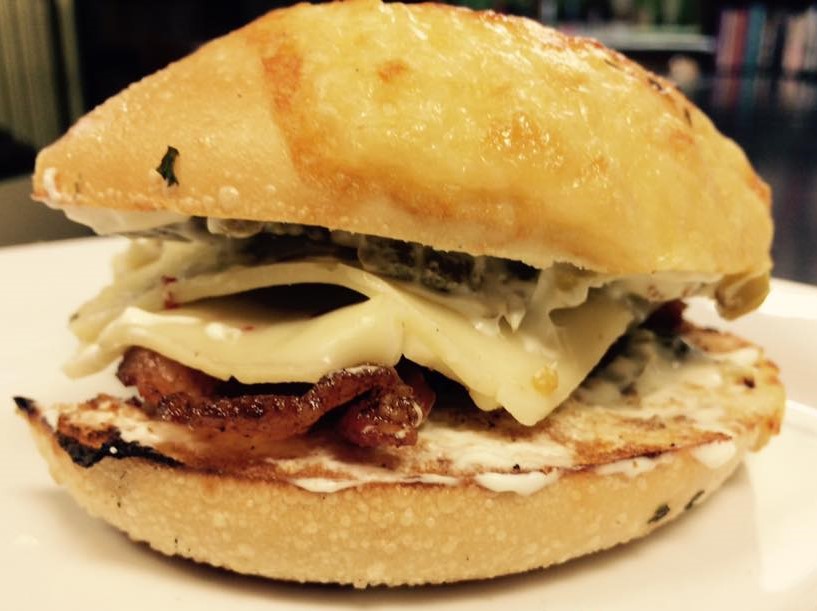 Toast or English Muffin ~ $2.00
Bagel ~ $2.50
Pastries (assorted from Brick Street Bakery) ~ $2.25
Egg Sandwich ~ $3.50
Add extra meat ($1.00), egg ($.75), extra cheese ($.60), veggies ($.50)
Specialty Breakfast Sandwiches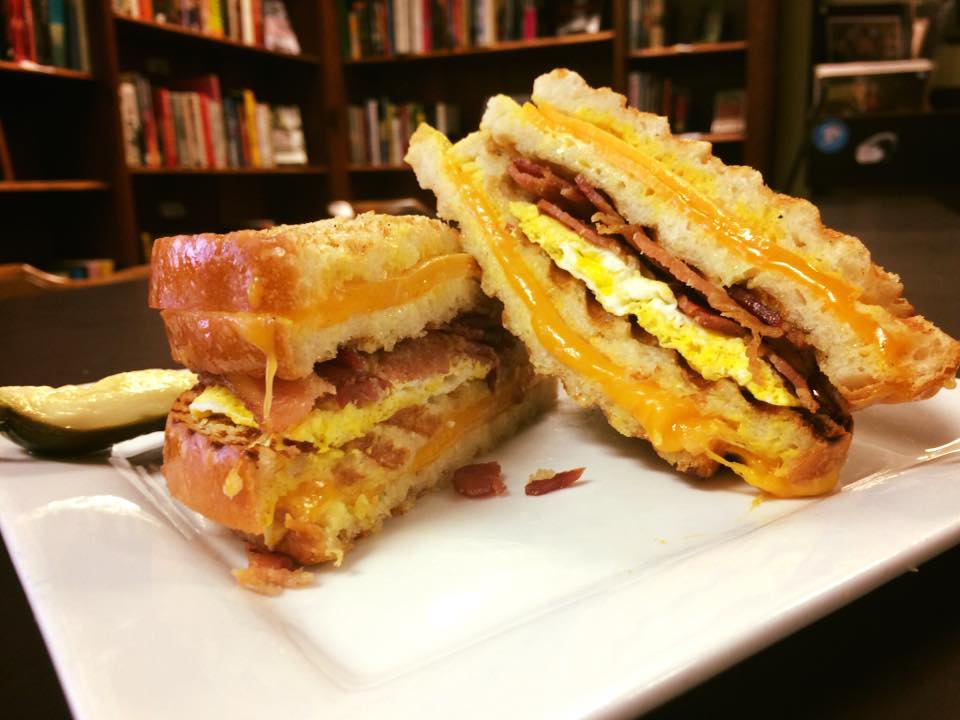 Good-bye Blue Monday ~ $4.00
Bagel, vegetable cream cheese, pepper jack & pastrami
Greens, Eggs & Ham ~ $4.00
English muffin, egg, ham, spinach, mozzarella cheese
Egg Panini ~ $4.00
White, wheat or rye bread, one egg, cheese, meat, 2 veggies
The GROK ~ $4.00
Bagel with sriracha, spicy brown mustard, tomato, spinach, egg, cheddar and bacon
Chapter 2 - Sandwiches
I am the Cheese ~ $4.00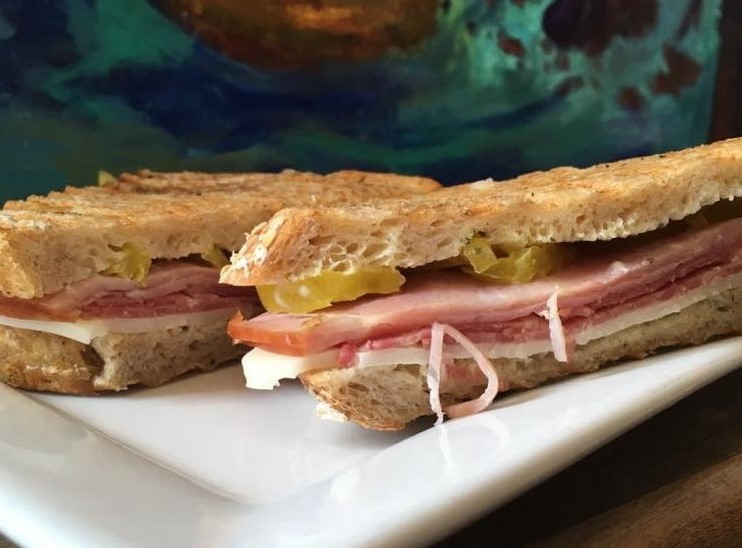 Our take on a grilled cheese: lots of gooey Muenster, red peppers and a little brown mustard
BFG BLT ~ $4.50
Classic bacon, lettuce and tomato with mayo
The Wilbur ~ $5.00
Grilled cheese with mozzarella and cheddar, stuffed with two kinds of "SOME PIG"- ham & bacon
The Bukowski ~ $6.00
You got it: Ham on Rye, but we add Swiss cheese, lettuce, tomato, onion, brown mustard and mayo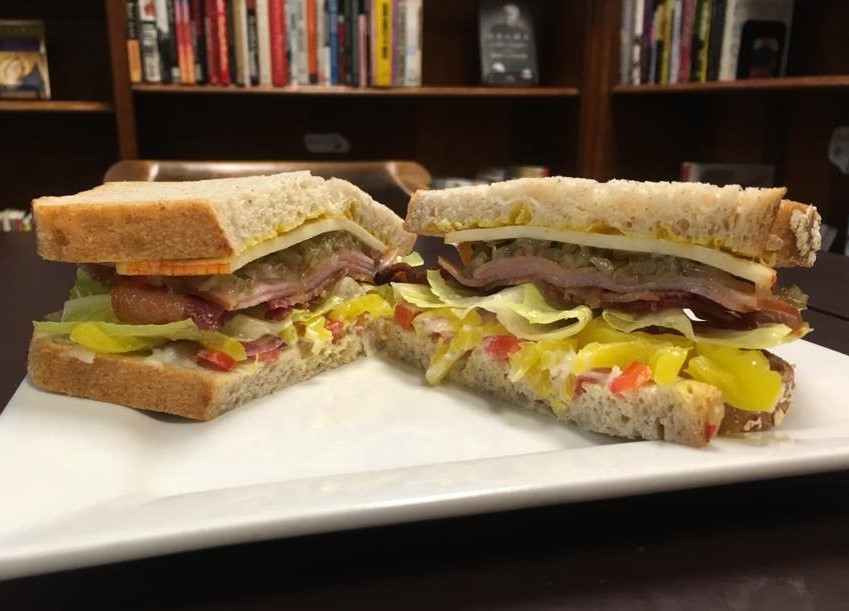 Dante's Inferno ~ $6.50
We start with Graziano's pastrami, add pepperoni, ham, mozzarella and cheddar cheeses, spinach, tomato and onion, topped off with horseradish, jalapeño peppers, brown mustard and mayo. Make it a Not So Inferno by substituting banana peppers for jalapeño peppers.
The Beezus & Ramona ~ $4.00
An adult-worthy but kid-friendly PB&J with organic, low-sugar peanut butter and choice of jam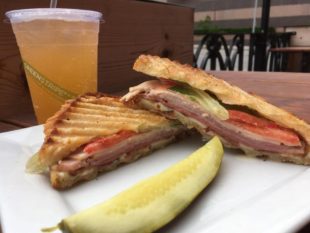 The Fight Club ~ $6.50
Our club has pastrami, ham, turkey and bacon, topped with mozzarella, lettuce, tomato and mayo
Ben's Bird of Courage ~ $6.00
Our homage to Ben Franklin's favorite bird: turkey, cheddar, tomato, onion, spinach, yellow mustard & mayo
The Salinger ~ $6.00
The Catcher in the Rye author was a fan of the roast beef dinner. Our sandwich boasts fresh roast beef, provolone, lettuce, onion, pickle, horseradish, & brown mustard on white bread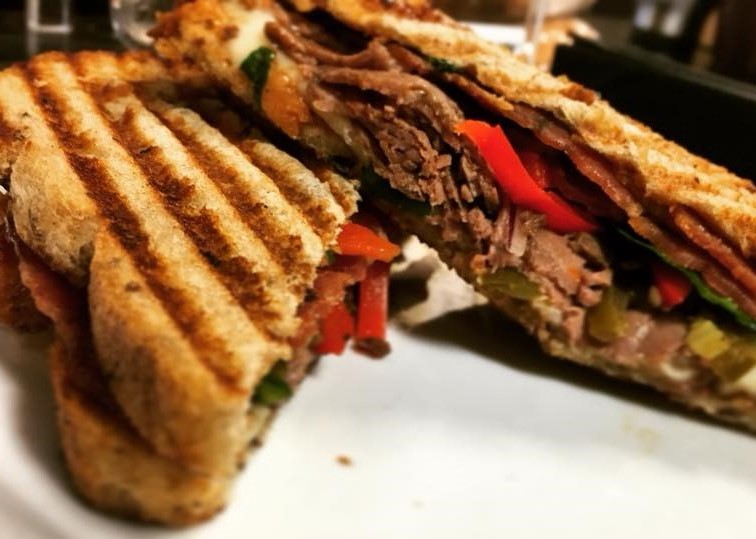 The Heart is a Lonely Hunter ~ $5.75
No connection to the book, just one of our favorite sandwiches named after one of our favorite books. Basil pesto on wheat bread with provolone cheese, tomato and spinach
The Good Earth ~ $6.50
Our homemade hummus, pepper jack cheese & all the veggies: red and green peppers, spinach, tomato, onion, and banana peppers. We'll leave off the cheese to make it vegan
Build Your Own Sandwich ~ $6.00
Meats ~ Ham, turkey, toast beef, pastrami, bacon, & pepperoni
Cheeses ~ Cheddar, provolone, pepper jack, mozzarella, muenster and swiss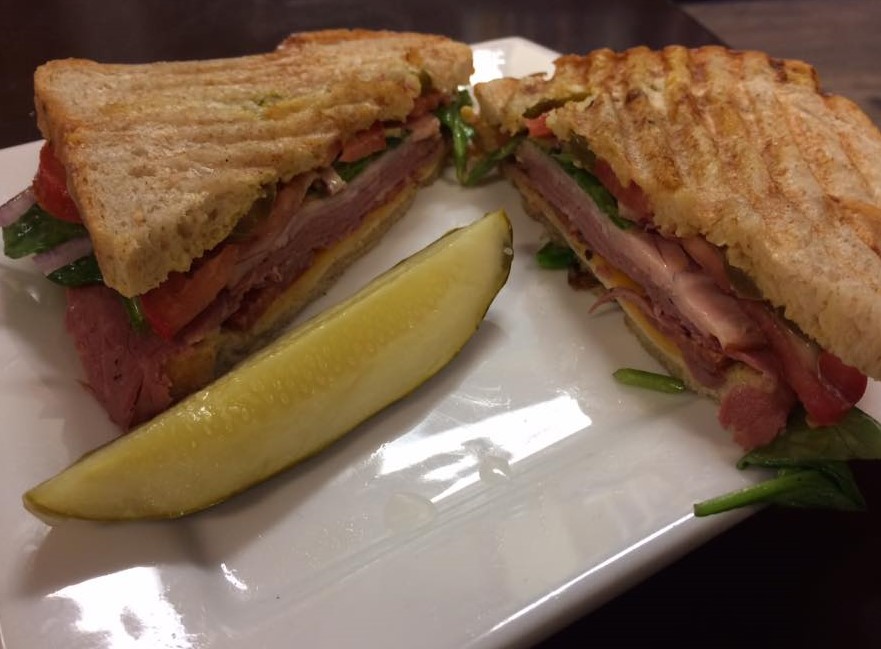 Breads ~ White, wheat, or rye from South Union Bakery
Vegetables ~ Lettuce, tomato, spinach, red onion, pickles, green & red pepper, jalapeno & banana peppers
Other Ingredients ~ Basil pesto, cream cheese, peanut butter, jam & our homemade hummus
Condiments ~ Mayo, mustard, horseradish, & bbq sauce

Chapter 3-Homemade Soups
Soup ~ $3.00 (cup), $5.00 (bowl)
Our homemade soups are made from scratch in our own kitchen. Soups change daily, so be sure to ask what's on. Soups are available fall through spring.