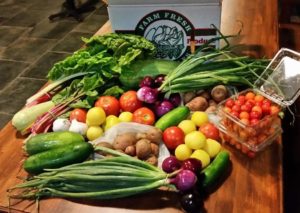 Tired of cold weather? Daydreaming about sunshine and flowers? Craving fresh greens and vegetables? You're in luck – it's spring! And all of this means it's time to sign up for your Raccoon Forks Farms CSA shares!
Raccoon Forks Farms offers several types of CSA shares:
• Summer vegetables
• Summer eggs
• Broiler chickens (frozen)
Our Summer Vegetables shares include beautiful assortments of Iowa favorites like mixed baby lettuces, tomatoes, potatoes, carrots, and more! In addition, we feature wonderful specialty vegetables like bok choy, fennel, and fava beans. Every season, our CSA shares are a little bit different and always delicious!
Our chickens are cage-free and pastured. They forage for bugs and seeds and can also top off with a supplemental vegetarian feed if they wish. Along with the best diet possible, we believe sunshine and space to roam create happy, healthy poultry.
While you're enjoying food the way it's meant to be with your Raccoon Forks Farms CSA shares, you can also take satisfaction knowing that by investing in your shares, you provide necessary assistance to us in our mission: farming sustainably and providing job opportunities to people with barriers to employment. In addition, you also support the local economy, the local food system, and the environment!
Sign up now for 20 weeks of fabulous fresh, locally-grown, chemical-free vegetables; 26 weeks of big, delicious eggs; and broiler chickens delivered whenever you want them! We deliver shares weekly to several pick-up sites in Des Moines, Ames and Adel. See our CSA Brochure for more information. You can order using the brochure, our Raccoon Forks Farms order form, or just give us a call at (515) 729-8664. We look forward to hearing from you!