Dear Friends and CSA Partners –
Happy summer, and welcome to the start of our summer CSA season! This is the first of the weekly newsletters we'll be sending you to accompany your shares. We'll update you on what's happening at the Farms, and we'll include information on using, storing, and preserving your shares, with an emphasis on produce. We'll also send you alerts and updates, as needed, such as when we'll be delivering during the week of July 4th!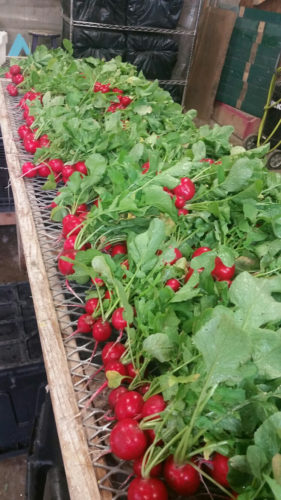 A couple of important reminders:
 - Please make sure that the shares you pick up have your name on them
 - If you have a vegetables share, please remember 1) to transfer the contents of the box into your own box or bags, 2) to unfold the CSA box, and 3) to leave the CSA box for us to pick up and re-use – thanks for doing this!
 - If you signed up for a fruit share, the first week of fruit will probably be in early July (we'll keep you posted about that), and
 - Please share your favorite recipes for eggs, produce, and chicken with us so we can share them with the rest of the CSA group! And if you send us photos of the dishes you create, we'd love to include them in the newsletter!
If you have questions any time during the CSA season, please let us know.
Thank you again for participating in our CSA! You support us in our dual missions: offering employment and job-coaching to people with disabilities and mental illness; and farming sustainably to raise fresh, healthy, local, chemical-free food. We're excited to share this year's harvests with you!