Raccoon Forks Farms is having a party, and you're invited! Meet Your Farmer! is a chance to connect with local food fans and learn more about what we're up to at the Farms. Along with lots of good conversation, we'll have live music, door prizes, and tasty food raised at the Farms and prepared by the great crew at Railroad Bill's Dining Car. We'll also be selling summer CSA shares and other items from the Farms.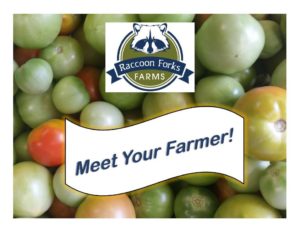 Where does your food come from? Join us for Meet Your Farmer! and find out how we raise ours - locally, sustainably, and chemical-free!
Date: Thursday, February 22nd
Time: Open house, 5-7 p.m.
Place: Railroad Bill's Dining Car
621 Des Moines Street, Des Moines
Questions? Please call or email. Hope you can join us - we'd really love to see you!