Dear Friends and CSA Partners –
We don't tend to do things by halves here in Iowa, do we?  At the Farms, we got a couple of inches of greatly-needed rain, yesterday – but many folks got way too much.  We hope you're okay and not swamped!
As usual, at this time of year, we're spending most of our time and effort harvesting and cleaning our summer vegetables;  tending to young plants that will be producing in the fall;  and weeding, weeding, weeding!  This week, at our Redfield farm, we're also setting up more wire trellising for the tomatoes in our high tunnel.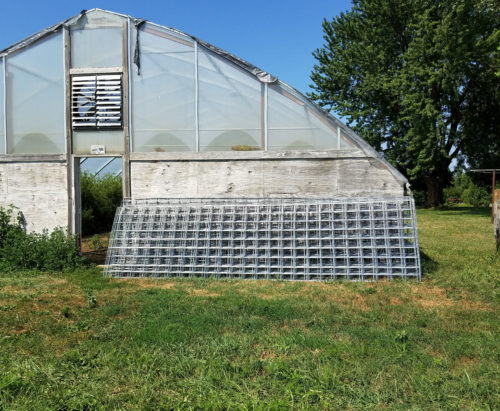 We're using this fencing to trellis new tomato plants in the high tunnel
As you know, we've been raising goats, lambs, and sheep this summer, and we're ready to start accepting orders!  Goat meat, lamb, and mutton will be available early next year, or possibly even late this year, and we're taking reservations for half and whole animals.  We have lots of options available – you can pick up a live animal at the farm, or pick up processed and frozen meat at the farm or at one of six regional meat lockers.  If you're interested in reserving some lamb, mutton, or goat meat, or if you have questions, please give us a call!  515/729-8664
A couple of weeks ago, we mentioned that we'd be sending out a survey to find out how our summer CSA shares are going for you.  The survey is done, and we hope to send it out to you this evening!  You'll receive an email with a link.  Please do complete the survey – it's anonymous, short, and quick.  We want to offer you the very best CSA shares and program that we can, and your feedback is important to us.  Thank you!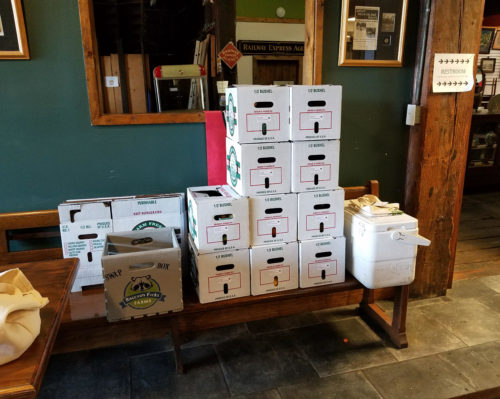 Eggs and vegetables CSA shares waiting for pick-up at Railroad Bill's Dining Car
What's In Your Vegetables Share?
This week, we're planning to bring you onions, potatoes, peppers, kale, tomatoes, summer squash, pak choi, and possibly cucumbers.
What Is It?
Pak choi is a delicious cruciferous vegetable, or brassica, related to broccoli, cauliflower, and cabbage, among others.  It is sometimes called Chinese cabbage.  There are many different types – and many different spellings – of pak choi!  These include bok choy, bok choi, pak choy, pok choi…we're going with pak choi, since that's how the seeds for what you'll find in your box were named. 
While many pak chois have green leaves, the Rosie pak choi we're sending you has red leaves!  Both the leaves and their tender, almost sweet stems are wonderful, and can be eaten raw or cooked.  Pak choi has been called a "gateway green" because its flavor is so mild and lovely – so if you know people who are hesitant about greens and brassicas, cook them something with pak choi!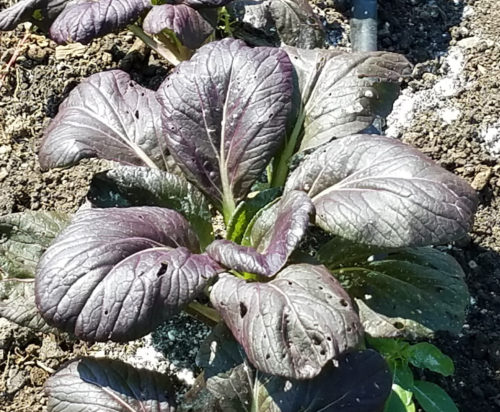 Storing
We recommend storing pak choi without washing it until you're ready to use it.  Keep it in the refrigerator, wrapped loosely in a towel or paper towel or open bag until then.  Pak choi bruises easily, so you may wish to put it inside some sort of protective container, as well.  While pak choi will be fine in the fridge for a few days, it is by far the best when it's freshest, so either eat it soon, or preserve it for later use!
Store onions in a cool, dry, dark place with good air circulation.  Don't store them in the refrigerator or in plastic bags.  If you've used part of an onion and want to save the remainder for later use, however, you should then keep it in the fridge.
For information on storing the other vegetables in your share this week, see our produce-storage web page.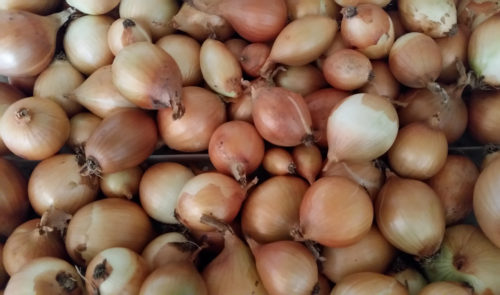 What to Make?
The Best Sautéed Bok Choy
(Adapted from geniuskitchen.com)
1 head bok choy, sliced, both stems and leaves
⅓ cup onion, diced
½ Tbsp. grated gingerroot
1 tsp. olive oil
½ tsp. dark sesame oil
1 tsp. fish sauce
1 Tbsp. rice vinegar
1 Tbsp. sesame seeds
¼ cup chicken broth
crushed red pepper flakes
Rinse and drain bok choy and set aside.  Sauté onion and ginger in olive oil and sesame oil until onion is tender.  Add remaining ingredients and sauté for about 8 minutes.
*           *           *
Bok Choy Salad with Peanut Vinaigrette
(Adapted from thebloatedbellywhisperer.com)
2 bunches bok choy, chopped
4 scallions, thinly sliced
Dried cranberries (amount to taste;  a 5-oz. package is not unreasonable)
Sunflower seeds (amount to taste)
Toasted slivered almonds or sliced almonds (amount to taste)
Toss together all of the salad ingredients, above.
To make the vinaigrette, whisk the following ingredients together very well, until uniform consistency:
½ cup olive oil
½ cup white vinegar
¼ cup sugar (or less, to taste)
2 Tbsp. soy sauce
2 Tbsp. crushed garlic
2 Tbsp. smooth peanut butter
Dash of salt and pepper to taste
Toss salad with dressing to taste;  leftover dressing can be saved in the refrigerator for other uses.
*           *           *
Aloo Egg Curry
(Adapted from Indianhealthyrecipes.com)
4 eggs
1-1½ Tbsp. oil
½ tsp. cumin seeds
2-3 green cardamoms (optional)
1½ cup onions (3 medium onions)
¾ cup tomatoes (1 large)
1½ tsp. ginger garlic past 
⅛ tsp. turmeric
salt as needed
1 tsp. garam masala 
½-¾ tsp. red chili powder
3-4 potatoes, washed, peeled, and cut into chunks (whatever size you prefer)
2 Tbsp. coriander leaves (cilantro), chopped
½ tsp. coriander powder or garam masala
Boil the eggs and place them in a bowl of ice water to cool. 
Heat the oil in a large pan over moderate heat, add the cumin and cardamoms, and allow to sizzle.  Add onions and fry until golden, then add the ginger and garlic and continue frying until the raw smell is gone.  Add the tomatoes, salt, and turmeric.  Fry until the tomatoes turn soft and mushy.  Add the chili powder and 1 tsp. masala powder.  Stir and fry for 1-2 minutes.  Add potatoes and fry for 2-3 minutes.  Add water enough to almost cover the potatoes.  Cover the pan, reduce heat, and simmer, stirring occasionally, until the potatoes are done.
While the potatoes are cooking, peel the eggs.  Pierce them randomly with a fork or knife and set them aside.
When the potatoes are done, add the eggs to the pan and stir.  Add chopped coriander leaves and ground coriander or garam masala.   Cook, covered, until the gravy thickens.  To make more gravy, add more water;  or, to make a dry curry, cook, uncovered, stirring frequently, to evaporate the moisture.  If you wish, add a little thick coconut milk.  Serve with plain roti or rice.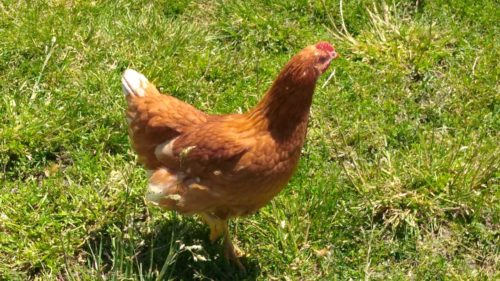 Can't Eat It Now?  Save It For (Much) Later!
See our preserving produce web page for suggestions on how to preserve your pak choi, onions, and other produce from this week's share.  Pak choi and onions both freeze well, among other ways of saving them.  In addition, consider pickles!  Here are links to a couple of recipes we thought sounded good:
https://www.marthastewart.com/1154966/korean-barbecued-ribs-pickled-greens
https://buythiscookthat.com/dilly-pickled-onion-rings/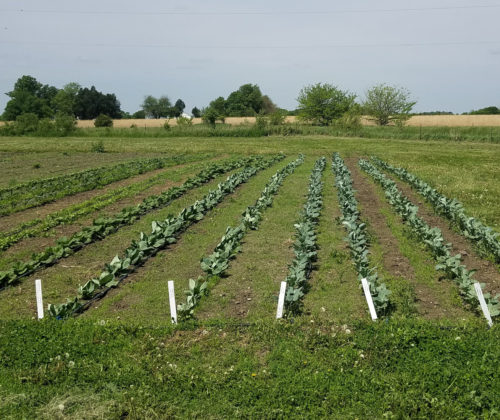 Cheers!
Your Raccoon Forks Farms Team