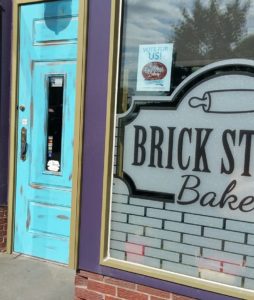 We are pleased to announce that the Adel Partners Chamber has nominated Brick Street Bakery for its Business of the Year award! 
"Brick Street Bakery is honored to be nominated for Business of the Year," said Bakery manager Peg DeLoriea. "We enjoy serving and being part of the wonderful community of Adel."
The Adel Partners Chamber will select the winner at its Celebrate Adel annual dinner on March 27.
Brick Street Bakery, located on the west side of Adel's historic courthouse square, opened in 2016 to meet the growing demand for baked goods and pastries from Brick Street Books & Cafe. The Bakery makes doughnuts, muffins, scones, breads, pies and cookies fresh each day, and, as a Raccoon Forks small business, provides job opportunities and training for individuals with barriers to employment. 
The annual Chamber dinner event also features the Citizen of the Year award and an evening of sampling food from the Chamber's membership, which will include Brick Street Books and Cafe providing samples of our delicious cheeseburger soup.