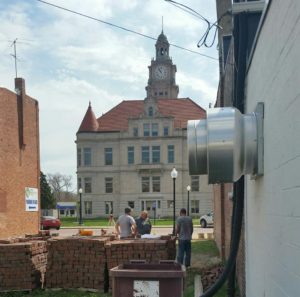 Construction has started on Brick Street Bakery's new patio! 
Our crew is hard at work laying the patio pavers, which may look familiar. We purchased over 3,000 bricks that were pulled up from City streets from the City of Adel and are repurposing them to build the new patio. 
The completion date for the patio is scheduled for June 2018.
When the patio is finished, Bakery customers and the general public will have outdoor seating with an excellent view of the Dallas County courthouse and a comfortable place to enjoy delicious treats from Brick Street Bakery!