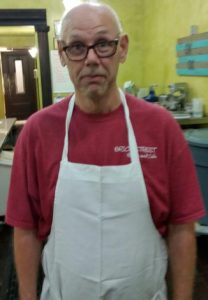 Brick Street Bakery would like to take a moment to share with you a little about Brian, one of Brick Street's remarkable bakers. Brian has worked at Brick Street for over a year, and takes a lot of pride in his work — especially the donuts he decorates 3 times a week. We hope you enjoy getting to know Brian a bit. Make sure to say "Hello" when you see him around.
What is your favorite product to make?
I like making the breads and decorating the donuts.
What is your favorite experience working at Brick Street Bakery?
Learning to make the breads and donuts has been fun. I did not know how to make them before I started.
What do you like to do when you are not at work?
I like bowling, going to the drop in center and camping. I went to summer camp for my 2nd year this summer.
What is your goal working at Brick Street Bakery?
To work here until I'm 65 or can't stand anymore.
What would you like people to know about Brick Street Bakery?
Our donuts are good! (Brian takes a lot of pride in the donuts he decorates 3 times a week)