A prominent publication popular among antique aficionados recently featured an article on Raccoon Forks Trading Company in its pages. Antique Trader magazine, renowned as the premier print vehicle for the buying and selling of antiques nationwide, ran the story on Feb. 12. 
The article focuses on RFTC's unique dual mission of employing people with mental illnesses and intellectual disabilities, and selling high-end, high quality antiques at competitive prices.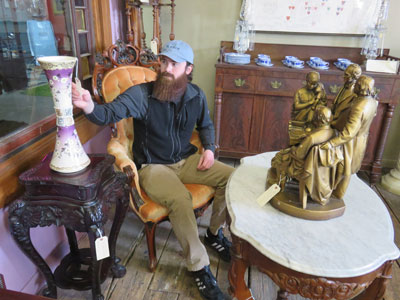 RFTC is one of a handful of Raccoon Forks Microbusinesses owned and operated by Optimae LifeServices.
"Optimae provides several different services in different ways, and one way we identified a little while back is to provide job training services and jobs to our customers to give them a valued role," said Will Dodds, director of Raccoon Forks Microbusinesses. 
"There have been several studies that show people with mental illness, intellectual disabilities, etc., have a hard time gaining and retaining employment, so one way we decided that would be successful for the population we serve that struggle with severe barriers to employment, was to create our own small businesses that Optimae helps run."
The article also highlights RFTC's sophisticated selection of antiques. 
"We really try to focus on as many types of antiques as we can," said Dodds, who does buying for the store and is also a consigner. "We have a collection of mid-century furniture all the way down to primitive and country furniture. There's a room dedicated to the British and American Arts & Crafts movement; one with industrial, folk art. We have lots of prints and bottles."
Revenue generated from the sale of the merchandise goes back into the store. All customer employees make above minimum wage, which promotes the dignity of their work. 
"Optimae has several other avenues, including residential programs therapy, etc., and the microbusinesses are definitely growing," Dodds said. "It is one of the things I think Optimae does that makes us unique in terms of mental health providers."